Marvel Digital App Not Updating In Wake Of ComiXology Layoffs
Marvel's app is powered by ComiXology, which has been integrated fully into Amazon's standard services. You can guess what happened next.
---
ComiXology after effects part one… Today is New Comic Book Day, the day of the week where, traditionally, new comic books are released in comic book stores and mirrored by digital distribution. But there's a problem for Marvel Comics. They have their own app, one that is powered by ComiXology, through which people can buy digital comics directly. But it seems that with all the announced ComiXology layoffs, courtesy of Amazon's streamlining of services, it seems that whoever is responsible for updating the Marvel Comics App today… hasn't. They are listed on the ComiXology page of the Amazon website, and on the Amazon app, but the Marvel app is currently bereft of this week's comics in the "Just Added" section for today.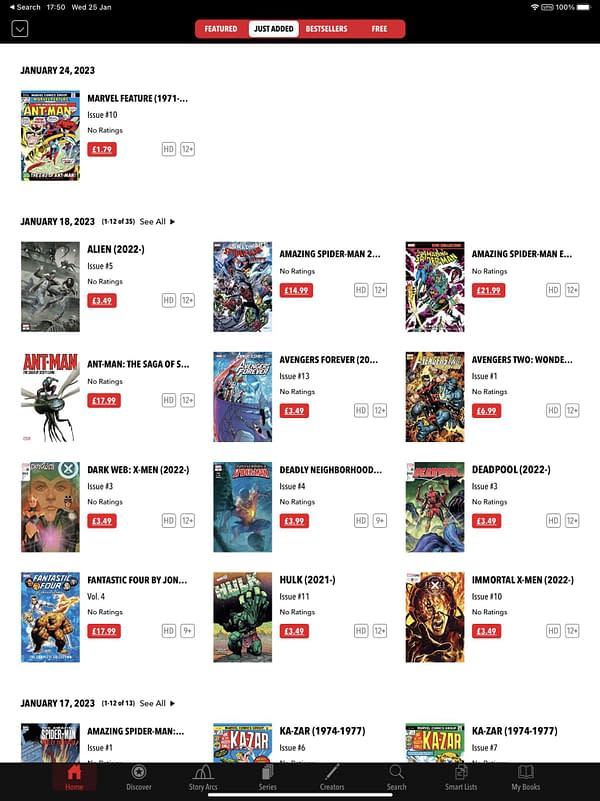 Will whoever's job it is to press the button do so today? Or has everyone who could do it been laid off? Bleeding Cool has received a number of complaints about this, but a little noodling around shows that today's Marvel comics actually are on the app, you just have to go searching for them yourself or find select items on the Featured page. Like Sins Of Sinister and the newest Murderworld.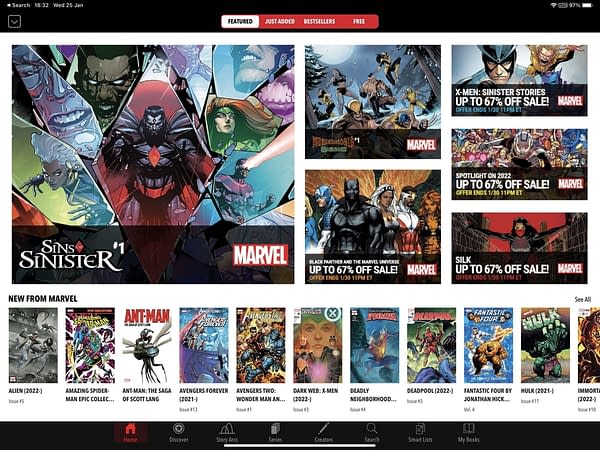 In 2014, Bleeding Cool ran the story that Amazon was buying digital comic distributor and publisher ComiXology three weeks before it was officially announced. At the time, this was painted as giving ComiXology a far greater reach, but over time that began to change. Eight years on, as part of continuing merging operations between ComiXology and Amazon, big changes kicked in, with reduced services and merging with Kindle with user-friendliness destroyed and complaints emanating from across the industry. Recent changes can be seen as a continuation of this story. Might Chip and David have something to offer in 2023?