Marvel Employees Accused Of Participating In Ike Perlmutter Campaign Against Harold Peerenboom
Ike Perlmutter is Chairman of Marvel, and appointed to the Trump administration to focus on veteran affairs. Harold Peerenboom is a Canadian businessman, who in recent years, moved to the same Florida complex that Ike and Laura Perlmutter have lived and began getting involved in the complex affairs, especially the organisation of the tennis club, something Perlmutter rankled at.
And thus began a war of the ages.
When last we reported on the legal battle between Harold Peerenboom and Ike Perlmutter, we noted that for the first time, Perlmutter's team admitted that Perlmutter had indeed circulated mailings containing negative news reports about Peerenboom back in 2011, when Harold was trying to gain greater power of the complex' tennis club.
However they do not admit to the circulation of the further hate mail accusing Peerenboom of being a paedophile and the like. For that they point to an ex-employee of Perenboom receiving a "hate mail" kit forwarded to him from Canada, and intercepted by homeland security, that bore all the hallmarks of the actual campaign against Perenboom, with the allegation that this was a false flag operation on Harold's part to smear the Perlmutters.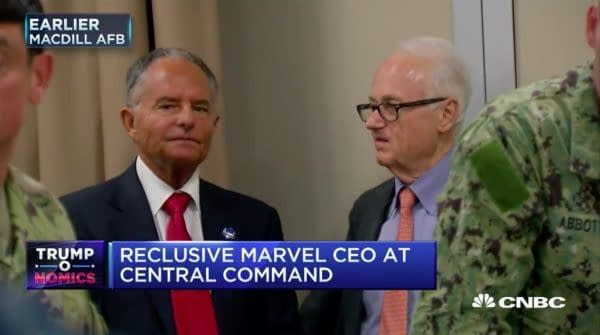 Neverthless, it is enough for Peerenboom's team to claim that this is evidence that Perlmutter did it all. And that, as Chairman of Marvel Entertainment, he used Marvel employees to assist in this.
And while other media has understandably focussed on Peerenboom using the same lawyer, Marc Kasowitz, to sue Perlmutter as Trump is using to defend himself against accusations obstruction of justice– which must make for some awkward conversation between Perlmutter and Trump at Mar-A-Lago, it is the Marvel Comics allegations that have taken my eye.
That "Two years before this testimony, he and his wife directed Marvel investigators to dig up dirt on Peerenboom and then sent an anonymous mailing of derogatory and negative news articles about him" and that "They also lobbied the detective's PBPD supervisors and the State's Attorney, including enlisting Marvel's legal counsel, John Turitzin, to emplore wealthy constituents to pressure Florida elected officials".
I remember a certain story about Turitzin from the very first day of Bleeding Cool, eight years ago…
All this comes from the successful legal challenge to subpoena Marvel Comics and Disney to hand over all e-mails that mention Peerenboom.
The case continues to… continue.