Marvel Gets a Very Surprising President of The United States of America in All-New Wolverine #33 (SPOILERS)
Today sees All-New Wolverine take a trip to the near future for their Old Woman Laura storyline. I know, I know, everyone seems to be doing that these days. But this may set one of those precedents, the kind that Marvel fans will keep looking for signs it's heading in that direction.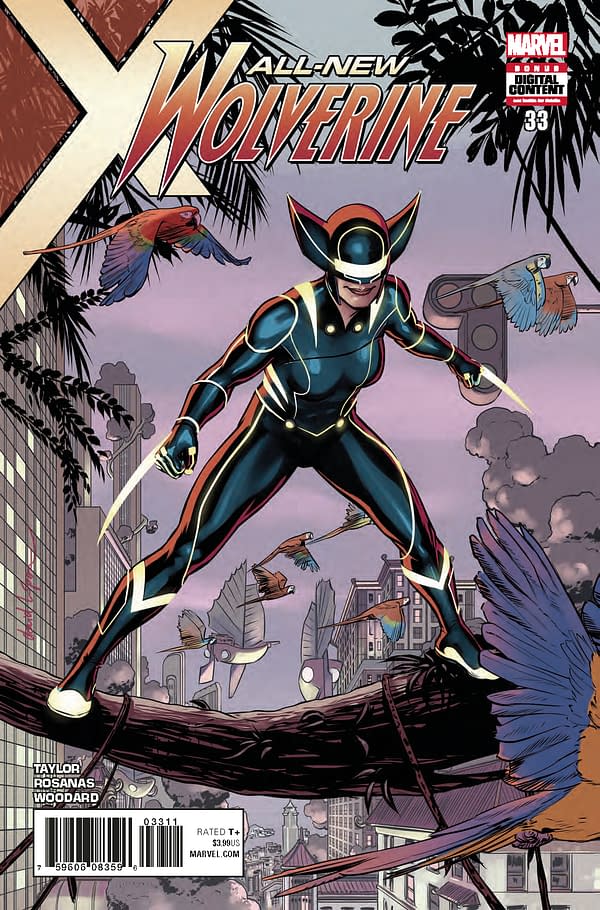 Gabby, Honey Badger, is now the new All-New Wolverine. That's a given. Of Old Man Logan, of Young Man Logan, there is no sign. And of Laura, the old-All-New Wolverine?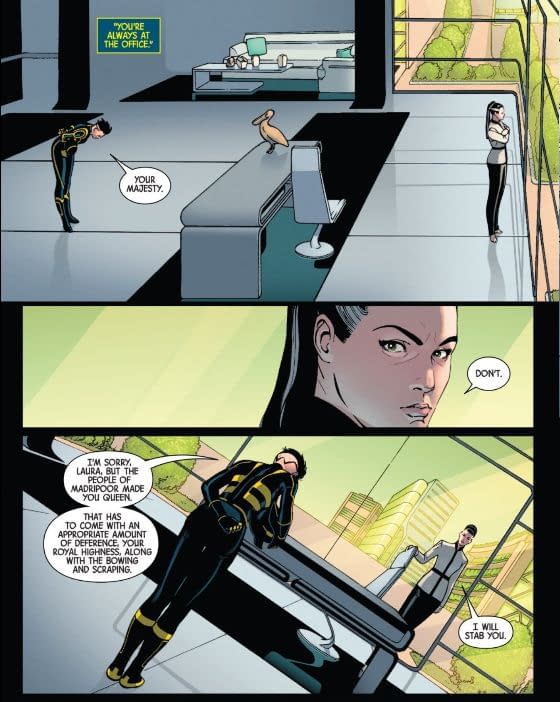 Queen of Madripoor, Wolverine's old stomping ground and now Old-All-New-Wolverine and New-All-New-Wolverine's domain. Royalty. Not very American though is it? So why not take a trip to Washington DC to see who's actually in charge over there now (if there's any of it left)?
And who is the new President Of The United States?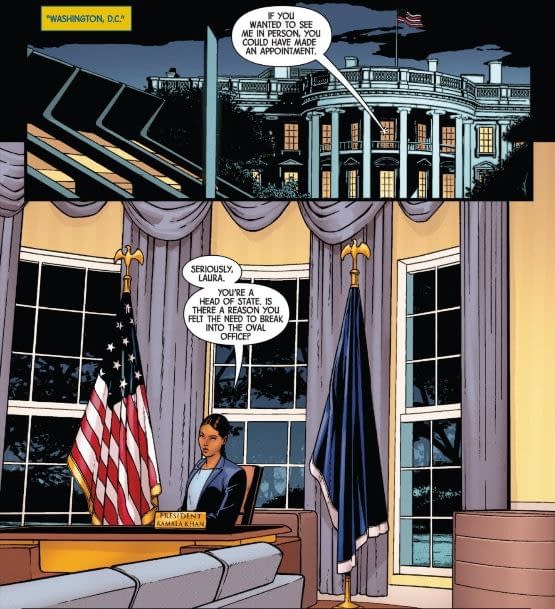 Kamala Khan. Better known as Ms Marvel. And now the first woman Muslim Inhuman President of the United States.
Kamala Khan was created by Sana Amanat, G. Willow Wilson, and Adrian Alphona back in 2013. A 16-year-old Pakistani-American from Jersey City, New Jersey, with Inhuman-based superpowers, she appeared in her own Hugo Award-winning comic, Ms Marvel, in 2014 which has been ongoing since. The character has been an Avenger, is a Champion and her future, it seems, is rosy. And as President of the United States, she is perfectly able to accept visiting royal dignitaries like Laura. As they make representation regarding upcoming changes to foreign policy.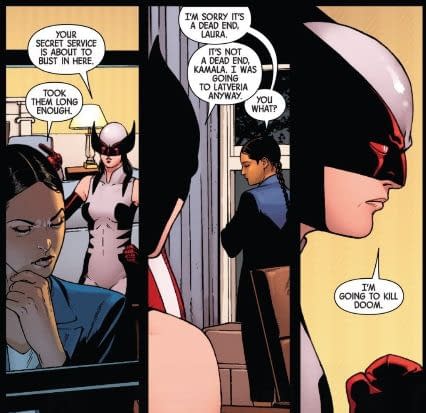 You can take the woman out of being called Wolverine and make her Queen, but you can't take the Wolverine out of the woman. Especially if she keeps dressing up as Wolverine. And wanting to kill Doctor Doom. Though she isn't alone.

Maria Hill, last seen in Infamous Iron Man being rescued by Doctor Doom from Diablo. The eyes car, the lethal haircut, back in SHIELD – who are working as White House security staff – there's another story to be told. But not in this issue…
ALL NEW WOLVERINE #33
(W) Tom Taylor (A) Ramon Rosanas (CA) David Lopez
OLD WOMAN LAURA BEGINS!
In the not-too-distant future, the world is a utopia where heroes have succeeded in bringing peace worldwide. At the head of this utopia is none other than Laura Kinney, who's passed on her mantle of Wolverine and is living her best life as Madripoor's benevolent queen. But a long simmering evil will force Laura, out of retirement and back into the blue-and-yellow. This final journey will take everything Laura has to give….maybe even her life.
Rated T+In Shops: Apr 04, 2018
SRP: $3.99