Marvel Unveils 7 New Variants for House of X #1 by Dave Cockrum, More
Marvel has revealed 7 new variants for Jonathan Hickman and Pepe Larraz's upcoming House of X #1, hittins stores in July and kicking off a line-wide reboot of the X-Men. Amidst the variants you can see a connecting variant by Mark Brooks which comes from the promo art first revealed for House of X and Powers of X, as well as some recycled artwork by the best X-Men artist to ever live, Dave Cockrum. Marco Checchetto, Mike Huddleston, Joe Madureira, Phil Noto, and Sara Pichelli also contribute variants to the Hicklaunch.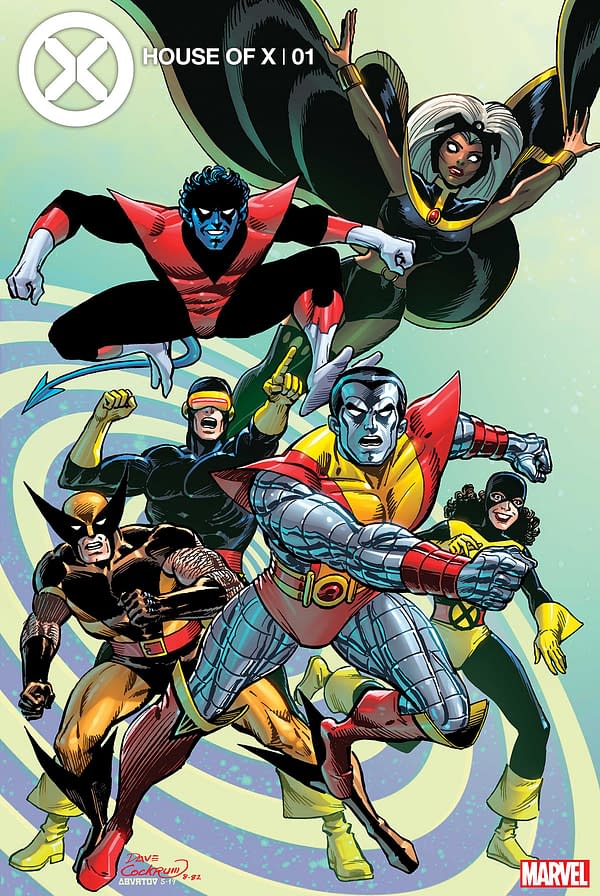 The Cockrum cover was last used as a cover for Back Issue magazine in 2008…
Where a note on the cover explains its origins…
A closing note: This issue's cover might seem familiar to some of you. It was published as a "bonus pin-up" in 1983's Special Edition X-Men, but was intended by Dave Cockrum to be an actual X-Men cover during the artist's second stint on that title. It was editorially bounced for reasons unknown (perhaps for its emphasis on Colossus over fan-favorite Wolverine), but we're pleased to spotlight it as our cover—and we thank Glen Cadigan of The Legion
That original pin-up from Special Edition X-Men, with a note by Louise Jones (Simonson)…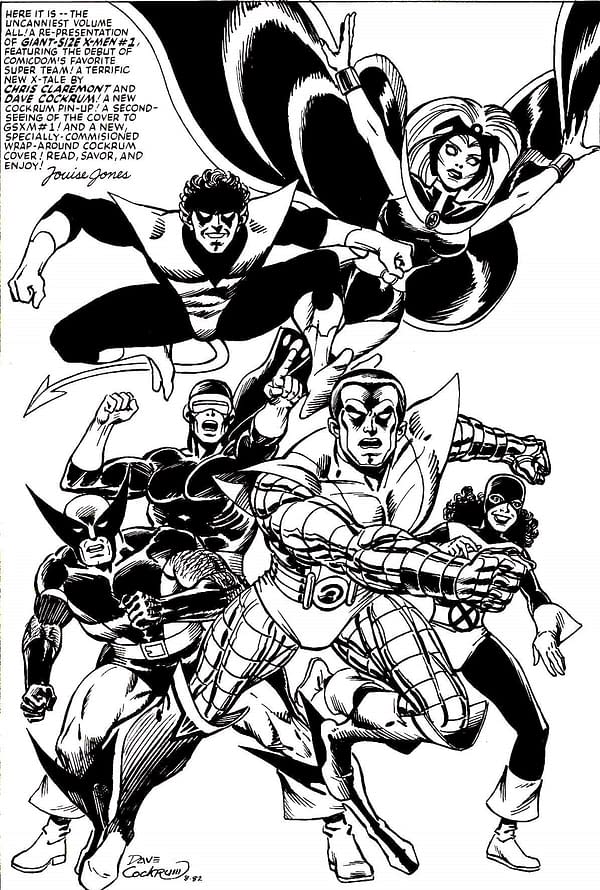 And now you know… the rest of the story.
Check out the Marvel press release below for more info on the other variants.
New Covers Unveiled For HOUSE OF X #1 and POWERS OF X #1!

New York, NY—May 30, 2019—This week, Marvel rolled out the next monumental chapter for the X-Men with HOUSE OF X and POWERS OF X – the upcoming series penned by critically acclaimed creator Jonathan Hickman!

To celebrate the X-Men's all-new phase, Marvel is proud to unveil variant covers for HOUSE OF X #1 and POWERS OF X #1, coming to comic shops this July. Check out these snapshot moments covering 50+ years of X-Men history, all captured by a lineup of premiere talent!

HOUSE OF X:

· HOUSE OF X #1 BROOKS CONNECTING VARIANT (MAY190691)

· HOUSE OF X #1 CHECCHETTO CHARACTER DECADES VARIANT (MAY190695)

· HOUSE OF X #1 COCKRUM HIDDEN GEM VARIANT (MAY190698)

· HOUSE OF X #1 HUDDLESTON VARIANT (MAY190693)

· HOUSE OF X #1 MADUREIRA VARIANT (MAY190696)

· HOUSE OF X #1 NOTO VARIANT (MAY190697)

· HOUSE OF X #1 PICHELLI VARIANT (MAY190694)

For more information on HOUSE OF X, visit Marvel.com.

HOUSE OF X #1 (of 6)
Written by JONATHAN HICKMAN
Art by PEPE LARRAZ
Cover Art by PEPE LARRAZ