Marvel has released a new media blast revealing nearly all of the creative teams and most of the covers for Generations, the crossover event created to save the slumping sales of an already existing super-mega-crossover event which is in the process of saving the slumping sales of the rest of the publishing line. It's Trickle Down Cominomics just the way we like it here in America, and hey, if you don't like it, go move to Norway and read Donald Duck comics or something. This new media blast follows an earlier media blast which only contained most of the creative teams and some of the covers, as we reported back on April 20th, but maybe everyone was just too stoned to remember and that's why it's news again today.
Generations pairs legacy characters with their prior versions in a series of one-shots that Marvel claims will shed light on the most pressing questions about the future of the Marvel Universe, and the fate of everyone's favorite heroes. In other words, who is still a Nazi? Hopefully, nobody.
It's unknown at this time if Marvel will release one more intermediary media blast consisting of all of the creative teams and nearly all of the covers before finally revealing all of the creative teams and all of the covers, but we'll be on the lookout. Check out the lineup of ten one-shots below, shipping in August and September:
August On Sale GENERATIONS: THE STRONGEST starring Bruce Banner and Amadeus Cho, the Totally Awesome Hulk
Written by Greg Pak
Art by Matteo Buffagni GENERATIONS: THE PHOENIX starring The Phoenix and Jean Grey
Written by Cullen Bunn
Art by RB Silva GENERATIONS: THE BEST starring Wolverine and All-New Wolverine
Written by Tom Taylor
Art by Ramon Rosanas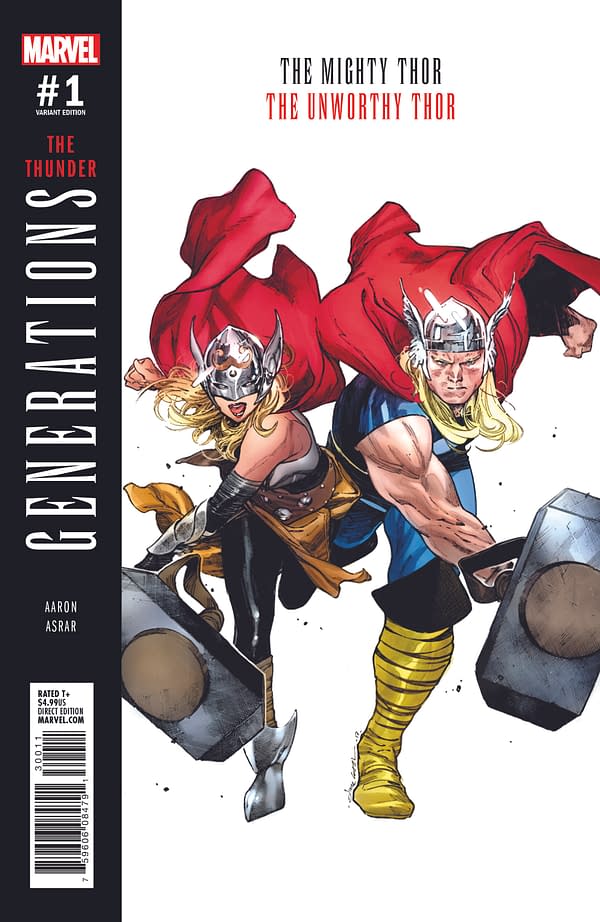 GENERATIONS: THE THUNDER starring The Mighty Thor and The Unworthy Thor
Written by Jason Aaron
Art by Mahmud Asrar GENERATIONS: THE ARCHERS starring Hawkeyes, Clint Barton and Kate Bishop
Written by Kelly Thompson
Art by Stefano Raffaele
September On Sale GENERATIONS: THE BRAVEST starring Captain Mar-Vell and Captain Marvel
Written by Margie Stohl
Art by Brent Schoonover
GENERATIONS: THE MARVELS starring Captain Marvel and Ms. Marvel
Written by G. Willow Wilson
GENERATIONS: THE IRON starring Iron Man and Ironheart
Written by Brian Michael Bendis
Art by Marco Rudy GENERATIONS: THE SPIDERS starring Peter Parker: Spider-Man and Miles Morales: Spider-Man
Written by Brian Michael Bendis
Art by Ramon Perez GENERATIONS: THE AMERICAS starring Steve Rogers: Captain America and Sam Wilson: Captain America
Written by Nick Spencer
Art by Paul Renaud
Enjoyed this article? Share it!