Marvel's Mayor of New York, The Kingpin, is Legalising Marijuana in Daredevil #12 (Spoilers)
Man, the conclusion of today's Daredevil #12 is rough. And I speak as someone who just saw a similar scene in Joker… comics still have the power to shock in a way that's less easy to dismiss. And Chip Zdarsky and Marco Checchetto are well into what will no doubt be regarded as a classic Daredevil run, comparable to that of Frank Miller, of Brian Michael Bendis and Alex Maleev, of Mark Waid and Chris Samnee, of Ed Brubaker and Michael Lark.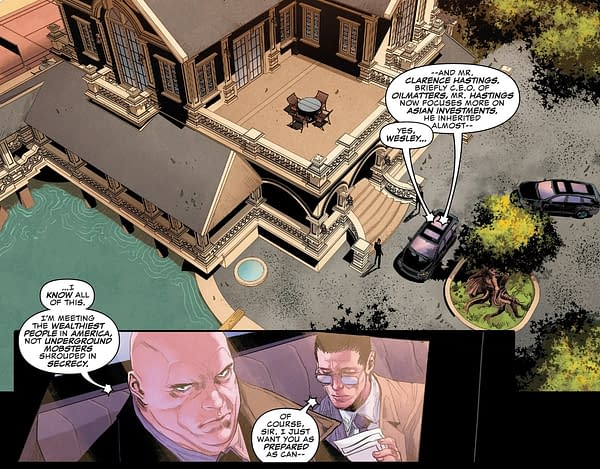 But enough about the ending of #12. This is about the middle. While Daredevil is going through his own performance crisis, The Kingpin, Wilson Fisk, New York City, is pursuing his own business interests by meeting with the big financial players of the Eastern Seaboard…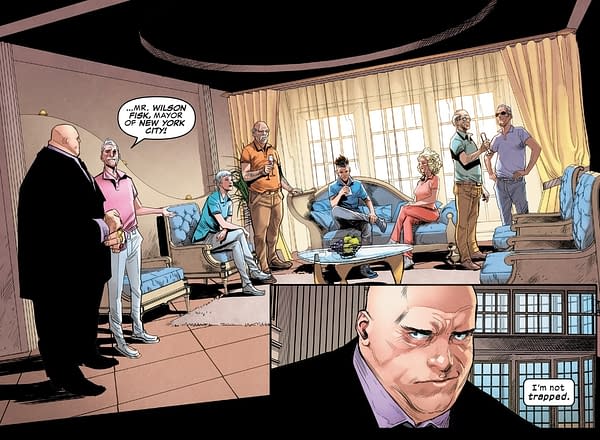 And yes, that caption is from Matt Murdock but overlapping into Fisk's world, emphasised by the barred windows behind him. Man, I love comic books. Wilson's move into heightened society and power spheres, restrains him as much as it empowers him. And even here, he cannot escape the sins of his past.
But such sins are just a matter of perspective. And, in some areas, that perspective is changing.

Legal recreational drugs. As opposed to what he is better known for.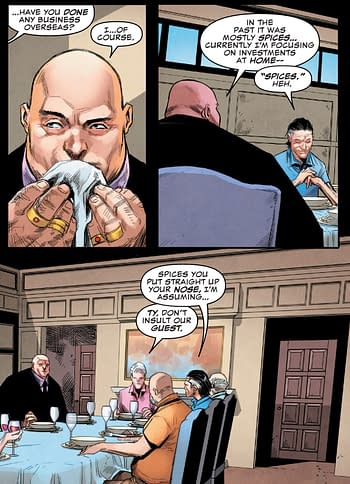 And as marijuana laws are changing across the USA, so his business operations are changing with them.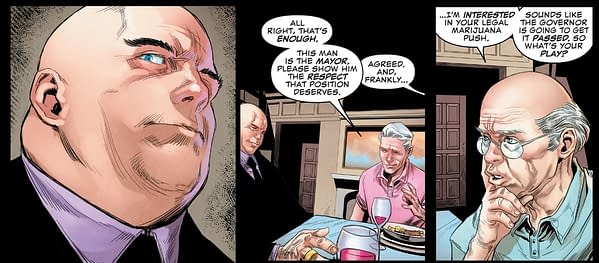 As the Kingpin gets into the big business of growing, cultivating and selling legal marijuana in the state of New York – and beyond.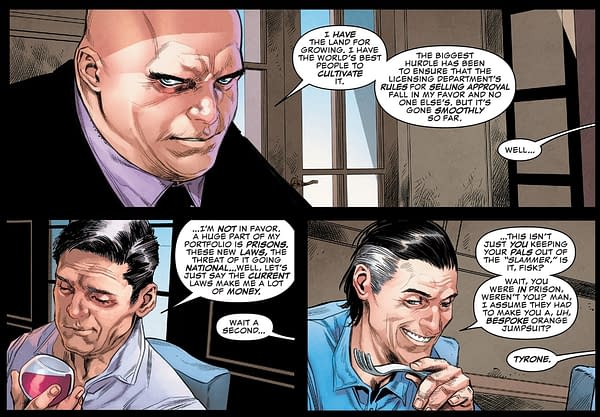 Legalising marijuana, and depriving private prisons of the revenue form such mass incarceration. Everyone has an interest at heart, no one is untainted… but it's not looking too good for Tyrone, is it?
The legal status of marijuana possession changed this August in New York. The law expunges many past marijuana possession convictions, such as most of those for possession of 25 grams or less of marijuana and reduces the penalty for the possession of small amounts of the drug, but it falls short of the legalization bill advocates were pushing for. It makes something that was a misdemeanour now a violation, and it automatically expunges old misdemeanour convictions. But violations are still arrestable offenses in New York. So do be careful, attendees of New York Comic Con.
Currently, possession of fewer than two ounces of marijuana is considered a violation, not a crime. Still an arrestable offence, it won't result in a prison term or criminal record. The penalty for possession of less than one ounce of marijuana is lowered from $100 to $50 and won't increase because of an individual's criminal history. The penalty for possession of between one and two ounces is $200, regardless of criminal history.
Marijuana is added to the definition of smoking in the Public Health Law, so smoking marijuana is prohibited anywhere smoking tobacco is prohibited.
While actual marijuana legislation still continues to be pursued in the state's next legislative session. In the Marvel Universe, it looks like the Mayor of New York may be more willing to help see this make it onto the statute books.
Depends how the final scene of Daredevil #12 goes down, I guess…
DAREDEVIL #12
(W) Chip Zdarsky (A) Marco Checchetto (CA) Julian Totino Tedesco
• After reuniting in explosive fashion with DAREDEVIL #11, Chip Zdarsky and Marco Checcetto continue their senses-shattering run on DAREDEVIL!
• As Matt Murdock continues to struggle settling into a life without his horned alter-ego, a FAKE DAREDEVIL is captured by dirty cops.
• PLUS: The ongoing saga of MAYOR WILSON FISK takes a brutal, bloody turn in a sequence that'll have DD readers talking for months!
Rated T+In Shops: Oct 02, 2019
SRP: $3.99