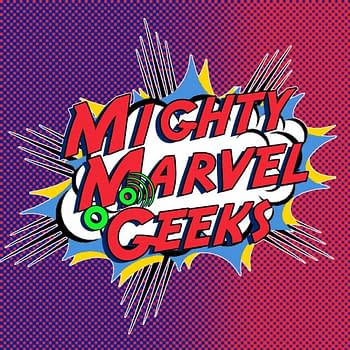 [audio: http://webegeekspc.com/podcasts/MMG_Issue98_Coulson_Lends_A_Hand.mp3]
Bleeding Cool welcomes back the podcast Mighty Marvel Geeks, hosted in part by Mike Ehmcke, who also hosts the podcast We Be Geeks, which runs on Bleeding Cool on the weekends. Here they talk about all things Marvel-related, and especially what their top picks are for the Marvel books coming out in the week ahead.
They say:
Kylan, Eric and Mike are back with another issue of Geeks of Marvel go Mighty, er Mighty Marvel Geeks. The week we tackle the real mid season finale of MAoS, "Maveth" with all seriousness and hand jokes alike (hmm, Coulson, looking at you). We also talk about how 15 titles are getting a second printing along with some more Captain America: Civil War and Black Panther movie news and more. Mighty Marvel Geeks NCBD picks for December 16, 2015 are: Squadron Supreme #1, Darth Vader Annual #1, Starbrand & Nightmask #1, Illuminati #2, Amazing Spider-Man #1.1, Ms. Marvel #2, The Unbeatable Squirrel Girl #3, Deadpool #3.1 & Kanan #9 and the Marvel Unlimited pick is: Immortal Iron Fist: The Origin Of Danny Rand.
Subscribe today on iTunes and Stitcher and leave a 5 star review. Leave a voice mail for your outlet of all things Marvel at 321-219-8227. Email us at mmg (at) webegeeks dot net with any news, questions or comments.
Follow us: Twitter: @MarvelGeeks @Uncleservo @bluesman1103
Facebook: Mighty Marvel Geeks
Suport us on Patreon at: www.patreon.com/mightymarvelgeeks
Marvel Geeks Assemble! Mighty Marvel Geeks Podcast is hosted by Mike Ehmcke (@MarvelGeeks) Along with Eric Allen (@UncleServo)and Kylan Toles (@bluesman1103) as Co-Hosts. This podcast is about all things Marvel! You can find us on Facebook (https://www.facebook.com/mightymarvelgeeks).
Enjoyed this article? Share it!