The upcoming Silver Surfer by Slott & Allred Omnibus, collecting Dan Slott and Mike Allred's full run on the cosmic hero, is getting a brand-new wraparound cover by Mike Allred for the occasion.
Take a peek…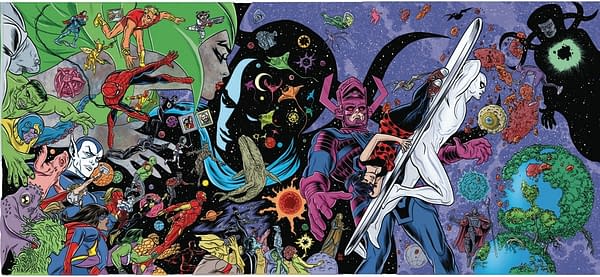 As opposed what it was originally meant to look like.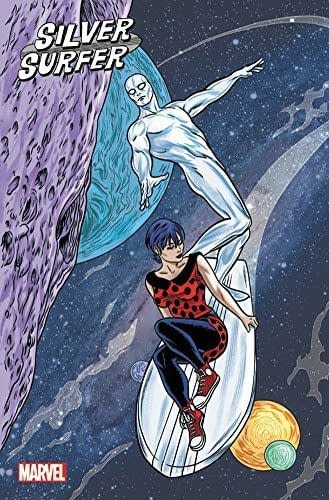 SILVER SURFER BY SLOTT AND ALLRED OMNIBUS HC
(W) Dan Slott (A) Michael Allred (CA) Mike Allred
Anywhere and everywhere – hang on! Dan Slott and Mike Allred take the Sentinel of the Spaceways on his wildest ride yet – with a very special companion! Meet Dawn Greenwood, the Earth girl who's enabled the Silver Surfer to see the universe with all-new eyes – and push its boundaries like never before! But that way leads to incredible dangers – like the Never Queen, Warrior One and Jumbonox the Giganormous! From perfect planets to wrathful warriors, from the end of reality to an all-new beginning, they'll travel the length and breadth of space and time – and beyond! But what could ever make Norrin Radd willing to once again serve Galactus? Slott and Allred weave a cosmic-powered story of triumph, tragedy and boundless imagination! This collection includes the 2016 Eisner Award-winning story "Never After"! Collecting SILVER SURFER (2014) #1-15, SILVER SURFER (2016) #1-14 and material from ALL-NEW MARVEL NOW! POINT ONE.
Rated T+ In Shops: Nov 21,
Ooh, look, my birthday. It's almost as Dan Slott lined the schedule up for the ideal pressie…
Enjoyed this article? Share it!