Back to the Mister Sinister's Gossip Column In Marauders #1 (Spoilers)
There may be some doubt expressed about the validity of the Bar Sinister gossip sheet that appeared in Powers Of X #4. But as Marauders gets the latest line-up of rumours and tittle-tattle direct from The Red Diamond, we get to have another go… remember zero lies…
SINISTER SECRET #11 Whispers on the wind that a certain mutant undergoing a new phase of their life is sitting on quite an offer. It won't last, but I wonder if they'd be surprised to know they were not the first nor the second choice. Perhaps the third time's the charm.
Okay, well that's this issue of Marauders. The offer made by Emma Frost to Kate Pryde. She confesses that she asked Ororo first. But was there a third?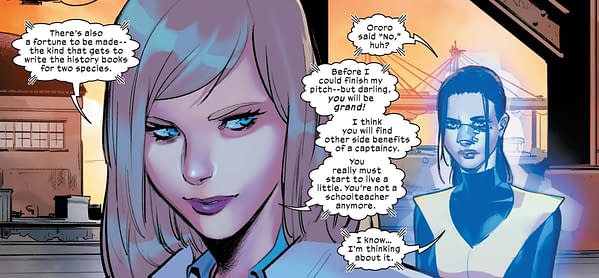 SINISTER SECRET #12 Humanity's health and well-being was never a popular topic around Bar Sinister, but now that Krakoan medicines are keeping us afloat we probably ought to pay attention to the changing of the tides at Hellfire Bay. We hear one of the seas to be carefully navigated is deep and red.
Impending battle to come? Or does that just refer to Kitty being the new Red King of the Hellfire Club? Or could the 'red' refer to Russia? Who Emma Frost managed to get to abstatin in a previous UN vote…

…but who are now rather hostile.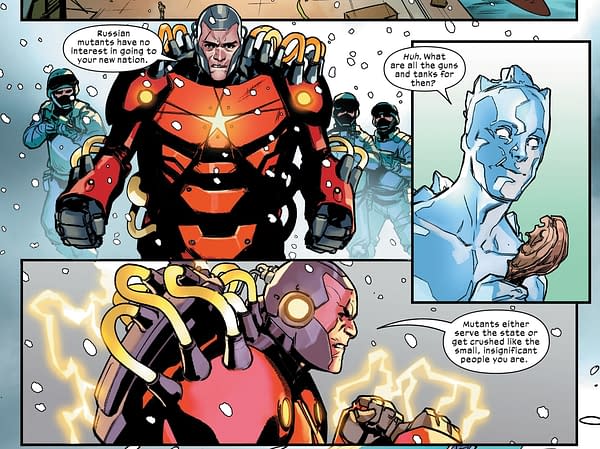 SINISTER SECRET #13 Speaking of the Black and the White, not everyone got their invite. Quite a faux pas! We hope there's not a fight.
Not all of the Hellfire Club have been represented in the House Of X so far – how many have been revived? Where is Leland?
SINISTER SECRET #14 Humans wearing sheets always lead to trouble. Who are these kooky new looky-loos crowding our gates?
The Klu KluX Klan?
SINISTER SECRET #15 We hear the slow boat is built to catch all the eyes, but it's the one under the radar that's really turning heads.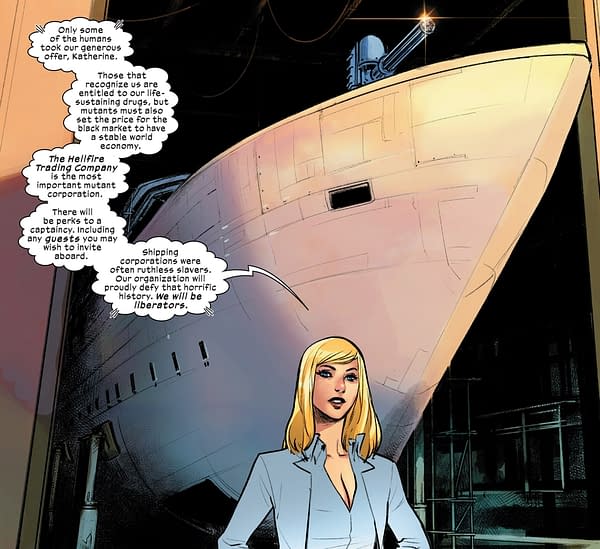 More than one boat? Or does it have a submarine aspect?
Man, I was hoping to learn more about comic books' favourite throuple. More on come on that I'm sure. Anyone want to suggest other interpretations in the comments?
MARAUDERS #1 DX
(W) Gerry Duggan (A) Matteo Lolli (CA) Russell Dauterman
THE X-MEN SAIL AT DAWN!
Even in this glorious new dawn, Mutantkind faces hardships and oppression from their human counterparts. Led by Captain Kate Pryde and funded by Emma Frost and the Hellfire Trading Company, Marauders Storm, Pyro, Bishop and Iceman sail the seas of the world to protect those hated and feared!
Rated T+In Shops: Oct 23, 2019
SRP: $4.99