The Lakes Festival is the closest Britain gets to Angouleme, a comic book art festival held in Kendal in the Lake District, that takes over the town. You'll have read coverage about the show most years on Bleeding Cool.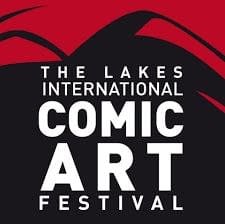 This year, two of the guests would have been Mitch and Elizabeth Breitweiser. Elizabeth is especially linked to the show as she coloured Kill Or Be Killed, the comic series from Image Comics drawn by Sean Phillips, who lives in the Lake District and is a patron of the festival. Elizabeth was announced earlier in the year, with Mitch joining her more recently.
Mitch Breitweiser is a prominent comic book artist well known for his Captain America work, and Donald Trump supporter who posted images of support after his Presidential win, to very negative reactions from fellow comic book professionals. Bleeding Cool outlined an article about this at the time.
Fairly written. Thank you @richjohnston and Bleeding Cool. I could use a hug or two;) https://t.co/bS5v0GWpEA

— 🌈🌤 M I T C H 🦅🌩 (@mbreitweiser) November 12, 2016
Elizabeth is a prominent comics industry colourist who, as well as Kill Or Be Killed, has also recently been colouring Lee Weeks' work on DC's Batman ongoing series.
Recently, alongside their upcoming appearance at the Lakes, it was stated online that they were both prominent members of Comicsgate.
The Comic Art Festival in Kendal just announced two prominent members of comicsgate as guests as this year's event

— Some Bunny (@stevewmorris) 28 August 2018
A number of those associated with Comicsgate have been responsible for the viler, bigoted and extended campaigns of harassment against marginalised comics creators and those who support them. There are those also associated with the #hashtag who claim it as a positive cry to celebrate the comics they love, but it has a tendency to still end up as comics that people hate, calls for creators to be fired or boycotted, comics stores to be boycotted and another tendency to concentrate around issues of race, sexuality, gender and ethnicity. It has also been used successfully to help rally round support for Kickstarter and Indiegogo campaigns for creators who claim victimisation as comicsgaters, with six figures sums raised being common.
Elizabeth and Mitch have launched an Indiegogo fundraiser for his own comic book Red Rooster which has currently raised over $165,000. Mitch has mentioned in conjunction with #Comicsgate only twice on social media, both times in replies, once to Elizabeth.
Comicsgate: when fans walked away, creators rose to serve them with great art and enthusiasm. Speaking of… Last day for RED ROOSTER: Golden Age. I would appreciate it if you'd give it a look! Thanks⚡️🐓⚡️ https://t.co/9VeMQKrIyd

— 🌈🌤 M I T C H 🦅🌩 (@mbreitweiser) August 22, 2018
You're getting spoiled whether you like it or not. The customers choose. They are the leaders of Comicsgate.

— 🌈🌤 M I T C H 🦅🌩 (@mbreitweiser) July 30, 2018
Elizabeth has also occasionally appreciated the support of people like Richard Meyer for their crowdfunders and they have both appeared in videos promoting their work with other prominent Comicsgaters. That appears to be the extent of their online involvement.
A couple of people decided to state they wouldn't be attending the show as a result. If they ever were. This is not entirely new territory for The Lakes, last year who were the subject of a twitterstorm over their treatment of a journalist who pointed out the relatively low ethnic diversity of the large guest list, with attendees pulling out as a result, and a full and frank apology later being issued.
Regarding the Breitweisers, there seemed to be a handful of other comics industry posts a few days ago with several people expressing disappointment at the Lakes, but nothing that seemed to have caught fire, and a distinct lack or retweeting.
Yesterday, however, the Breitweisers pulled out of the show, citing concerns over their personal safety.
Due to concerns over our personal safety, @mbreitweiser and I have canceled our upcoming appearance at Lakes International Comic Art Festival. The show is going be awesome and we are sad to miss it. Be excellent to each other. pic.twitter.com/i97P70IVgd

— Elizabeth Breitweiser (@bettieb) August 29, 2018
Everyone affiliated with the show has been wonderful and welcoming and professional. Seriously great. We do hope to see every one of you at future shows. Be well.

— 🌈🌤 M I T C H 🦅🌩 (@mbreitweiser) August 29, 2018
Details of what it was that concerned them were not made clear, and though it appeared fizzled out, there was the making of another twitterstorm. What happened privately is unknown, however.
I asked for any further details from the Breitweisers, but only received this reply, posted publicly.
This guy. No I will not defend why my wife feels unsafe to you. What is newsworthy is raising $165,000 from nearly 3,000 of the greatest fans on the planet for Red Rooster: Golden Age on Indiegogo which is still available as an in-demand store: https://t.co/9VeMQKrIyd pic.twitter.com/sHlceYzdML

— 🌈🌤 M I T C H 🦅🌩 (@mbreitweiser) August 30, 2018
I am sure this will be discussed further. But on a personal note, as someone who has been physically assaulted at comic book conventions for what I've written, I don't think anyone should be forced to feel such concern for their safety because of their opinions, and if that kind of atmosphere is being created, it should be addressed immediately. Arguing the point online is one thing, but as the situation in Phoenix last year showed us, there are very real dangers when that passion gets twisted into creating physical danger.
Enjoyed this article? Share it!