Moon Knight: From Monster Hunter To Multiple Personalities
There has been a lot of talk about Moon Knight of late. Most of it has been driven by the talk of another Marvel hero showing up in the upcoming Marvel's The Punisher series. Since a portion of the story is supposed to include a flashback to when Frank Castle (Jon Bernthal) was in the Marines and in Kandahar, it would make sense that would be a place one could slip in another character. And since Marc Spector has a military background, and is a likely candidate for a Netflix series, folks are guessing it's him. Unfortunately, there has been absolutely no other reason to think it's him at this point.
But with all the talk, I decided to dive in and read some old Moon Knight stories. I picked up the Epic Collection Vol. 1 off of Amazon, which covers most every appearance of the character up through the fourth issue of his own series. It also includes his time in the Rampaging Hulk magazine, which was then collected in a three-part Moon Knight special edition. But we'll get to that.
The collection starts with where the character started — in the pages of Werewolf by Night #32 and #33 from 1975.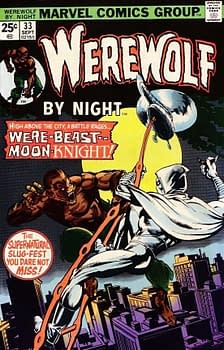 The issues were written by Doug Moench and drawn by Don Perlin. Moench would basically be the quintessential Moon Knight writer for years, almost ignoring anyone else's handling of the character.
The interesting thing here is that Moon Knight was created to be the bad guy, similar to the creation of the Punisher. He was a mercenary hired by the Committee to bring back Jack Russell, the Werewolf by Night, alive. The Committee reads a dossier that tells the reader that Marc Spector is a soldier of fortune, mercenary, and veteran of three African wars and five South American revolutions. He was briefly with the CIA, was a Marine commando for eight years, knows virtually every martial art, and is a weapons expert and ex-prizefighter. So they give him a costume lined with silver and some silver weapons, dub him Moon Knight, and send him hunting after a werewolf.
The costume is close to what he is best known for, except the cape isn't as big and connects to his gauntlets, or cestus, as they are described. He already has Frenchie flying the helicopter for him. The only thing missing here is the other personas, the longer cape, and Marlene Fontaine. All of these would appear in his next appearances in Marvel Spotlight #28 and #29 in 1976, also by Moench and Perlin.
By the end of his fourth appearance, Marc Spector was also Moon Knight, Steven Grant and Jake Lockley — setting up the character that we know now. Moench would lay the ground work for Spector's multiple-personality disorder, which would become a big part of the character in the future. But there is one big difference; something that has been retconned since. The Moon Knight gets strong with the phases of the moon — the fuller the moon, the stronger he is. At least that's how it was sold in the beginning. This ability was originally explained by him having been partially bitten by Jack Russell. He didn't become a werewolf, but gained strength with the full moon.
Later, his origin was retconned to say that he died while in Africa and was saved by Khonsu, the Egyptian god of the moon. The character took on a more Egyptian theme for a while, including having an Ankh on his chest. Now his abilities are being related to his multiple personalities, saying that they are causing him to constantly produce adrenaline increasing his strength, speed, and durability.
After his appearances in Werewolf By Night and Marvel Spotlight, Moon Knight would appear in a handful of issues of The Defenders going up against Scorpio, then two issues of Spectacular Spider-Man and an issue of Marvel Two-in-One. In that time he was written by John Warner, David Kraft, Bill Mantlo and, ironically enough, Steven Grant.
He would then go back to Moench in the Hulk Magazine from issues #11 through #20 with art by Gene Colan and Keith Pollard before finally falling into the hands of Bill Sienkiewicz, who immediately tweaked the character to the design we'd know for years. The pairing of Moench and Sienkiewicz was the right combination to propel Marc Spector to his own series in 1980, just over five years after his initial appearance. Those first five years laid the groundwork for one of the most unique characters in comics, a character with three alter egos, questionable morals, and the highest laundry bill in the superhero biz.