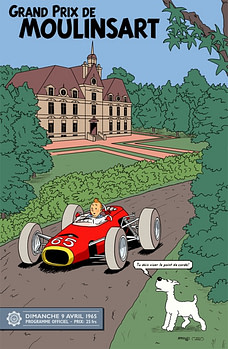 Moulinsart, the company that holds the estate of Hergé, has been lawsuit happy over anyone who tries to use Tintin images anywhere, fair use or not.
It's why a number of publications, such as Tintin And The Secret Of Literature are published without Tintin imagery, and why fans have been legally targeted over the years by the company.
NRC Handelsblad reports that Moulinsart, the company that controls the imagery of Tintin and runs the Tintin Museum on behalf of Herge's widow, lost its legal battle with Tintin fan group, Hergé Genootschap.
Le Libre explains that the publication Duizend Bommen is published three times a year, including illustrations and circulated amongst its members. Moulinsart sued over the reproduction of Herge's images without permission or payment of fees – and it went to the Hague.

But a publishing contract unearthed from 1942 shows that Hergé had assigned all his rights to his works to his publisher Casterman, and that this had never been challenged. Which means that Moulinsart has never had the rights they've been representing.

And now, not only do such fanclubs and sites no longer owe money to Moulinsart, but they could reclaim the money already paid in fines…