New Female Turtle Jennika Finally Dons Her Mask in TMNT #97
Back in Teenage Mutant Ninja Turtles #95, a life-saving procedure using mutagenic ooze and a blood transfusion from Leonardo was used to save the human Jennika, the Foot Clan's second-in-command to Splinter, from a near-fatal stab wound from Oroku Karai. But in addition to saving her life, the procedure transformed Jennika into a mutant turtle herself, the first female mutant turtle in the IDW ongoing somic book series (and we shall never speak of Ninja Turtles: The Next Mutation again). That milestone caused the issue to rocket in speculator market sales and even caused IDW to pull the issue from San Diego Comic-Con under fear of creating a stampede.
Thanks to concept art by Sophie Campbell, who we know will take over writing and drawing the series following the game-changing TMNT #100 later this year, we know what color bandana Jennika will wear: yellow. But in the comic, Jennika had yet to wear a mask at all… until today.
As the war for control of the Foot Clan rages on in TMNT #97, in stores today from the creative team of Kevin Eastman, Tom Waltz, and Michael Dialynas, Jennika is taken to the home of Brooklyn S. Bridge as she tries to come to grips with her new mutant state and the reaction she received last issue from her love interest, Casey Jones.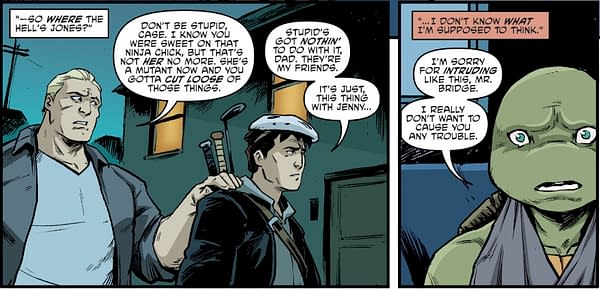 But when Karai sends assassins to Brooklyn's house, Jennika springs into action.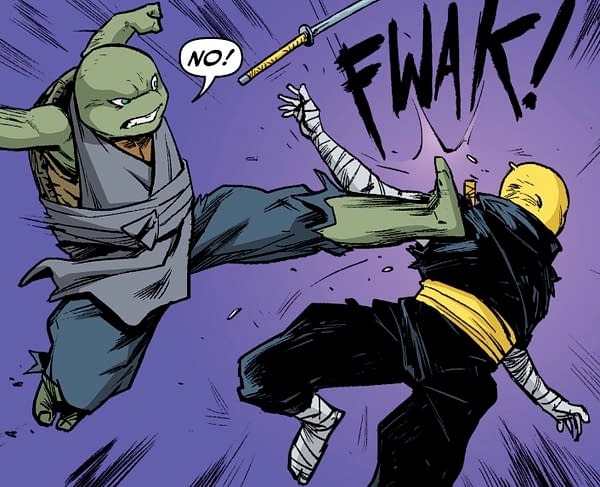 And when the fighting is done, she's awarded her prize: a yellow ninja mask from Alopex.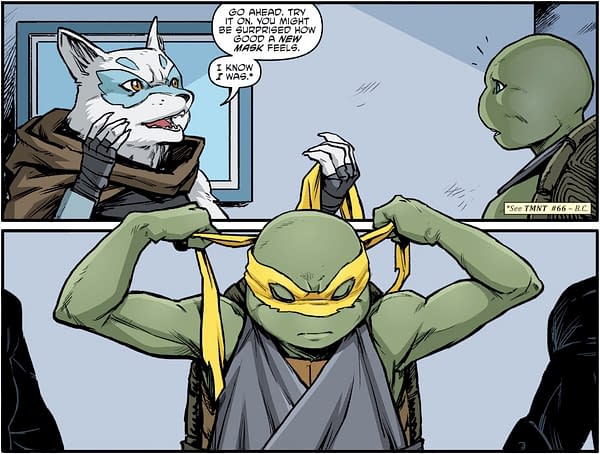 But that's not the best reward. Having rushed into the house to join the fray, Casey was jolted from his confusion to remember why he likes Jennika in the first place.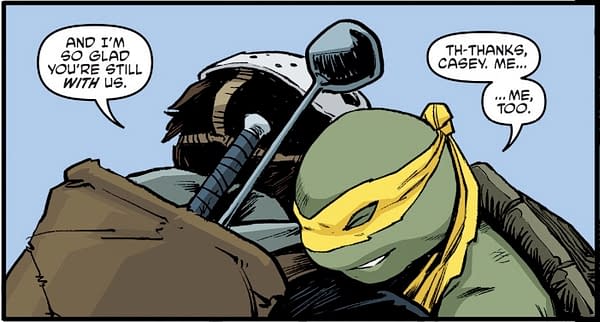 Of course, Casey's father, Hun, is less than pleased to see his son cavorting with a mutant. And speaking of fathers, this issue reveals the fate of the Turtle's father, Splinter, in the shocking final scene as Karai takes the fight to his base, and there are casualties of war.
TMNT #97 is in stores now, and just three issues to TMNT #100.
TMNT ONGOING #97 CVR A WACHTER
JUN190677
(W) Tom Waltz, Kevin Eastman (A) Michael Dialynas (CA) Dave Wachter
City at War, Part 5. With enemies victorious on all sides and allies in short supply, the TMNT are at their lowest point. Yet as the TMNT start to blame themselves, a greater threat looms ever closer…
Don't miss the earth-shaking lead up to TMNT #100!
In Shops: Aug 28, 2019
SRP: $3.99