Posted in: Comics | Tagged: Antarctic Press, ben dunn, ninja high school
---
Ninja High School – and Antarctic Press – Celebrate 35 Years In May 2020
In May 2020, Antarctic Press will publish Ninja High School #177 by Ben Dunn, to celebrate the 35th anniversary of the comic book – and the publisher who began with its first issue, Antarctic Press. Not only will it publish the issue, which will see the return of the school, and with original characters who escaped to another reality, returning to put right what once went wrong – but they will publish a black-and-white edition just like the old days. And an Anniversary Special which will reprint the first issue in original black-and-white – and in colour, and a history of the comic book and publisher… and a look at what is next for the franchise.
It's all in Antarctic Press' May 2020 solicitations;
Ninja High School #177 (bimonthly, full color, 32 pgs., $3.99 U.S.)
Story/Art: Ben Dunn
At long last, Ninja High School returns!
Since the Shadows took over the original NHS universe, Anna Feeple and Professor Steamhead have escaped to an alternate NHS reality. Now they attempt to assemble a new team to go back to their world and rescue their loved ones. Just one problem: The ingredient they need happens to rest in the hands of a scatterbrained alien squirrel. What could possibly go wrong? Plus the return of a certain ninja!
Ninja High School #177 Retro Black-and-White Variant (bimonthly, b&w 32 pgs., $1.50 U.S.)
Story/Art: Ben Dunn
It's the 35th anniversary of A.P., and we're gonna party like it's 1989 with this special retro-styled (and priced) edition of Ninja High School! Don't let the lack of hue color your perceptions—what makes Ninja High School awesome is still right there in black and white!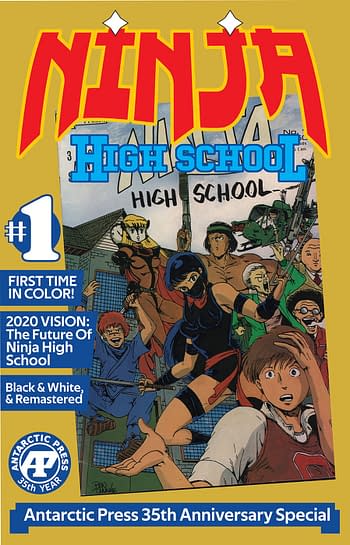 Ninja High School #1 Antarctic Press 35 Anniversary Special (one-shot, 64 pgs., b&w/full color, $9.99 U.S.)
Story/Art: Various
On our 35th Anniversary, we give you a little perspective on how much we've learned by going back to class…at Ninja High School! Celebrate with this new look at the original issue from 1989 in both original black and white and FULL-COLOR! Learn once again how Ben Dunn earned the title Godfather of American Manga!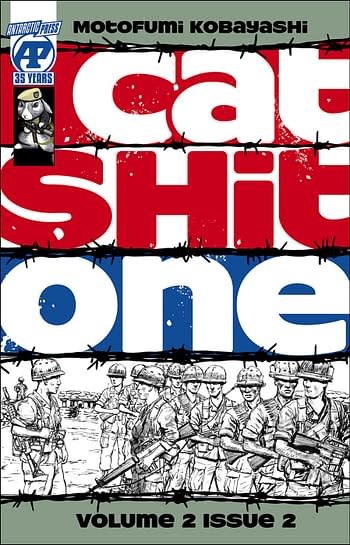 Cat Sh-t One Vol. 2 #2 (of 3) (monthly series, b&w, 32 pgs., $3.99 U.S.)
Story/Art: Motofumi Kobayashi
Sergeants Perky, Rats and Botasky, the members of special forces unit Cat Sh-t One, struggle with the ever-changing, always dangerous duties they must face in the wilds of Vietnam. The combatants may look fuzzy, but their stories are all too gritty!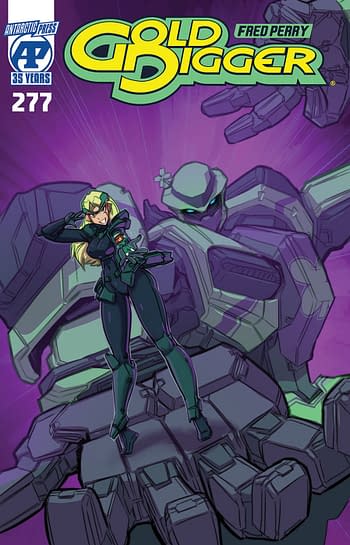 Gold Digger #277 (monthly series, full color, 32 pgs., $3.99 U.S.)
Story/Art: Fred Perry
As Dreadwing's Time-horde sweeps across the planescape, epic heroes and primordial demigods fall one after another, but there is one hope: a super team that existed during the first cycle of time! The First-Cycle's Vaultron Force survived their hibernation! Can Brianna wake them in time to beat back the ultimate draconic douchebag?
Gold Digger FREDeral Reserve Brick Signed Ed. (softcover TPB, full color, $59.99 U.S.)
Story/Art Fred Perry
LIMITED QUANTITIES
Sign up now for your own signed copy of the FREDeral Reserve Brick! Be sure to deposit this limited item in your stash, as creator Fred Perry's autograph is sure to make this copy one for the vaults! (But feel free to read it if it seems like you're going into withdrawal.)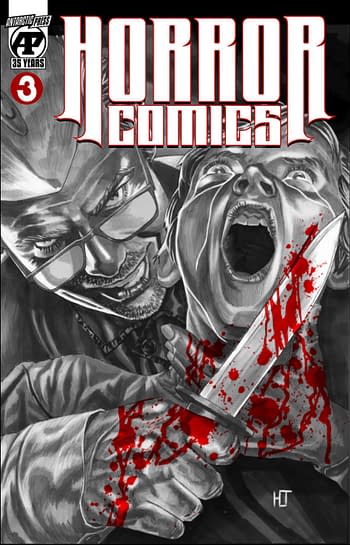 Horror Comics #3 (monthly series, b&w, 32 pgs. $3.99)
Story: Bradley Golden
Art: Andrey Lunatik & Mickey Clausen
"Cold Blooded, Part 3"
In the final part of this chilling triple-scoop of terror, homicidal ice cream vendor Thomas Wright finds his stepson Brian at the local elementary school with the intent to kill him. Detectives Sarah McKinney and Benjamin Dunne are close on his tail, but can they reach him in time to save Brian from a frigid fate?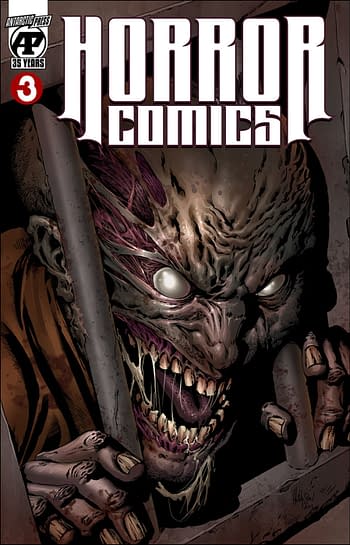 Horror Comics #3 Skin(less) Cell Variant (monthly series, b&w, 32 pgs. $9.99)
Story: Bradley Golden
Art: Andrey Lunatik & Mickey Clausen
"Cold Blooded, Part 3"
If you don't get your copy of this special, limited edition variant cover by David Hutchison, it's no skin off our nose…but this fellow might take some off of yours! Go to your retailer today and make sure your order for a copy is locked in!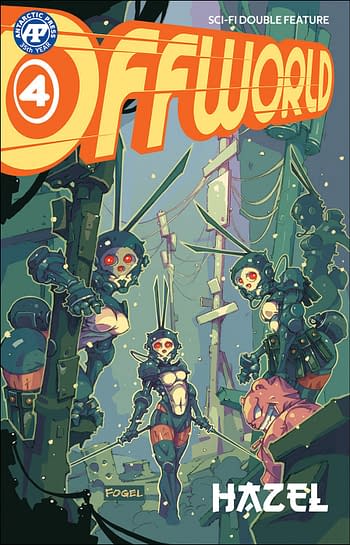 Offworld: Sci-Fi Double Feature #4 (monthly series, 32 pgs. $3.99 U.S.)
Story: C.J. Hudson, Collin Fogel
Art: Igor Wolski, Collin Fogel
MATURE READERS
In "Hazel" by Collin Fogel, after her home is attacked, Hazel goes on a rampage, but what will the cost of her vengeance be? In "Interstellar Dust" by C.J. Hudson and Igor Wolski, the Engineer, Javan, and Cael have all seen better days. Commander Lake makes a tough decision, the fiercest criminal in the known universe makes his intentions known, and the riot aboard the Afterglow rages on!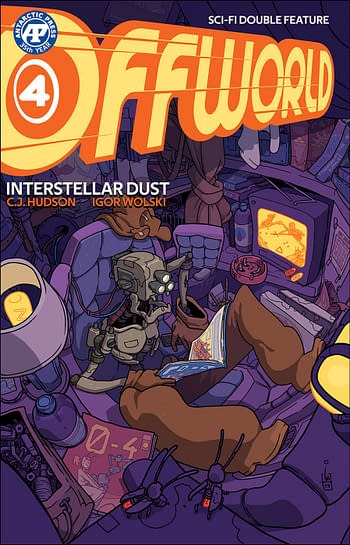 William the Last: Shadows of the Crown #6 (of 7) (miniseries, full color, 24 pgs., $3.99 U.S.)
Story/Art: Brian Shearer
ALL AGES!
William travels to face the mysterious figures that have visited him in his dreams: the legendary keepers of the original crown. Now he must demonstrate that he is more worthy than his ancestors if there is to be any hope for the kingdom.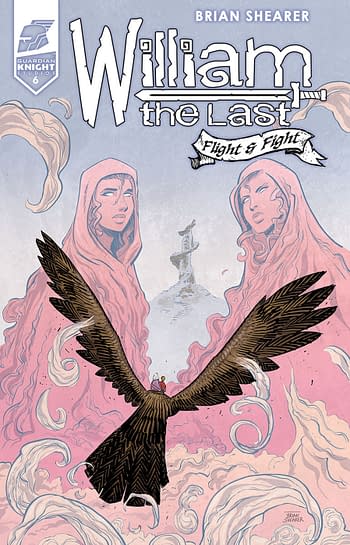 ---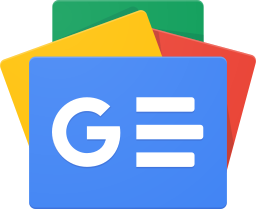 Stay up-to-date and support the site by following Bleeding Cool on Google News today!