Old Man Logan Finale May Feature the Worst Thing Wolverine's Ever Done
Wolverine is known for doing all kinds of despicable things. He's a killer, even of his own kids. He sides with the damn Avengers over the X-Men in Avengers vs. X-Men. He spends decades pining after his friend Cyclops' dead wife, and then has the nerve to lecture the guy on morality during the Schism. But in Old Man Logan #50, the $4.99 grand series finale (except for the 12-issue Dead Man Logan series that's going to follow that), according to this preview, Wolverine irresponsibly leaves dangerous drugs lying around in the street where children can find them.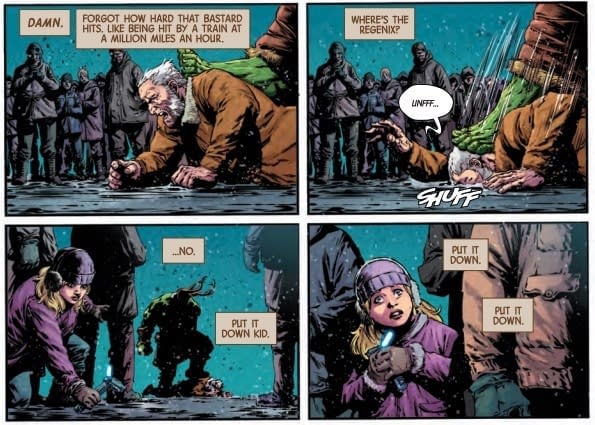 Wolverine, how do you always find a way to sink to a new low every time we think you've hit rock bottom?
Old Man Logan #50 hits stores on Wednesday.
Old Man Logan #50
(W) Ed Brisson (A) Ibraim Roberson (CA) Andrea Sorrentino
• Logan came into this world the same way he's leaving it: IN PAIN!
• Don't miss the end of an era as Old Man Logan's golden years are cut short!
Parental Advisory
In Shops: Oct 31, 2018
SRP: $4.99