I am currently compiling a list of comic book stores running Black Friday events tomorrow – and especially picking out the ones who have cool looking flyers. But the offering from Orbital Comics in London deserves its own post.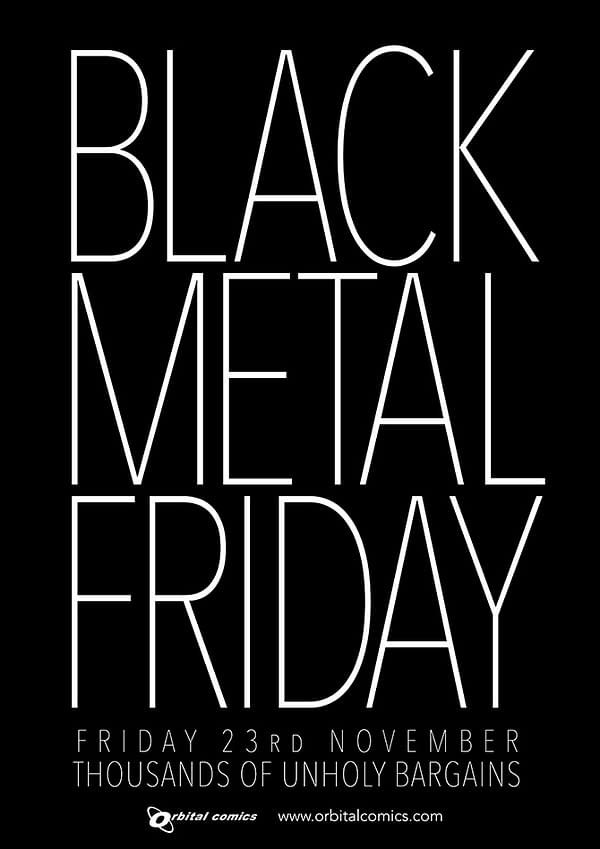 Because they are not just running a Black Friday Sale. They are running a Black Metal Sale.
Here at Orbital we offer our own take on things by offering a vast range of bargains and discounts for one day only; the price of entry being we also play blood curdling Black Metal music all day! A small price to pay…
And then at 4pm, this will happen.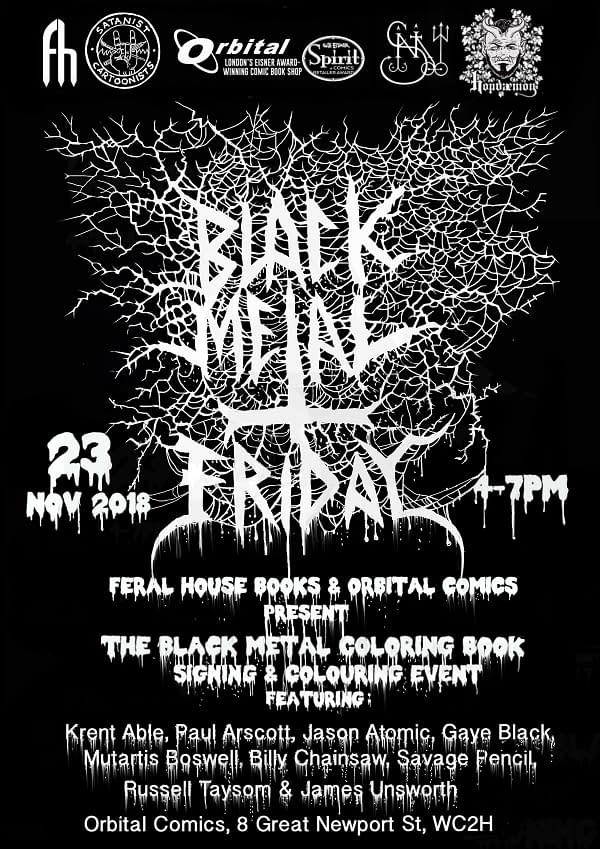 On Friday November 23rd we will team up with Feral House Books to bring you a special promotional event for the Black Metal: A Coloring Book. This event will be hosted by artist Jason Atomic, publisher of Satanic Mojo Comix, who curated the book for Feral House and will bring together a group of contributing artists for a special signing and colouring event. In attendance will be Krent Able, Paul Arscott, Jason Atomic, Gaye Black, Paul 'Mutartis' Boswell, Billy Chainsaw, Savage Pencil, Russell Taysom and James Unsworth.

"Black metal is the essence of Satan forged into shining steel, a gruesome axe that shines its dismal, eerie gleam in the night when no other lights shine anymore." (Satanic Warmaster – Werwolf)

The signing will run between 4pm-7pm where you'll be able to meet the amazing artists that contributed to the book. Enjoy colouring in your favourite Black Metal Deities or come along on Friday 3rd November to have our guests colour some for you! Black Metal: A Coloring Book promises to disturb and entertain you.
A Black Metal Colouring Book for Black Friday. Got to be worth beating your way through the crowds for, yes?
Enjoyed this article? Share it!