By Chris Thompson
[audio:http://popculturehound.net/podcast/OiCPodcastEpisode135.mp3]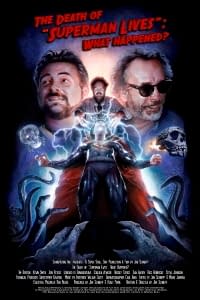 Following on from last week's chat at the pub with Black Mask Studio's Matthew Rosenberg (which you can still listen to here), this week I'm back with Jon Schnepp & Holly K. Payne, the filmmakers behind the incredible documentary The Death of Superman Lives: What Happened?
During a live Q&A held at Orbital Comics, we discussed how the project came to be, what they learned along way, how it impacted them both personally, and what else is coming up as the film nears release.
And never fear, you can still enjoy the Pop Culture Hound back-catalogue right here, as we continue to put out the same quality interviews and discussion with Orbital in Conversation going forward. It's only gonna get better, folks!
To get in touch, send feedback or submit projects for consideration, please email chris@orbitalcomics.com. And if you missed last week's episode (or any others) you can find them right here or subscribe via iTunes. You can also support the Orbital in Conversation podcast by clicking here to make a donation. Your contributions are greatly appreciated and will help us maintain the site, get new equipment, and encourage us to keep going on those cold lonely nights.
Chris Thompson's Twitter: @popculturehound
Chris Thompson's website: popculturehound.com
Orbital Comics' Twitter: @orbitalcomics
Orbital Comics' website: www.orbitalcomics.com
Jon Schnepp's Twitter: @JonSchnepp
Holly K. Payne's Twitter: @hollykpayne
TDOSLWH's Twitter: @TDOSLWH
TDOSLWH's website: www.tdoslwh.com
The Death of Superman Lives: What Happened? is available July 9 2015 – and can be pre-ordered here: www.tdoslwh.com
Enjoyed this article? Share it!