Origins & Secrets of The Kill Lock; Talking With Livio Ramondelli Part 1
The Kill Lock launched right after Christmas last month from writer, artist, and creator Livio Ramondelli, published by IDW. A unique approach, and great beginning for a new sci-fi tale, Livio took the time to talk with Bleeding Cool about this brand new mini-series, as well as his past work and career in a two-part interview with Ian Melton. In the first part we focus on the first issue of The Kill Lock, and what is to come from this new series.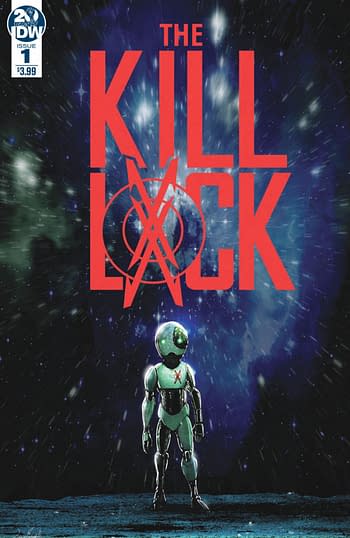 Please note content in the images below contains language not appropriate for children.
Bleeding Cool: Livio, you have started your new series with a simple concept of four criminals whose lives are now bound together because of "the Kill Lock", a program that promises for everyone who has it "if one dies, all die". Now, where did the initial idea for Kill Lock come from?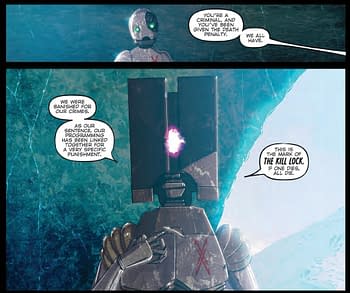 Livio Ramondelli: I was very interested in the idea of characters from different classes of society being forced to interact and protect once another. The notion of pairing a very honorably solider with a narcissistic psychopath was very appealing to me. And then also mixing in a lost addict and an innocent child, it felt like a natural recipe for some chaotic drama.
BC: You definitely give all the characters very distinctive voices and you play with the archetypes of science fiction well. Do the characters have individual names? Designations other then: "Architect", "Wraith" "Laborer" and "Young One"?
LR: I wanted them to be known by their Class, and so since their society is so rooted in those differences they are only ever given a class name, and that's how they see one another. The Artisan, The Wraith, The Laborer, and The Unfinished (Nick-named 'The Kid').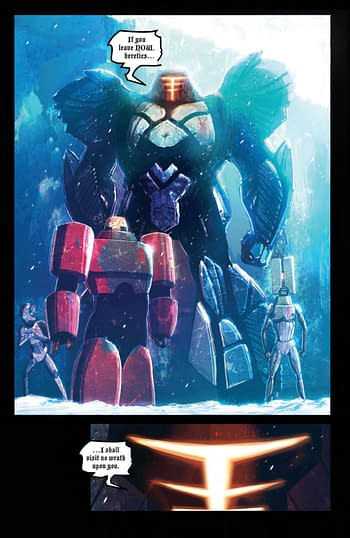 BC: Opening page you establish a very barren cold world and you give us some very non-kid material right off the bat.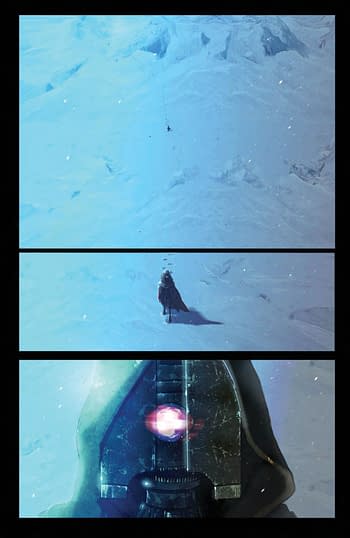 Why start with the Artisan? And are all the Artisans, such dicks?
LR: It was important to me that the series began with a familiar sci-fi trope of a vast otherworldly landscape, but then immediately be shattered by a first line of dialogue that isn't what you expect from a story like this. The Artisan is hyper intelligent, advanced, but he also happens to be a total jerk. And so the first scene is basically a jerk walking into a bar, and that jerk just happens to be a robot.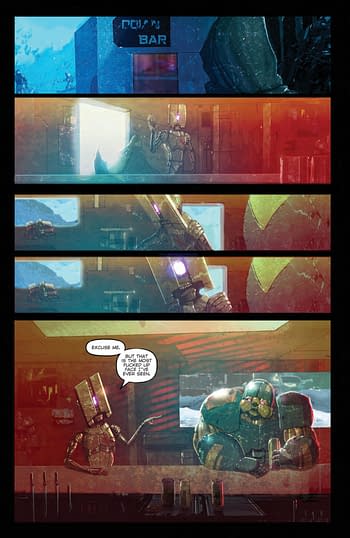 BC: (Laughs). So many reasons why it works great as an opener… Livio, you are well known as an artist, and the pages are beautiful to look at and the detail is great, but how long have you been thinking about writing? This is the first time you have a writing credit and your dialogue is fantastic. I was surprised to not have found any other writing credits for you.
LR: Thanks so much! I've been interesting writing professionally for a long time. I've done a decent amount of uncredited writing on my IDW Transformers work, but I've always wanted to write an original sci-fi series. I worked on this largely in a vacuum for a few years now, hoping the characters would resonate with other people. And having IDW give it a greenlight was beyond rewarding.
BC: Is The Kill Lock what you've been working since Transformers relaunched?
LR: The Kill Lock is something I've been working on for the last few years around all my work for the previous IDW continuity of Transformers. It was finished before I began work on Galaxies, my first work for the new continuity. Since the announcement of The Kill Lock being greenlit by IDW, the main work on it has been assembling all the backup material since there will be lots of pin-up art among other extras in the issues. I'm also hard at work on other projects at the moment, but I don't want to say too much right now.
BC: How much of The Kill Lock was done before IDW greenlit it?
LR: All six issues were completely finished when I pitched it, which is pretty rare. But I enjoyed the process of making it so much that I just kept going over the last few years, in the hopes that a publisher would choose to greenlight it.
BC: In terms of the world of Kill Lock, we see no humanoid characters at all nor are any specifically mentioned. Are there humanoids in this universe? And how large are the characters in terms of humanoid scale?
LR: There are no humans in this universe. But for scale purposes, I thought of the Kid as literally being the size of a Kid. The Artisan would be roughly five feet tall. And the Wraith is massive.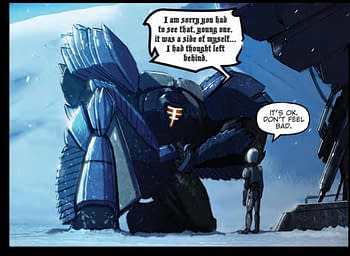 BC: Now the symbol on the Wraith's "face" seems important. What does it mean or stand for? Do all the soldiers have symbols like this?
LR: I'm glad that comes across! All of the Wraith's class have that face, but I can tease that in issue 2 we see a symbol that exists that is a mutilation of the Wraith face, and that has repercussions through the rest of the series.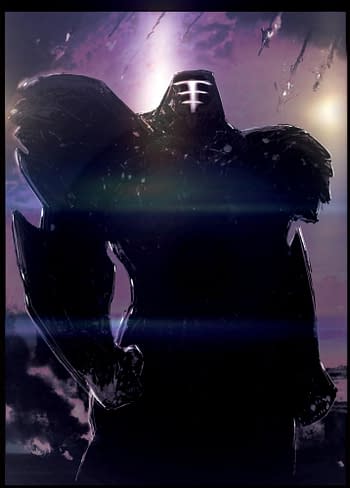 BC: Will you explore the origins for this race during the miniseries? Or is that another tale?
LR: The origins of their race aren't explained in this series. I do have an idea what the follow-up to this series would be though and it's definitely an expansion of this universe.
BC: How much backstory have you come up with for this universe? Obviously you can't cover it all in a mini-series, but you've obviously thought out the mechanics and the way the universe works in depth.
LR: It was always my goal to put the character personality's front and center, and spend little time going into the specifics of how their society works. I never wanted to be too bogged-down in exposition. But, by creating any new universe you're instantly faced with a lot of details you have to at least hint at. I can say that the backstories of the four main characters will all be revealed though by the end of the mini-series, especially why they were each sentenced.
BC: The Artisan is a very interesting character, but obviously a sociopath.
His dialogue is very "funny", but not something we SHOULD laugh with. Was his voice the easiest to create?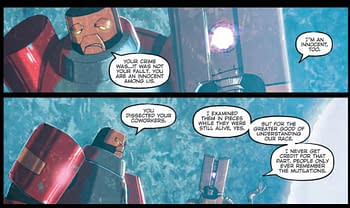 Also you mention the Artisans are very rare, so how few are they?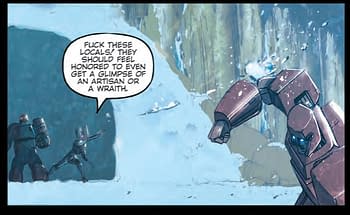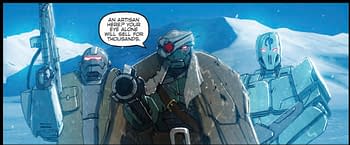 LR: The Artisan is an example of high intelligence mixed with a lack of empathy, and that leads to some very dark humor. I do think it was fun and freeing to write the Artisan as a character who truly has no filter, and that sort of unapologetic nature certainly gives the series a big amount of its edge. As for their rarity, I imagined that their homeworld in this universe only has a few dozen Artisans on it. Compared to the millions of Labor Class that exist. The Wraith is also rare, but less so for numbers and more so because they are usually operating in the farthest regions of space.
BC: How did the Wraith "fix" the bird?
It's an important detail that could be quickly overlooked and opens a lot of questions of what the Wraith is and what he can do.
LR: My goal with the Wraith was to portray him as someone who is both a brutal killing machine, but also has a deep moral value system. He has no problem decimating someone, but he also values the innocence of the kid. His fixing the bird is meant to show that among the many skills he's acquired over the years, knowing how to hurt and dismember, he also has learned how to repair. And it's a skillset he rarely has a chance to use.
BC: Was it just simply his touch then that fixed the bird?
LR: No, the scene is meant to convey that he physically repaired it. I liked the idea that he's repairing a delicate bird while his hands are still covered in blood from what he's just done to their attackers.
BC: Now you didn't create this series in a vacuum and the lettering of Tom Long really sticks out. How did he come into the project? And how did he, or the two of you together, choose the fonts for the characters? Especially the Wraith?
LR: Tom has been an invaluable collaborator from the start. We worked together on Transformers, and I was thrilled when he accepted my invitation to work on this. He's just a master of lettering and design. The Wraith font was especially something I had strong ideas for- I told him to create something biblical, since the Wraith is meant to be a member of a crusading army. And he just nailed it. I've loved everything he's done on this. And you're right, he's been the other collaborator working on this with me quietly these last few years.
BC: To wrap up talking about issue #1 what can you, or what do you want to tease for #2? The group is off world and we still don't know what the Kid did, so what can you tease?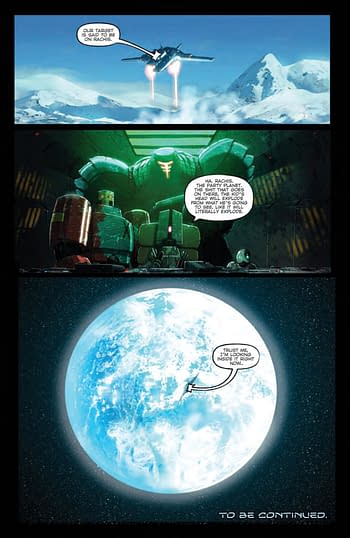 LR: I can say that in issue #2, our group heads to the party planet of Rachis, in search of a character called The Axial, rumored to have been involved in the creation of the Kill Lock punishment. And in this teaser you can see one of our lead characters, tasked with watching over the Kid, has let him wander away into a dangerous environment.
BC: (Laughs). None of them are the best babysitters… (I keep visualizing a parody poster of the four characters with "Kill Lock: Adventures in Babysitting" as the logo).
LR: (Laughs, you really could! It's definitely a story of some truly awful foster parents in a way.)
BC: This preview really reinforces what you established in issue #1 that the Laborer really likes his "drink", so much so he keep drinking even after his "incident".
LR: The Laborer really does love his drink, and they are going to a planet in issue 2 that has a lot of drink on it.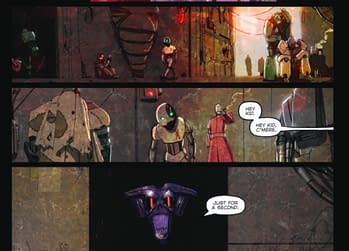 BC: Thank you so much for your time Livio.
Issue #1 of The Kill Lock is currently on sale, and issue #2 will be out this Wednesday on January 22nd, 2020.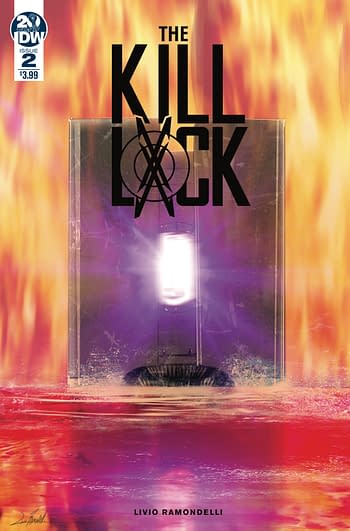 We'll be talking more to Livio in part 2 of our interview where we talk about his career and work, including DC Universe Online and The Transformers.