Patrick Gleason Debuts New Look of the Marvel Universe, Jumps From DC Comics to Marvel Exclusive
Marvel Comics has announced at the Make Mine Marvel panel at Fan Expo Dallas that artist Patrick Gleason has signed an exclusive agreement with the company. Gleason is best known of late for his work on the Superman books, first with Peter J Tomasi on the DC Rebirth line, introducing Jonathan Kent to the Superman books, as well as with Brian Bendis subsequently. He also notably worked with Tomasi on Damian Wayne in Batman And Robin and Robin: Son Of Batman. And now he's signed up, not only exclusively, but on Amazing Spider-Man. joining the team with hort story in Amazing Spider-Man #25 in July.
At Fan Expo Dallas, Gleason went on to reveal his take on the Marvel Universe with art reflecting Marvel's current and upcoming titles for the year. Here's a glimpse of the Marvel Universe to come…
So that's a Venom with wings, the new Jane Foster Valkyrie, a new Iron Man armour, new character Wave, Hyperion, a classic look Ghost Rider, Thing solo… anythig else of note?
"Pat and I started our comic book careers together almost two decades ago, and ever since joining Marvel, he's an artist I've been dying to work with here, to have him draw our incredible characters," said Editor-in-Chief C.B. Cebulski. "I'm thrilled that the stars have now aligned and Pat's joined us in the hallowed halls of the House of ideas. Trust me, the contributions he's going to make to our comics are going to mind-blowing!"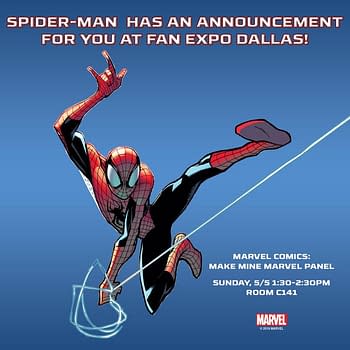 "I am so pumped to be joining the Marvel family as a newly exclusive artist and writer," said Gleason. "C.B. and everyone at Marvel have been so welcoming and enthusiastic about what we are going to do together, and it's been nothing short of awesome! Since I was a kid, I've dreamed of working with their iconic, and now world-renowned heroes. It's exhilarating at this point in my career to reach a new high point, and to be drawing the Amazing Spider-Man! I can't wait for fans of the Marvel Universe to see the crazy and exciting comics we're going to make together!"