Piranha Comics of Kingston Upon Thames on Sky News
It's been quite some time since I ventured to my local comic book shop, Piranha Comics of Kingston Upon Thames. But the store will be reopening to the public from Monday – and I plan to be doing a bicycle tour of a bunch of London shops doing likewise on the day. But what I didn't expect was to find the store pop up on Sky News. Not only did we grab the report of the telly below, but also a behind the scenes look with Bek Bayram, the owner of the chain (they have another store in Bromley and are looking to open up more around Greater London.)
So here's a quick look at how Piranha Comics appeared on national news, and then how it was filmed, still observing social distancing. It also makes an insight into modern media methods in this time of trial.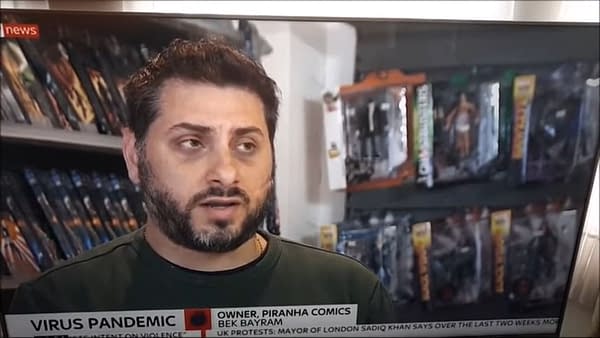 Here's how the store describes itself:
In the not too distant past of 2011, the dedicated, enthusiastic and brave comic book fan "Bodacious" Bek Bayram found himself destined to establish a one stop shop for all things comic and collectible related. It was this year that Piranha Comics was born. In its fledgling state the shop found its feet on eBay, distributing not only comics but also a wealth of knowledge from its wise owner. A year passed with Piranha Comics going from strength to strength, it was at this point that Bek could no longer resist the urge of opening a brick and mortar store, so on the 4th of July 2012 Piranha Comics Bromley first opened its doors to the public. The ethos of Piranha Comics is to provide the absolute best customer service possible whilst building relationships within the community of faithful patrons who frequent the store. Great pride is taken by all of the staff at Piranha Comics to be able to understand the needs of our customers through an excellent knowledge of our stock. Piranha Comics is THE place to be for all comic, gaming and cult collectible needs. Now returning to our online roots whilst also running two physical stores, we offer the Piranha Comics experience on our very own website.