The Politics of Fear: X-Men Red #1, an Advance Review
Yesterday, I received a copy of X-Men Red #1, the first issue of a new comic book series by Marvel to follow the Jean Grey and Phoenix Resurrection comic books, which both concluded yesterday.
Spoiler alert: the adult Jean Grey is back. And despite the cover, the Phoenix is not. The cosmic force has been dumped, though the force tried to pull a "you can't dump me, I dump you" on teen Jean. Anyway, she's not mentioned in X-Men Red, understandably.
Because this is being pitched as a high concept, stripped down X-Men comic book. It reminds me very much of the approach taken to a pilot TV series such as Runaways or Gifted. While you know a large part of the audience will be familiar with the concept and even some of the characters, a show will survive on appealing to those who do not. X-Men Red seems more than just a new comic book, but a new launch of the X-books. And seems far more successful in pulling that together than the X-Men Prime, Gold and Blue first issues that came before it.
A lot of this comes from the artist, Mahmud Asrar, whose linework shows influences from Stuart Immonen and has a similar trick of having cartoony aspects to characters which help to give an engaging sense of kineticism, but maintaining a sense of place and grittiness and the well-lit colours of Ive Sorcina do a good job at selling that. It's a pleasing style that should appeal to the eyes of those new and old. We can see that mix in the clothing choices as well, Jean Grey in costume is nineties pizzazz, given a sense of noughties seams. But she spends most of the issue, even in action, in a short-sleeved shirt, an X-styled hoodie and in a suit, greater variety than her teammates who are constantly costumed. In a story like this, it is usually a side character who becomes the reader's eye into this world, in X-Men Red, it is the team's leader who bridges the gap to the reader.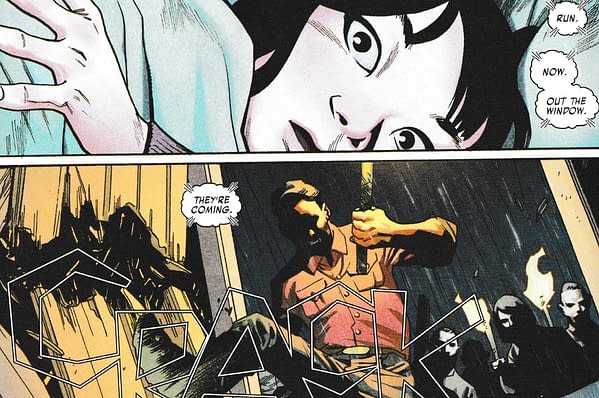 Writer Tom Taylor begins with the core concept at the heart of the X-Men, the fear of mutants by humans and their reactions fuelled by prejudice. And so a girl is contacted telepathically by Jean Grey to warn her she is in danger. A mob is coming for her because she is a mutant. And as she runs, a number of the anonymous group of humans are literally holding lit torches, though none have pitchforks. They have guns. And one of them screaming "abomination" and firing a gun is her own mother.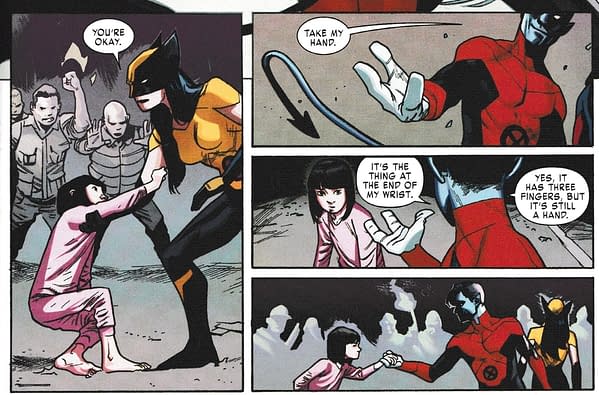 That's what initially sets this comic apart. It's disturbing enough for a new reader, but that element of hate and murder from someone's own parent is new. It delineates that something is new, something has changed and mutantkind has a new threat that not even family ties can bind.
Oh and we also have a new X-Men base underwater called "Searebro". Because a) Cerebro and b) Namor, the Sub Mariner is a mutant, too. And part of the whole story.
But this is all to come, a flash forward two months into that future, before returning to the present. We have seen a new anti-mutant hate spreading beyond the usual. Which gives the comic its title — what, you thought just because it was led by a redhead, that justified the X-Men Red title? No, it's about a new rage in humanity against mutantkind and what is driving it.
The team is Jean Grey, Nightcrawler, Namor, Gentle, Trinary, Honey Badger, and the X-23 Wolverine. Mostly physical powers, that don't distract from Jean Grey's mental prowess. And they are isolated away from humanity for a reason.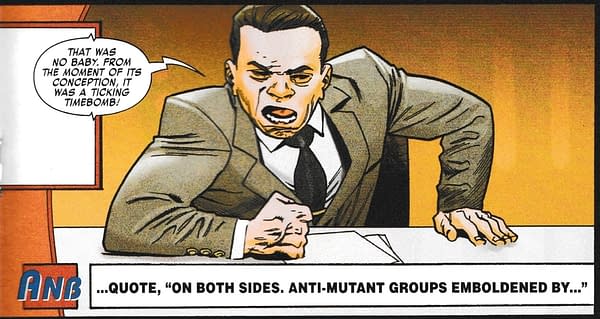 From that treatment of hostility from a mother to a mutant daughter, we see a very different reaction to a mother who the X-Men are helping cope with a mutant baby son who has a bit of the Banshee about him. It's that event that sees Wolverine and Honey Badger on the scene join with Jan Grey and Nightcrawler. What happens in the months to come is yet to be learned, including why this group stays together, and gains Gentle and Trinary as members — don't expect to learn anything about new mutant Trinary, not in this issue.
The elements of hate begin to grow, with the United Nations getting involved, and America is considering in-utero testing for mutants. The politics in this issue are embedded, and uncomfortable, phrases such as "on both sides" deliberately refer to modern American politics and the usual voices are flipped, children seen as terrorist weapons, conservatives calling for abortion, liberals fighting against such a test, and other countries legalising the imprisoning of mutants or the legal killing of those suspected to be mutants.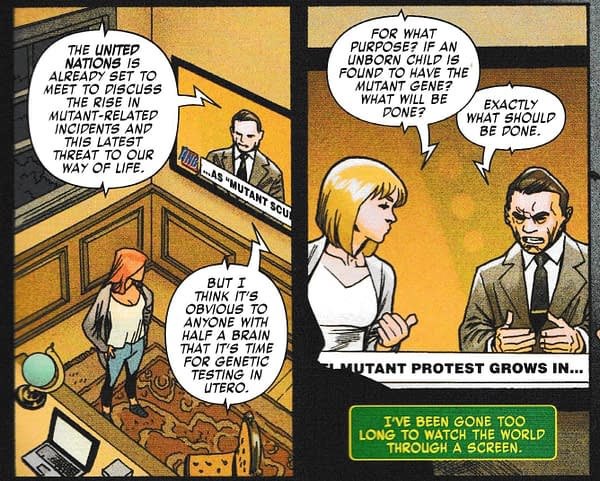 And Jean Grey, with the support of others considering a new solution. Not a new country or state, but not an unrecognised minority spread across the world, but something else, a new kind of political solution. And she sets out to use her brain to achieve it. But others have their own opposing agenda. Things go wrong. And fear and hate are on the rise again from a familiar face we haven't seen for a while.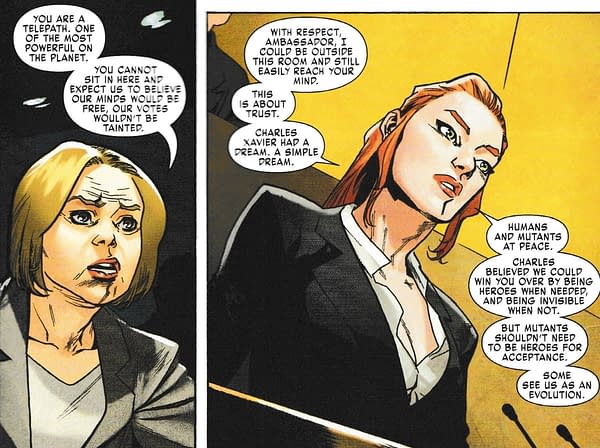 That's what X-Men Red is. Something closer in concept to zombie epics of The Walking Dead or 28 Days Later. It's about survival and a changing human/mutant landscape. This would be a fundamental change to the mutant books, if others fall into line. Could this be the future of the Marvel mutantverse, taking the themes and ideas that have always been there since the first issue and taking them forward in a new way? Is X-Men Red the future of mutants at Marvel? Or is it some kind of bubble story to be ignored by everyone else? It's hard to see it as neither of those options…
I have been overly impressed with the recent X-Men: Grand Design, showing what might have been if someone could have been an X-Men auteur, and even what Chris Claremont tried to do before it was wrested from his fingers. Could this be the next stage in that story?
X-Men Red #1 is published next Wednesday by Marvel Comics. Written by Tom Taylor, art by Mahmud Asrar, colours by Ive Svorcina, letters by Cory Petit, Christina Harrington as assistant editor, Mark Paniccia as editor.
[rwp-review id="0"]
[rwp-review-ratings id="0"]
[rwp-review-form id="0"]