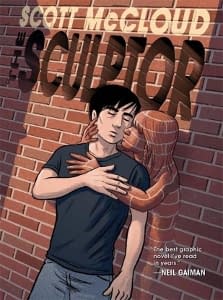 Chris Thompson writes,
After last week's discussion featuring the Wicked + Divine team of Kieron Gillen & Jamie McKelvie at D.I.C.E. (which you can still listen to here), this time I'm back with comics creator, advocate and theorist Scott McCloud (The Sculptor, Understanding Comics, Zot!) for a very special Q & A session at the Lakes International Comic Art Festival.
Scott and I share some interesting discussion with a packed house, then we have the privilege of introducing the new UK-based charity CLAw (Comics Literacy AWareness) to the world, as well as unveiling their first initiative. It's an exciting time to be in comics in general, and it captures just a small portion of the magic that is the Lakes Festival.
To get in touch, send feedback or submit projects for consideration, please email reviews@popculturehound.com. And if you missed last week's episode (or any others) you can find them right here or subscribe via iTunes. You can also support the Pop Culture Hound podcast by clicking here to make a donation. Your contributions are greatly appreciated and will help us maintain the site, get new equipment, and encourage us to keep going on those cold lonely nights.
[audio:http://popculturehound.net/podpress_trac/web/3819/0/PCHPodcastEpisode106.mp3]
Enjoyed this article? Share it!