From Benjamin Dixon, published by Myriad Press and debuting at Thought Bubble on September 22nd… A New Jerusalem.
A boy's traumatized father comes home from the Second World War, but can't make the transition to civilian life.

Eleven-year-old Ralph lives with his mother, plays in bombed-out buildings and dreams of the day his father will come home and tell him of all his heroic battles. But when his father actually does come back, he is far from what Ralph expected: his father is sullen, withdrawn and refuses to discuss the war at all.

Susceptible to fits of crying and uncontrollable rages, his behaviour starts to directly impact Ralph and his mother, and the community around them. This is a beautifully observed and sensitive portrayal that will help readers understand post traumatic stress disorder.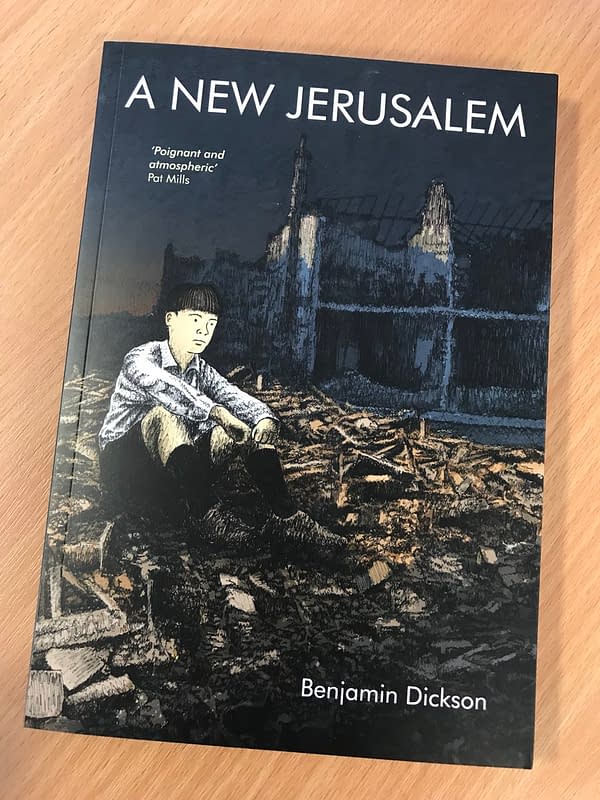 He writes:
Although I've drawn a few of my own stories in the last decade, with the exception of Falling Sky (at 80 pages) they've all been fairly short. At 144 pages, this is by far the longest story I've ever attempted to draw myself. The book is due to be published by Myriad Editions / New Internationalist in November 2018.
Bookstores may even have it in October. But you can get in a whole lot earlier at Thought Bubble. Here's a preview of what to expect.
Enjoyed this article? Share it!