For decades, DC Comics remained at 666 Broadway in New York – and one of the given reasons it stayed there for so long, was the DC Comics Archive. The prospect of moving this collection that now houses over 100,000 comics, plus hardcover books, movie props, original artwork and more memorabilia. from one coast to another saw accountant after accountant baulk at the expense, this would have undertaken. It would be Diane Nelson who would screw her courage to the sticking post and make it happen.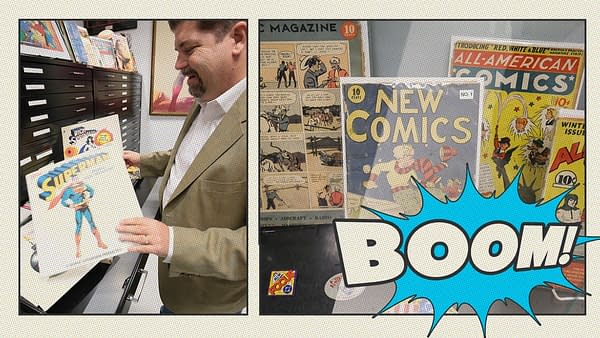 Well, Omaze is offering the chance to win a rare, private tour of DC's vast comic book archive (it's normally closed to the public!) and visit the DC office for a peek behind the scenes. Explore comics, movie props, artwork and more dating back to the 1930s – including the first issues of Superman, Batman and Wonder Woman, And including two round-trip flights and one 4-star hotel room for you and another.
It's all to raise money for activist charity GLSEN, who work to create safe and inclusive schools for everyone. They envision a world in which every child learns to respect and accept all people – regardless of sexual orientation, gender identity or gender expression. Each year, GLSEN programs and resources reach millions of students and educators in K-12 schools across the United States, but their movement to ensure equality and respect for all can be felt internationally and at all levels of education. And work to make schools a positive and affirming environment for every student.
And, hopefully, they won't suddenly pull the opportunity out of homophobic embarrassment this time.
Enjoyed this article? Share it!