The Truth About Professor X, in Today's Dawn of X Comics – X-Force #6, New Mutants #6, Fallen Angels #6 and X-Men #5 Spoilers
Today's X-Men #5 sees Cyclops putting a team together for a mission. one of the members is Synch, from Gendration X, created by Scott Lobdell and Chris Bachalo, who died from an explosion saving others. Then to be revived by the Transmode Virus, as one of Selene's army of deceased mutants, only to be ascribed again. Well now he's back – though he seems a little annoyed by his position as backup mutant, entering the Vault.

As well he might be, as given his resurrection write up, that's what he was planned for from the start, to take over from one of the Resurrection Five if needed.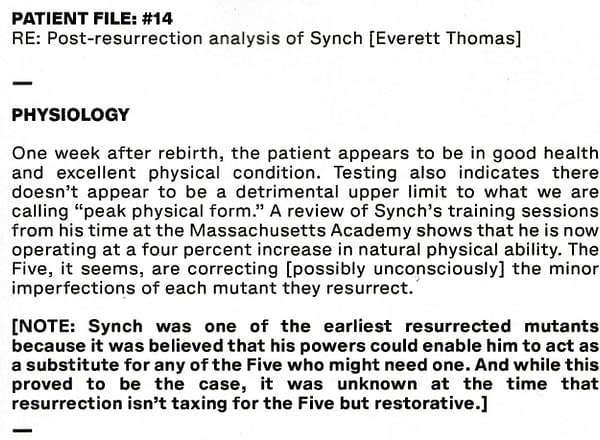 Although if the process is restorative for the five how come they have had to burn through so many Proteuses? But there are other moral quandaries in and around Krakoa this week. Fallen Angels comes to a conclusion with a heart-to-heart between the new Psylocke and the new Wolverine.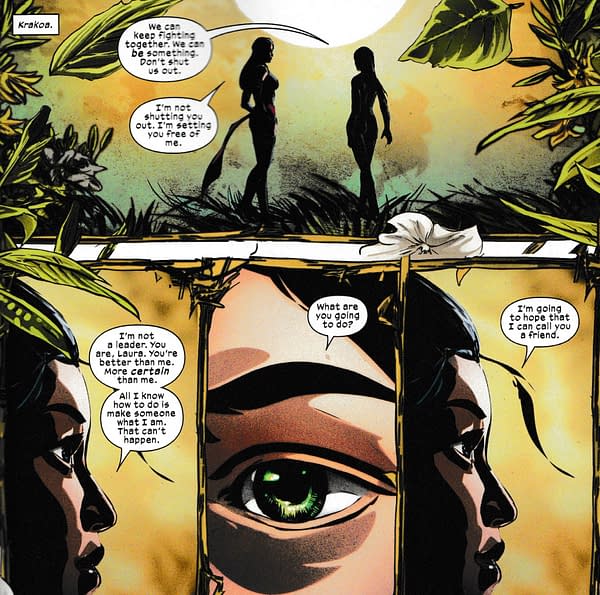 A friendly act from Kwannon to Laura that will see her able to take that mission with Synch which clearly leads to disaster and likely death.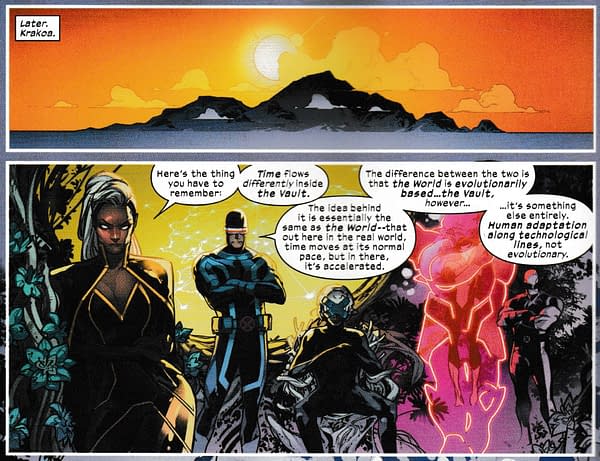 Laura's fate is your fault, Kwannon. Then there's the New Mutants, who have been getting Beak and Angel to move to Krakoa, and have finally succeeded.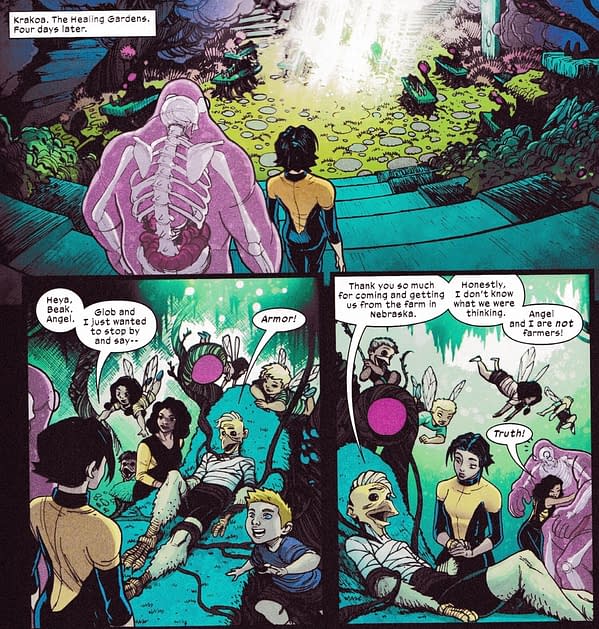 But it helps that a couple of twins went and meddled with their memories when doing so.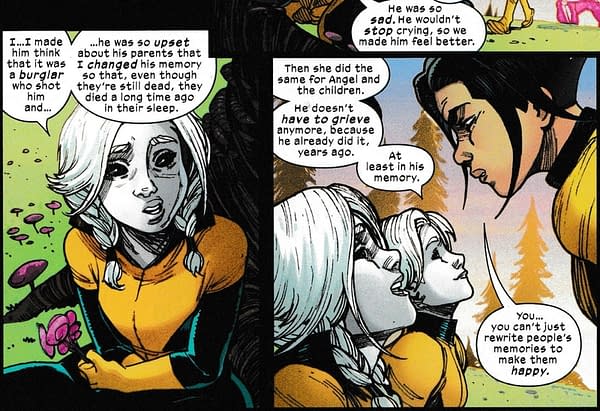 But any lecture they may be given as why it's not a great idea to go around changing people's memories is mitigated by the Beast's actions in today's X-Force. Remember that Hank McCoy is generally the bad guy these days, and I don't mean the Age of Apocalypse Dark Beast. If he's not messing with time by bringing back the original five X-Men, breaking time and space in the process, …or getting shamed for it by the Watcher…
… with even the original five trying to stage an intervention. Then working with the Hydra Captain America and defending the fascists… … or taking the mutants to Limbo rather than share his findings about the Terrigen clouds with the Inhumans…
Yes, that Beast. Well, leading X-Force, he seems to break all manner of laws. Not caring about killing humans – breaking the laws of Krakoa, and even getting Jean Grey to erase people's memories over matters of convenience. But is he the worst on Krakoa?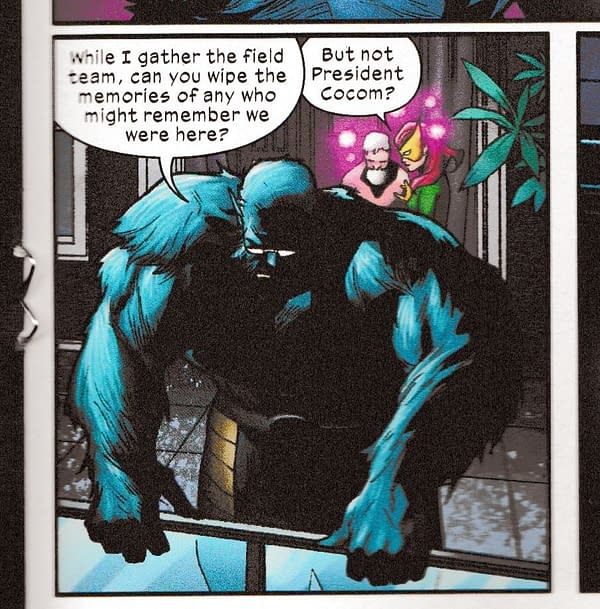 Well, I mean no, there's Mister Sinister, Apocalypse, Omega Red and more. But what about a certain Professor, who was assassinated in the first issue of X-Force?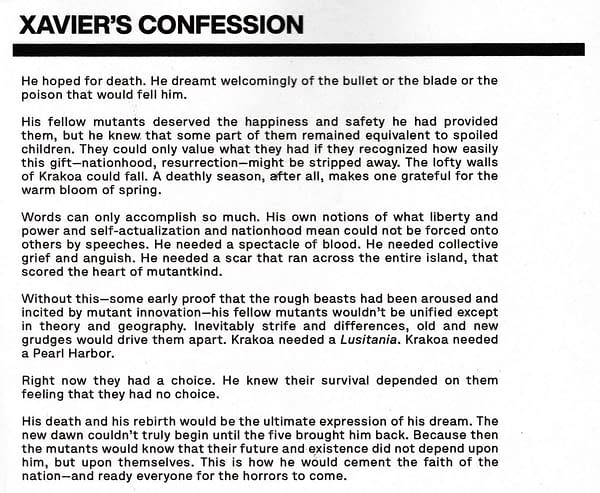 Just as many believe President Roosevelt knew the attack on Pearl Harbour was coming, but used it to persuade the rest of the USA to ender the Second World War, despite previously-overwhelming isolationist beliefs, so Professor Xavier allowed – possibly arranged – his own death, knowing he would be revived, and knowing the effect it would have on the mutants of Krakoa to rally round, and could also be used as leverage of moral high ground when visiting Davos and dealing with other governments. Looks like Dr Hank McCoy has only been a student of the Professor…
FALLEN ANGELS #6 DX
(W) Bryan Edward Hill (A) Szymon Kudranski (CA) Ashley Witter
HARK! MORE ANGELS FALL!
Husk and Bling! Join Psylocke and company on their mission to stave off Apoth and his children! Then – Cable turns on X-23?!?
Rated T+In Shops: Jan 29, 2020
SRP: $3.99

X-MEN #5 DX
(W) Jonathan Hickman (A) R. B. Silva (CA) Leinil Francis Yu
The X-Men, the most powerful heroes on the planet, deal with an old nemesis' surprising return…
Rated TIn Shops: Jan 29, 2020
SRP: $3.99

X-FORCE #6 DX
(W) Ben Percy (A) Joshua Cassara (CA) Dustin Weaver
DEADLY CHOICES CARRY DARK CONSEQUENCES!
First, Domino and Forge have to pick up the pieces as the team faces a major setback! Then, Beast takes matters into his own hands when a piece of new technology threatens the safety of the nation.
Parental AdvisoryIn Shops: Jan 29, 2020
SRP: $3.99

NEW MUTANTS #6 DX
(W) Jonathan Hickman (A) Flaviano (CA) Rod Reis
A simple visit to check in on old friends in the human world has gone wrong – dangerously wrong. With innocent lives on the line, Armor and the other young mutants have their hands tied… but escaping without collateral damage looks increasingly impossible.
Rated T+In Shops: Jan 29, 2020
SRP: $3.99
X-Men #5, X-Force #6, New Mutants #6 and Fallen Angels #6 are out today from Marvel Comics… I bought mine from Piranha Comics in Kingston-Upon-Thames. Piranha Comics is a small south London comic store chain with a small south-east store in Kingston-Upon Thames's market centre, which runs Magic The Gathering nights on Fridays, and a larger south-west store in Bromley, which also runs Magic nights and has an extensive back issue collection and online store. If you are in the neighbourhood, check them out.