Publishing A Galaxy Far Far Away: Talking "Star Wars" Books At NYCC
Today at New York Comic-Con, Disney LucasFilm Publishing was on hand with nine of their authors to reveal more of what's on the way book-wise. Bleeding Cool broke the news on of the new announcements earlier today, but the authors had plenty to say about their current projects.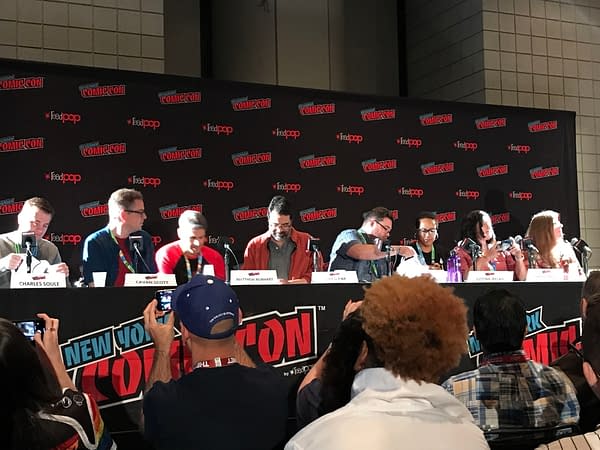 Before talking about their books, each author was given a chance to talk about why they want to write in the Star Wars universe. Katie Cook talked about how Star Wars is really a fantasy series as much as science fiction. She loves the world building and getting to play in that world. Zoraida Cordova loves the romantic and fantasy aspects, the fact that the characters can choose hope and choose their family. Justina Ireland echoed those thoughts, saying how the universe is about hope. George Mann spoke about the depth of the mythology, and the constant reminders that in life you should do the right thing, not the easy thing. Gregg Pak, the senior member of the panel, reminisced about what it was like to see Star Wars as an eight-year-old, how there had never been anything like it.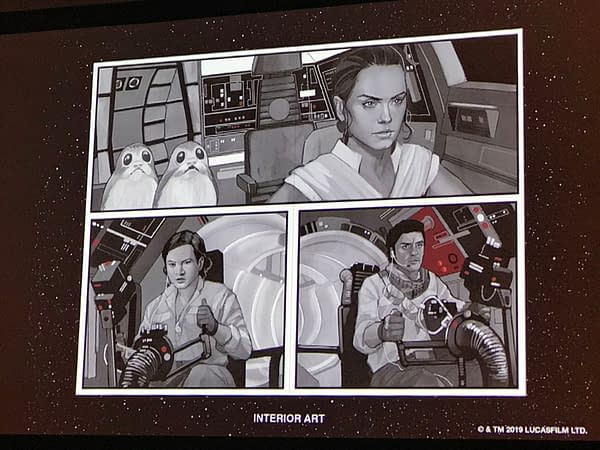 Matthew Reinhart compared Star Wars to New York City, a high tech exterior that is really kinda junky too. Cavan Scott called Star Wars a story of a group of people learning to love each other. Charles Soule said he's a busy man, so before he chooses a project he figures out the cool stuff to time ratio, then said the cool stuff in Star Wars is just off the charts. Christian Blauvet has a simple but true answer…its just so much fun to play in this universe.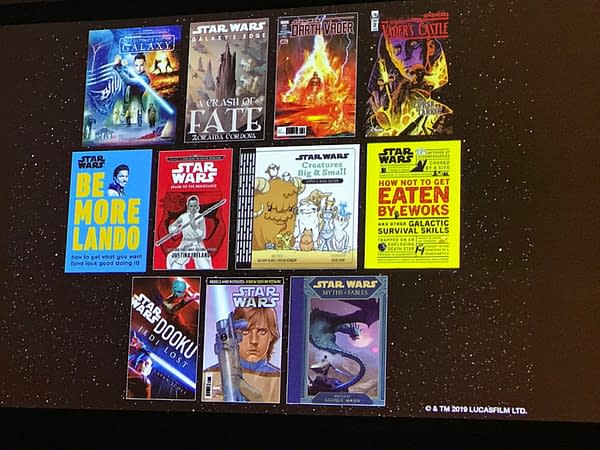 The authors then spoke about their recent projects. Cordova spoke about how she had to write Crash of Fate by relying on documents, .pdfs, and super secret locked files since Galaxy's Edge hadn't been built yet. She was amazed by how much work went into the details, and she could see when she visited that it paid off. Cordova also appreciates being called a "Batuu Hostorian" (along with fellow writer Delilah Dawson) when she visited the park.
Blauvet spoke about How Not to Get Eaten By Ewoks, a survival guide for a dangerous and chaotic universe. It isn't only about not getting dead, but also how not to embarrass yourself at the opera on Coruscant or offend your host at dinner on a strange world.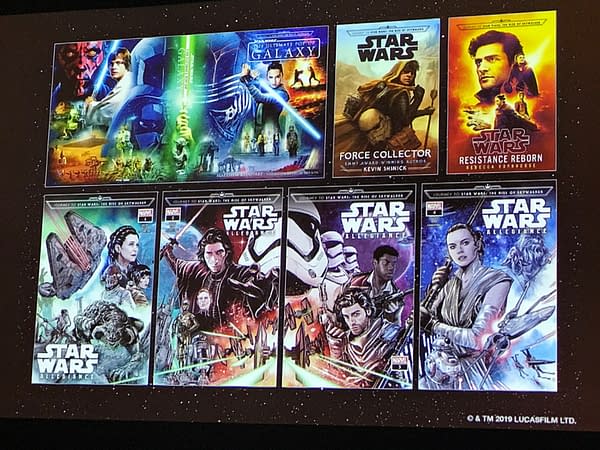 What is Spark of the Resistance about? According to Ireland, it's about "porgs and murder bunnies." Do you really need anything else? Scott said that while writing Choose Your Destiny: Finn & Poe (don't worry, BB-8 is there too) his room looked like he was chasing a murderer with red strings on his wall connecting pieces of paper.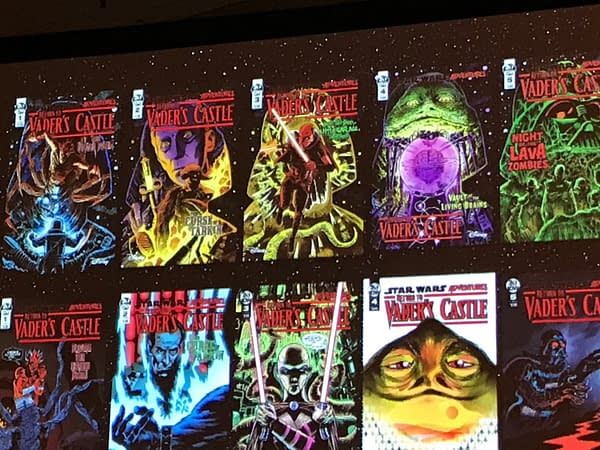 How do you make a pop-up book of the entire Star Wars universe? If you are Matthew Reinhart you do it by essentially sketching in 3-D, cutting and folding paper, taking it all apart when it doesn't work and starting over. The book itself looks amazing, the AT-STs walk and the falcon flies. Fans of the animated series can rest assured that there are nods to The Clone Wars and Rebels as well. Reinhart calls it a 360 pop up extravaganza."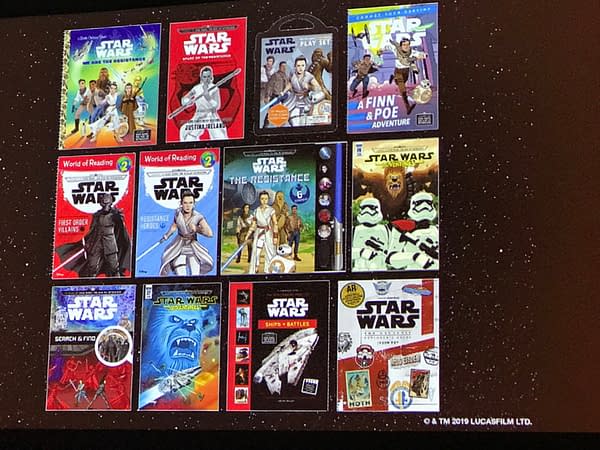 Soule did not expect LucasFilm Publishing to let him do anything like Vader's Castle again, so he tried to get everything in the first series. One story that he was forced to leave out, however, was Frankel-Tarkin, with Peter Cushing as the monster. The limited series will also see the return of Spider-Maul and the final issue will be about Vader himself, only in zombie form.
Pak talked about wrapping up his Star Wars run and bringing all of the disparate threads together for the finale. Fans of C-3PO be prepared, as the droid has a big heroic moment forthcoming.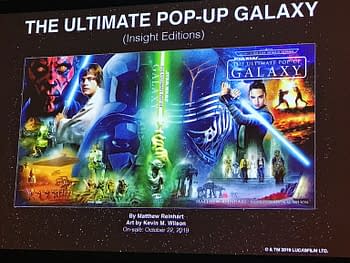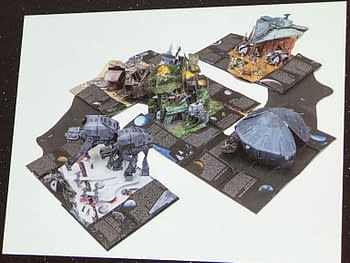 Cool talked a bit about the challenge of making every creature from the Star Wars universe friendly and cute and, in a way, her own. Cook said the purgils were her favorite to draw while the sarlaac was the biggest challenge to make cute. Cook is still asking LucasFilm to let her make porg versions of Leia, Chewie and the rest of the cast.
As for the announcements, the biggest one (to me, and I'm the one writing this) was a new trilogy from Timothy Zahn called The Chris's Ascendency. The first book comes out in May and will be the origin story of everyone's favorite blue-skinned grand admiral.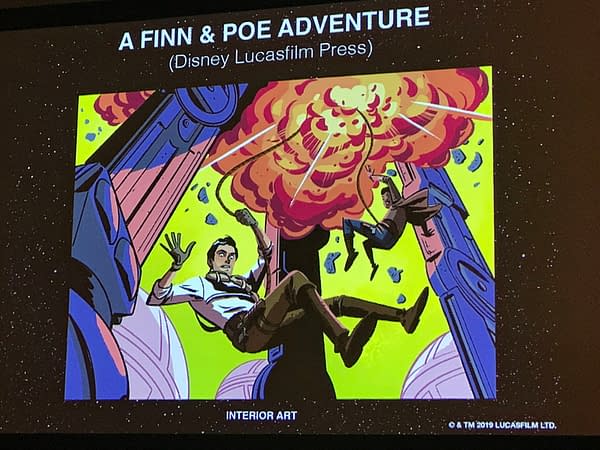 In comic news, Star Wars #1 from Soule will drop on January 1st. The series starts at the end of Empire Strikes Back and will answer some of the big questions as to how we got to the beginning of Jedi.
With Soule doing the new Star Wars book, that leaves Pak free to take over Darth Vader, with issue number 1 coming in February. The book goes inside Vader's head at a tumultuous time. Luke, his son, just turned him down. At the same time, he had to deal with the realization that Palpatine lies to him. Vader will be searching for the people who hid everything from him, and we can guess what he does when he finds them.