"You Know What I Like Best About Sex?" Screening "Evil" Episode 2 at NYCC
By Rich Epstein
The second episode of the new CBS drama Evil premiered at New York Comic Con a few hours ahead of its airtime, followed by a panel with the creators and cast.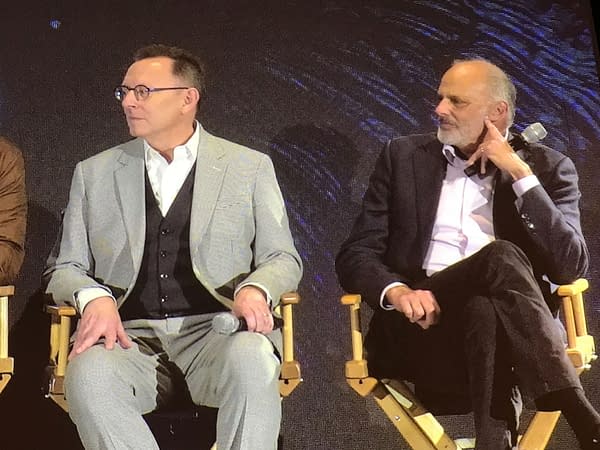 I hadn't watched the pilot, but that didn't get in my way of enjoying the second episode. It was surprisingly good for a CBS procedural. If you don't know, the show stars Mike Colter as David Acosta, an investigator of sorts employed by the Church. Acosta investigates suspected spiritual phenomena, such as possible miracles and possessions. He teams with co-stars Katja Herbers as Kristen Bouchard, a forensic psychologist raising four girls, and Aasif Mandvi as Ben Shakir, the atheist tech expert.
One of the strengths of the show is that they didn't try to copy the X-Files. Acosta doesn't automatically assume a spiritual explanation while Bouchard argues science. Instead, the characters are open to possibilities, rely on each other's expertise, and try to solve the issue in front of them.
No show dealing with the paranormal would be complete without a villain, so Evil also stars Michael Emerson as Leland Townsend, a rival forensic psychiatrist (it makes sense in the show) who is either a sociopath or demon made flesh. Emerson is at his creepy best, especially when askinga praying Acosta "You know what I like best about sex?"
There is also a demon terrorizing Bouchard and her daughter in their dreams, I'm going out on a limb and saying it isn't just a nightmare.
The show isn't perfect. It could use a few more laughs, and the stakes could be a little higher. I never really felt any of the danger I would expect in a show called Evil about investigating the paranormal. That said, the writing was sharp and the acting was strong. I would say it's definitely worth sticking with.