Antarctic Press' biggest hit of late was Rags, a clothes-challenged zombie survival comic book by Trent Luther, Brian Ball and Luigi Teruel – and finally after shutdown, it's getting a trade paperback, out in September. Here's their example of rags to riches – and everything else from Antarctic Press in their September 2020.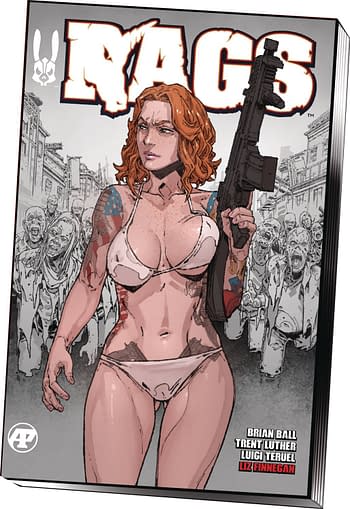 RAGS TP (MR)
JUL201051
(W) Trent Luther, Brian Ball (A) Luigi Teruel
Collecting the smash hit horror-survival miniseries that's proven to be a bottomless source of reading entertainment! A terrorist attack at the border of California unleashes a devastating zombie plague across the state. One of the survivors is troubled former U.S.M.C. veteran Regina Ragowski. Trapped in the small town of Paso Robles, she seeks the keys to her survival: food, shelter, and most importantly…. PANTS!
In Shops: Sep 30, 2020 SRP: $24.99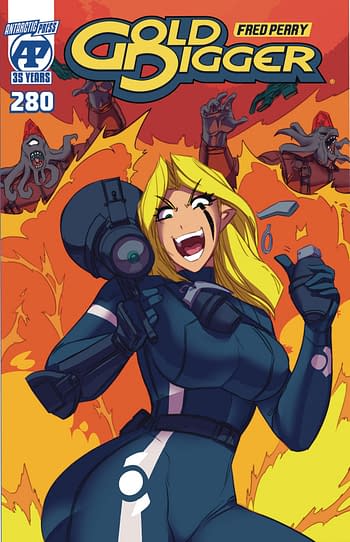 GOLD DIGGER #280
JUL201053
(W) Fred Perry (A) Fred Perry
The Umbra's forces are beginning to spread across time and space. Its Horror-Star fleets begin to sweep across every continuum in search of Gina's secret Time-War base: Oblivion. Then one of the planetary fortresses escorting a Horror-Star strays off course and stumbles into detection range-the jig is up! But not if Brianna and her Yewmato battloid defense treants have a say in it!
In Shops: Sep 30, 2020 SRP: $3.99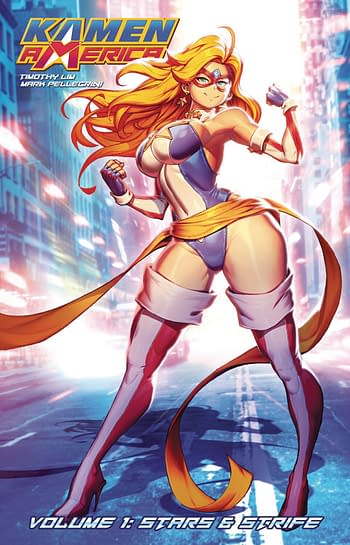 KAMEN AMERICA STARS & STRIFE ONE SHOT
JUL201050
(W) Timothy Lim, Mark Pellegrini (A) Timothy Lim
Fashion designer Carly Danvers was at a difficult crossroads in her life when a light from the sky sent her hurtling down a path she never saw coming. Now empowered by cosmic energies, her life grows even more complicated as she's pulled in different directions by the military, marketing agents, city-stomping kaiju and foes from abroad. Carly will have to trust her instincts to find her own path: The path that leads her to becoming KAMEN AMERICA!
The crowdfunding smash-hit by the team of Timothy Lim & Mark Pellegrini (Black Hops: U.S.A.-*-G.I., Wall-Might) is now available direct-to-market for the first time! With story and art that combine American superheroics with Japanese tokusatsu action, Kamen America is gaining traction fast!
In Shops: Sep 30, 2020
SRP: $9.99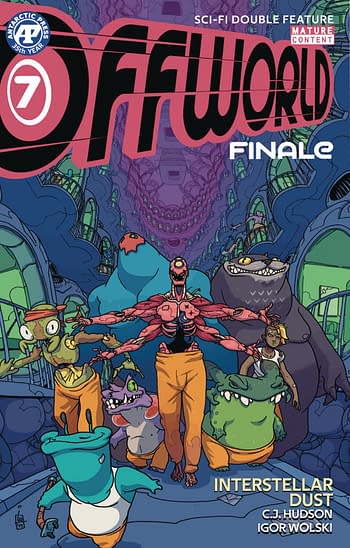 OFFWORLD SCI FI DOUBLE FEATURE #7 (OF 7) (MR)
JUL201052
(W) C.J. Hudson, Collin Fogel (A) Igor Wolski, Collin Fogel
C.J. Hudson and Igor Wolski present the "Interstellar Dust" finale (for now at least)! The Afterglow is overrun by murderous prisoners, putting Commander Lake and her crew in a dire situation. But what secrets are Cael and Javan hiding that could save them? All will be revealed in the epic conclusion to the greatest deep-space prison riot ever seen!
In Shops: Sep 30, 2020
SRP: $3.99
Enjoyed this article? Share it!