A Nightworld Descended On New York On Wednesday
As we warned you, readers, there was a massive signing for the Image series Nightworld Vol 1: Midnight Sonata, written by Adam McGovern, illustrated by Paolo Leandri and designed by Steve Price on Wednesday night in New York. Within the trade collection were also a contingent of illuminating pin-ups by some super-talented local comic artists who were present for the signing, including Christa Cassano, Dean Haspiel, and Joe Infurnari.
Joining them were Swifty Lang and Skuds McKinley signing the current Boom! Studios/Archaia series Plunder. Vito Delsante was also present signing his Action Lab series Stray, Infurnari was also signing for his current series with Oni, The Bunker, and Haspiel and Lang were likewise signing their new Garbage Pail Kids issue "Love Stinks", featuring new character "French Kiss Trish".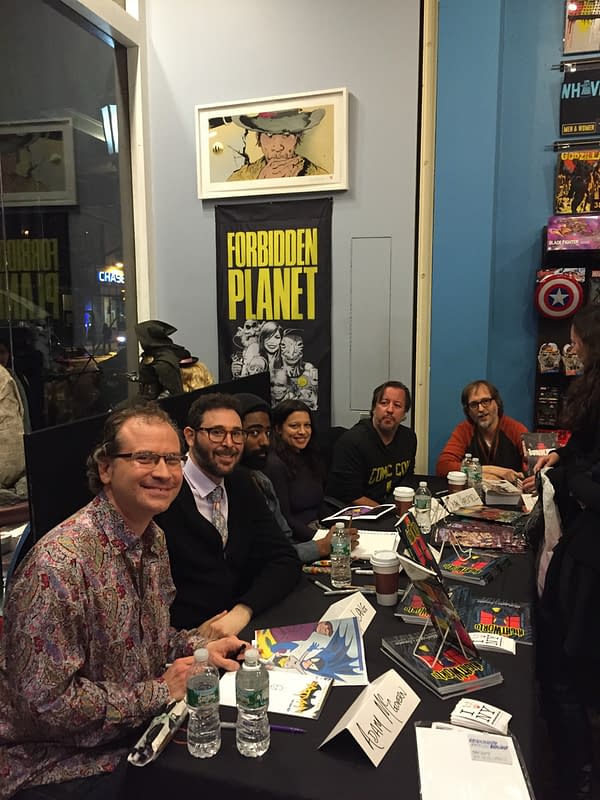 There was quite a presence for Hang Dai Studios of Gowanus, Brooklyn at the event. Forbidden Planet, who hosted the signing, was overrun with fans and enthusiasts, and several members of the New York comics community made an appearance, including Ann Nocenti. [Ann Nocenti and Adam McGovern]
Here's a photogallery from the signing:
And outside, it was pretty spooky too!