"Dayman (ah-ah-ah)
Fighter of the Nightman (ah-ah-ah)
Champion of the Sun (ah-ah-ah)
You're a Master of Karate
And friendship
For Everyone"
Little did It's Always Sunny in Philadelphia writers Scott Marder and Rob Rosell know when they penned those so-righteously-bad-they-swing-back-to-good lyrics that they would be cementing a spot on the pop culture "source wall." Fans of the long-running FX/FXX series were first introduced to Charlie's (Charlie Day) sorta-superhero Dayman in 2007 during season 3's 'Sweet Dee's Dating a Retarded Person' (a title co-star Glenn Howerton admits he would change if he had it to do over). From there, the lyrics evolved into a fully-realized and highly bizarre musical finale to close out the fourth season in 2008 – proving to naysayers that the show was more than just "shock comedy" and helping cement the series' seat at the "Best Sitcom in Past 20 Years" table.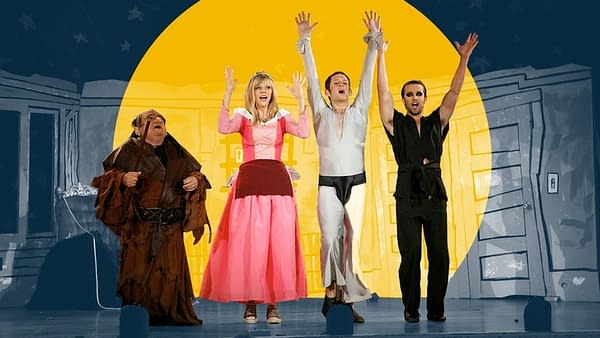 With the episode now reaching its tenth anniversary, Day (Charlie), Howerton (Dennis), Rob McElhenney (Mac), Kaitlin Olson (Dee), Danny DeVito (Frank), episode director Matt Shakman, and more sat down with GQ for an oral history on how the episode came to be, what it was like performing live, and why it still endures to this day. Here are a few of the highlights:
● The series has never blinked at going into some dangerous comedy territory during its now 13 season run; but for a show in its fourth season and unsure of its long-term future, doing a musical episode that comedically blurs the line between "a boy's coming of age story" and story about pedophilia and rape was a major risk – but it's a risk that Day and Olson feel the show handles seriously:
"Any time we deal with that kind of subject matter, I like to think it's coming from a more intelligent place. A rape joke is not remotely a funny thing; a man writing a musical that he thinks is about self-empowerment, and not realizing that all his lyrics sound like they're about a child being molested, is a funny thing. The joke is coming from confusion and misunderstanding, which are classic tropes of all comedy." – Day

"We look back at some of our past shows and wonder if we'd still be able to do that. I hope the answer is yes, because if you're paying attention, we're pretty good people with fairly liberal views on things. We're making a social commentary." – Olson
● Thankfully, the cast's musical experience made the creative process of shaping the episode a little easier. Well, almost everyone had musical experience:
"I'm not musically inclined in any way, shape, or form. But Charlie is an incredible musician, so he and [composer] Cormac Bluestone wrote the majority of the music. In terms of lyrics, we all had a hand in them. But Charlie definitely took the lead." – McElhenney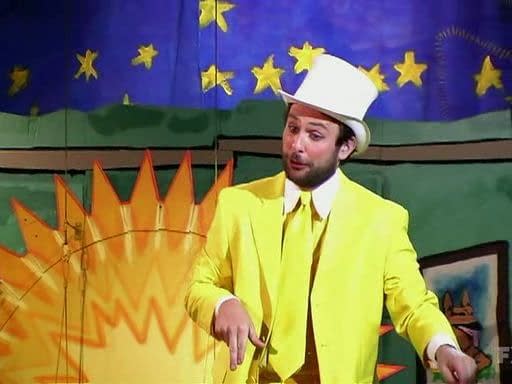 ● In an episode overflowing with great moments, some of the best were the quieter ones with Gladys (Mae LaBorde) and her continued confusion over what exactly she was playing piano for. Day and Shakman fondly remembered what it was like working with the actress, and it's safe to say she was more of an "improv actor" than they were expecting – and may have been a "first" for Shakman:
"They would say "action" and she was just, like, talking. She would tell us that we're all wonderful, beautiful people and she was happy to be there. Which was really charming but also very funny, because she had lines and she wasn't saying them." – Day

"When you get to be as old as she was, you can do whatever you want… Just getting the lines out was very difficult. I remember being backstage with her, talking about Calvin Coolidge, she just went on for so long. It might've been the longest scene I've ever shot for Sunny." – Shakman
● An invitation by longtime friend and musician Don McCloskey to perform with him on stage at West Hollywood's Troubadour would lead the cast to take 'The Nightman Cometh' on the road for a mini-tour of six cities: New York, L.A., San Francisco, Seattle, Boston, and Philadelphia. For DeVito, it was an opportunity to come home and perform where his career first started; for Olson, the shows gave her and the rest of the cast a true understanding of how strong and loyal their fanbase was:
"We played the Beacon Theatre in New York, where I once saw Bob Marley play in the early '70s. I lived on 89th Street when I was starting out, so this was my home turf. I invited everybody I could think of to come. Some of my friends came backstage; they were like deer in headlights. They had no idea what was going on." – DeVito

"It really gave us our first insight into just how many fans we had. Because we were basically being told: Nobody's watching the show but FX likes it, so that's why you're still on the air. We weren't having huge ratings, but we had a big fan base. And those people traveled and packed those theaters." – Olson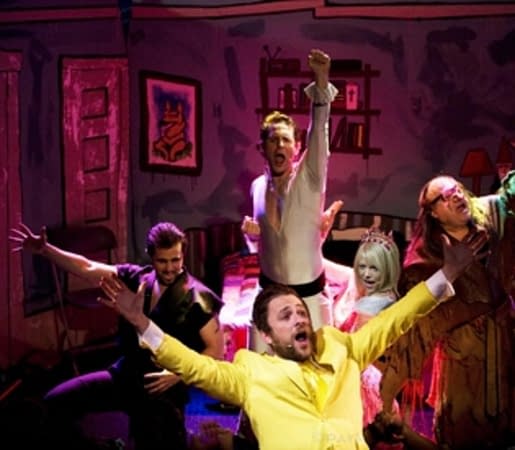 ● So why has the episode not only endured but actually grown in pop culture urban legend status? For McElhenney, it's that they were able to do something different that dived a little bit into "the feels" while still staying true to the heart and spirit of the series:
"Ultimately, in a show that is so inherently profane—and the characters are so difficult and hard to watch at times—the ending of that particular episode was very sweet. You find out that Charlie's doing the whole thing because he's in love with somebody and he's asking her to marry him. Of course, the Sunny version of that is that the relationship is exceptionally unhealthy and that she says no, but I think his motivation comes from a really sweet place. So that buys us a lot in the episode. Also, like it or hate it, we've always strived to do something that nobody else is doing, and I think some people respond to that. It just feels very specific to us and to the show." – McElhenney
Enjoyed this article? Share it!