Posted in: Comics, Recent Updates | Tagged: Brian Buccellato, detective comics, Forever Evil: Rogues Rebellion, Juan Vasquez, kickstarter, Omar Spahi, Sons of the Devil, The Flash, Toni Infante
---
Talking With Brian Buccellato About His Sons Of The Devil Comic And Webseries On Kickstarter
By Mike Federali
You probably know Brian Buccellato from his dynamite work on The Flash, Forever Evil: Rogues Rebellion and now Detective Comics. Now Buccellato is stretching his legs with his latest thriller project Sons of the Devil, now on Kickstarter.
Mike Federali: Tell us a little bit about Sons of the Devil.
Brian Buccellato: It's a psychological thriller called, Sons of the Devil. The Kickstarter is for both a 32 pages COMIC and a SHORT FILM which I intend to spin off into both a digital web series and an ongoing monthly series with artist Toni Infante.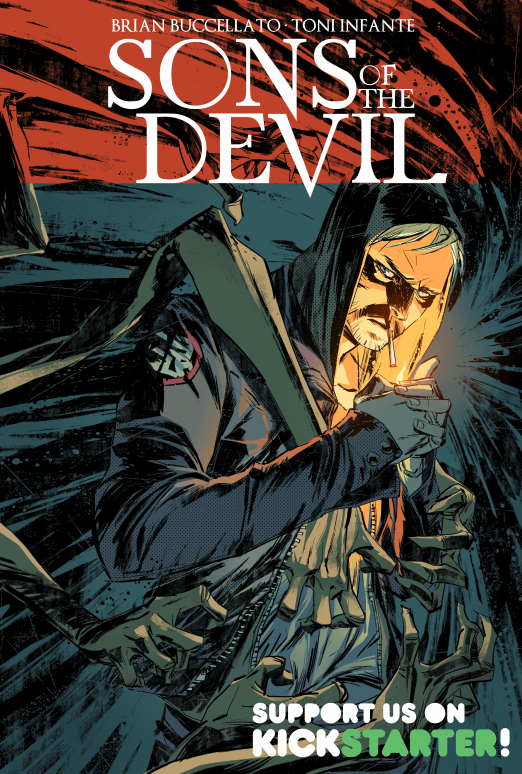 MF: Who is the creative team and how did you come to work with them?
BB: For the comic, I am working solely with Toni Infante, who is an outstanding young artist from Barcelona that I connected with online. I was searching all of the usual websites, looking for an artist to collaborate with and I found EXACTLY what I was looking for in Toni's art posted on Behance. I reached out to him and we hit it off pretty well. I'm hoping for a long and prosperous collaboration with him… his work really excites me!
As far as the short film, I wrote it and will be directing it, with Juan Vazquez and Omar Spahi (of OSSM) producing. We are all good friends and have been looking for something to collaborate on across different media… Sons of the Devil is that something.
MF: Who is the main character of your story?
BB: The story is told through the perspective of Travis Crowe, a mid twenties orphan with the emotional baggage of having grown up in the foster care system. His struggles with feelings of abandonment and his need to know who his parents are set the stage for the story. Unfortunately for him, the answers only lead to more questions, more doubts… and ultimately life-threatening conflict. MF: With a major company already working with you, why self-publish?
BB: Working for a major publisher has many many advantages, and I appreciate the opportunities that I have been lucky enough to get. I enjoy working for DC and hope to continue to do so. But "working for" someone means answering to them creatively. That's the bargain that we all make when we seek employment doing what we love… at the end of the day if someone is paying you, THEY get the final say. The trade off is the pay and the greater exposure. Self-publishing is a different animal. Success and longevity are harder when you go it alone, but the upside is that self-publishing allows you to control the destiny of the worlds you create. Who wouldn't want to do that? :)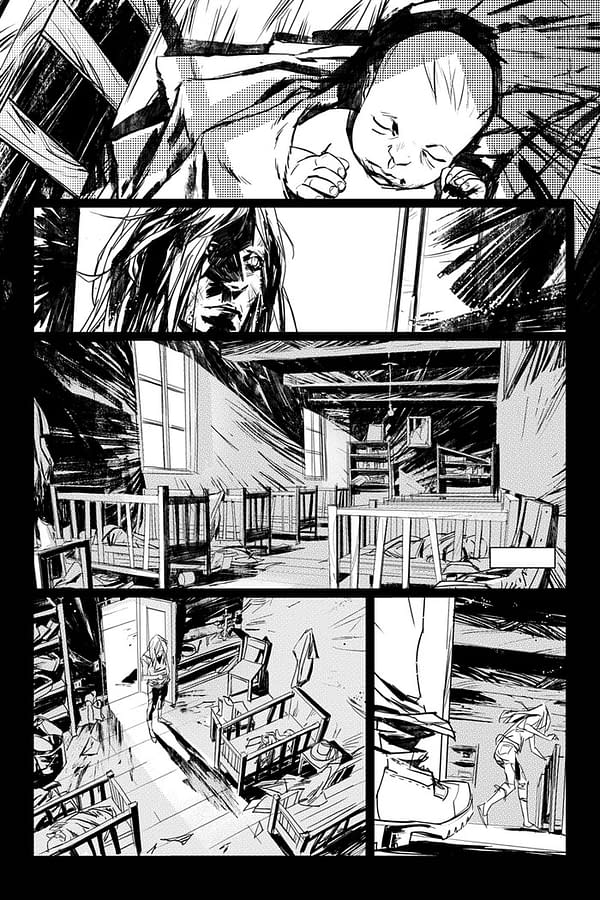 MF: You've worked with Kickstarter in the past for the Foster Anthology, what advice would you give creators looking to use crowdfunding platforms?
BB: I don't have any magic recipe. If I had to break it down, I think you need three things to be successful with a Kickstarter campaign…
You need to be able to instill confidence that you can complete the project that you are asking for help with… you need to be realistic with the amount of money you think you can raise, and you need to work every day during the campaign to reach that crowd of people that you hope to fund your project.
MF: Tell us a little bit about your rewards.
BB: Obviously, we are offering variations of the comic and the short film. But we also have original art, set visits, swag, a walk-on role, and even the opportunity to be a co-producer on the film.
MF: Which is your favorite reward?
BB: I did this for the Foster Anthology Kickstarter and decided to bring it back again. For a donation of 125 bucks you get the movie and comic… and I will wear YOUR FACE on a T-shirt for a whole day at San Diego Comic-con 2014. I'll be there from thurs-sun, so the rewards limit on this is four. Last time I wore a shirt with the faces of MODERN MYTH MEDIA photoshopped onto a picture of the Avengers' shwarma scene from the movie… so people can get crafty with HOW I wear their faces.
MF: I want to keep the focus on your Kickstarter project, but I'd hate to miss a chance to ask these questions. Favorite Batman villain?
BB: (not including Joker) is Killer Croc. Because he's a super strong dude with an alligator face.
MF: Favorite Flash villain?
BB: (not including Captain Cold) is Gorilla Grodd. Because he's a super strong talking gorilla who is wicked smart.
MF: The Kickstarter for Sons of the Devil has barely been up for a day and already raised $3,110 since the last time I took a look. Fans should have a look and pledge to Brian and his talented friends.
MF: Thanks for taking the time to talk with me and best of luck with Sons of the Devil.
BB: Thank You.
Mike Federali is a comic book writer, convention organizer and podcast host. Got a creator owned book you'd like to suggest ? Reach him on Twitter @mikefederali
---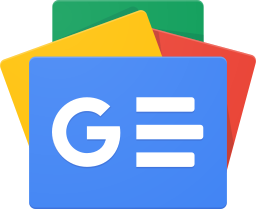 Stay up-to-date and support the site by following Bleeding Cool on Google News today!