Candy Crushed Saga – Fail to the King
By Jared Cornelius
Let's take a moment to pretend you're a small game developer, and you receive an e-mail from a law firm. In that e-mail, you've been told you must change the name of your game because a huge corporation owns a word included in your title, and they find it might cause confusion with their game. On the surface that seems like a reasonable request, maybe Dead Space and Dead Outer Space are a little too much alike. However, that logic goes out the window when your game is called The Banner Saga, and the objection comes from Candy Crush Saga. I'd like to take a little time to give King.com, the publisher of Candy Crush Saga, a public shaming, and Bleeding Cool seems like as good a place as any. For anyone living under a rock, King.com is the publisher of games that are consuming the souls of your boyfriend, girlfriend, parents, co-workers etc. If you know someone with a smartphone or Facebook, you know someone who's played a King.com game. My co-workers can often be overheard encouraging each other to like the title on Facebook so they can continue their causal addiction to the colorful match three game. King.com has become so powerful and flush with cash, its branding has found its way onto your televisions, with ads for its other games like Papa Pear Saga, and Farm Heroes Saga. This is all thanks to the roughly $633,000 Candy Crush Saga brings in every day by selling extra moves and lives to your spellbound co-workers.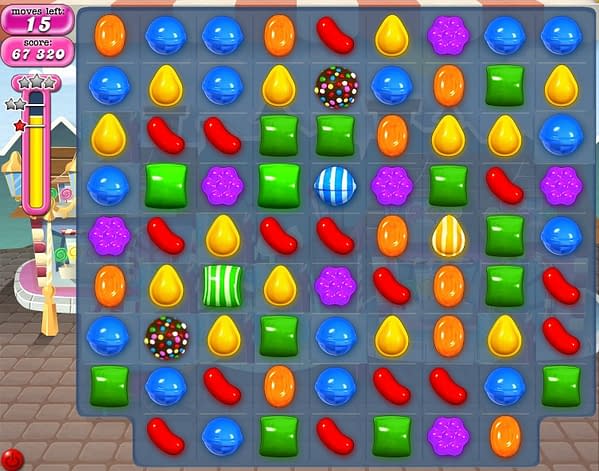 Early this year, the publisher of the popular Candy Crush Saga, caused a stir in the gaming community when it was discovered they had been granted trademark for the common words found in their titles. The US Patent and Trademark office received trademark requests for the words "Candy," and "Saga," for titles relating to games, then sending notice of opposition e-mails to companies like Stoic Games.
Stoic Games, having just released its first title, The Banner Saga, a strategy game about Vikings and giants, was being told their name could be confused with a match three candy game. This earned King.com no good will from the community and only brought more problems for the publisher. After the internet got wind of the trademark opposition King.com released a statement, "King has not and is not trying to stop Banner Saga from using its name. We do not have any concerns that Banner Saga is trying build on our brand or our content. However, like any prudent company, we need to take all appropriate steps to protect our IP, both now and in the future." Words from a company that had just been caught in the act. King.com now had no concerns about the title, but had the gamer community not intervened I have no doubt The Banner Saga would be under a new name.
King.com uses its abominable free to play model as its excuse for charging $.99 for extra moves, but as bad as it's free to play mechanics are, arguably, the shady dealings about their games are worse. King.com has been accused by multiple developers of outright stealing their games. In the wake of trademarking simple words, King.com was accused by developer Stolen Goose of cloning their title ScamperGhost, and turning it into Pac-Avoid. No simple coincidence, Stolen Goose had met with King.com in 2009 about publishing ScamperGhost, but had not signed a deal with King.com. Shortly after, Pac-Avoid found its way onto King.com's website looking remarkably similar to ScamperGhost. Art director and co-studio founder Matthew Cox took the company to task, posting his story and images of both games side by side. The similarities between the two are uncannily alike, with King.com barely bothering to change the font in Pac-Avoid. Although both titles share influence from Namco's Pac-Man series, Cox freely admits the influence. "Scamperghost isn't the most original game in the world. It's obviously inspired by Pac-Man, but we at least took it in an original direction by making it a mouse avoider with no walls."
When publicly accused of copying the game, King pulled Pac-Avoid from its website and issued a statement saying, "The details of the situation are complex, but the bottom line is that we should never have published Pac-Avoid. We have taken the game down from our site, and we apologize for having published it in the first place. Let me be clear, this unfortunate situation is an exception to the rule. King does not clone games, and we do not want anyone cloning our games." Innocent developers don't pull games from their site, especially when they have the money King.com has to pay lawyers. Maybe this was just a one off situation, maybe King.com made a one-time mistake. Well a game called Candy Swipe has something to say about that.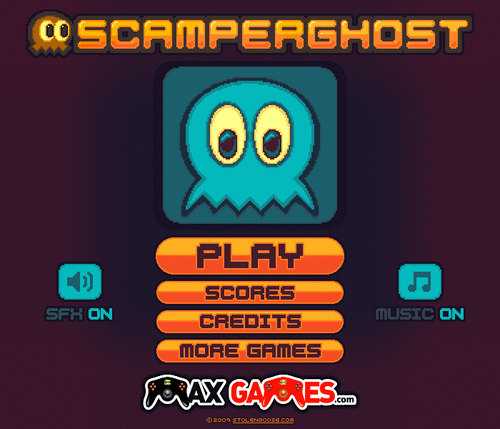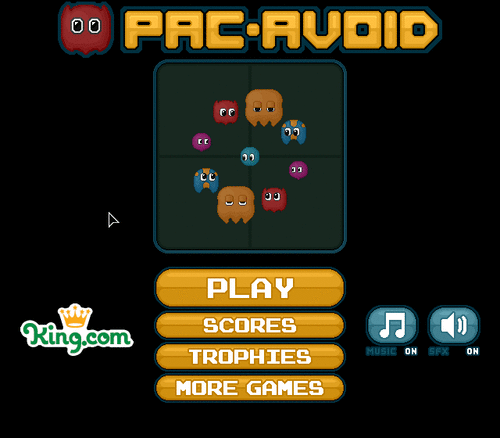 Released in 2010 by Albert Ransom, Candy Swipe could be mistaken for Candy Crush Saga's long lost twin. Featuring the same match three gameplay, with colorful candy pieces, right down to its "Sweet" logo, Candy Swipe looks unmistakably like Candy Crush Saga. Candy Swipe's story only gets more tragic when you find out about its origins. Ransom learned how to code after the death of his mother, and Candy Swipe was his first game and tribute to his late mother, who enjoyed that type of game. Now a game that was released two years before Candy Crush Saga, that is nearly identical to King.coms game should have no problem proving itself to be the original candy game, crushing if you will, any opposition from King.com, as Ransom filed a trademark application in 2010.
Well, as it turns out, King.com purchased a game called Candy Crusher that had a trademarked claim to "Candy" going back to 2004. This led to an e-mail informing Ransom that he is infringing on King's trademark of the word "Candy". Ransom, having been battling King.com for over a year about the trademark was ready to throw in the towel, remarking that Candy Crush Saga not only caused him lack of income, but the stigma of people browsing the app store believing his game to be a cheap knock off of Candy Crush Saga. Ransom penned an open letter to King.com voicing his frustrations in the face of huge corporate obstacles. Since his initial blog post Ransom replaced the letter with a simple thanks for all the support.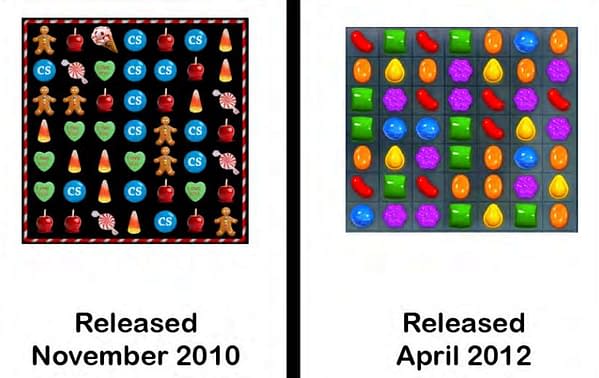 King.com didn't respond directly to Ransom's accusations, but did release an open letter about intellectual property: "At its simplest, our policy is to protect our IP and to also respect the IP of others. We believe in a thriving game development community, and believe that good game developers, both small and large, have every right to protect the hard work they do, and the games they create." As of this writing, King.com has pulled their trademark of the word candy. A company spokesman was quoted as saying, "Each market that King operates in is different with regard to IP. We feel that having the rights to Candy Crusher is the best option for protecting Candy Crush in the U.S. market. This does not affect our E.U. trademark for Candy, and we continue to take all appropriate steps to protect our IP."
King.com is clearly no King Arthur, but more like King Joffre. Looking objectively at the publisher's statements and actions, it's very clear they believe in the philosophy of do as I say not as I do. Even though King.com has admitted to no wrong doing, I believe the evidence speaks for itself. Saying you don't believe in copying games, then releasing at least two games that appear to be carbon copies of small developer's titles, only leads me to believe King.com is content to lie until they're caught.
The copying of games is one of the most devious and underhanded tactics in gaming, affecting small beloved developers like Vlambeer who suffer loss of income at the hands of greedy developers and publishers. Combined with the strong-armed tactics of buying earlier trademarks, and attempting to copyright such ordinary words like candy and saga, make the publisher of such colorful games look like the grayest cartoon villains you could imagine. King.com wants you to believe it's only protecting its own IP and wants to prevent clones of its games, but when their most popular title was built on the back of one man who made the game two years before, it's hard to sympathize with the company.
King.com is as disgraceful as a modern day publisher can be, bullying small independent developers without the deep pockets or resources to battle on an even playing field. When people complain about EA Games, maybe they need to see what a real villain looks like. Perhaps King.com needs an orphanage to shut down, or a line of puppies to kick, but their entitled attitude regarding simple language and unrepentant attitude, truly deserves your scorn.
*For your viewing consternation, here are some of the patents registered: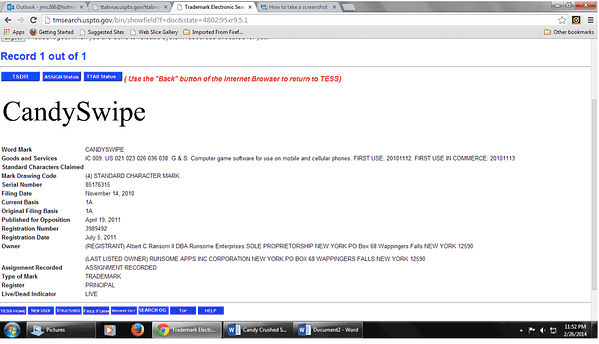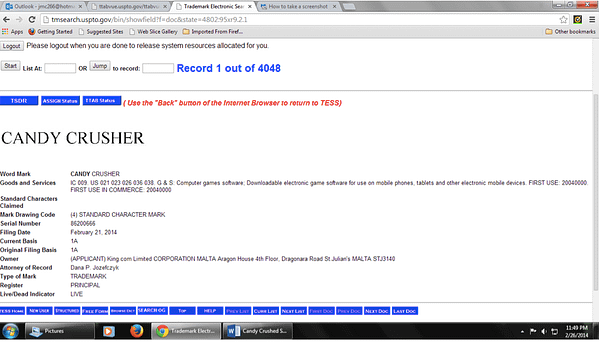 Jared Cornelius is some guy from New Jersey's coast who thinks he's angry. If you'd like to Hulk out with him, you can reach him on Twitter @John_Laryngitis