Comic Store in Your Future: Variant Covers Are Not the Answer
Rod Lamberti of Rodman Comics writes weekly for Bleeding Cool. Find previous columns here.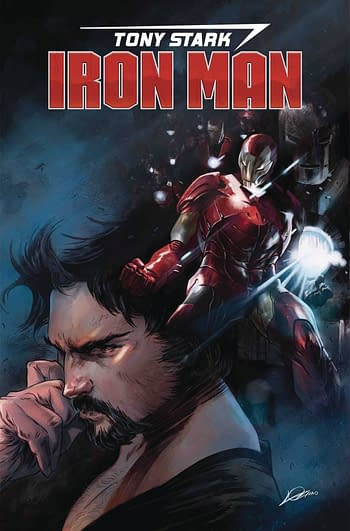 Comic book publishers will not let the comic market correct itself. One past Friday, I ordered for the upcoming new releases for June. I have never felt the way I did in all the years I have been ordering comics. I felt like Al Bundy from Married with Children while doing his bills — like I needed a bottle of Pepto Bismol to help make it through the ordering. Marvel is killing me. I thought by now they would have a different direction, not the same way of doing business. Marvel, I believed, would have the answer to rebuilding their sales way before now.
More number ones on existing titles are not the answer. Variants are not the answer. Here is me, quickly going over the ordering again and not trying to get queasy.
The new Iron Man #1 has over 20 covers. From what little info I can get, most of the covers are the same image but with a different armor in the upper corner of the cover. I have only seen a few covers since Diamond has most of the images with the all-so-helpful "Image coming soon!" placeholder. Order these variants blindly! Seriously, there is an "image coming soon" of the blank cover for Iron Man? 27 variant covers for Iron Man #1. Way too many.
Nine different covers for Thor #1.
Seven for Immortal Hulk #1.
Nine for Deadpool #1. The Deadpool title confused me when ordering it because it has two Skottie Young cover variants. One is order 25 copies and get the one variant. The other Skottie Young cover for the issue is "Meet or exceed 200% of orders for Despicable Deadpool #298 (FEB180897) with orders for Deadpool #1 regular cover and this variant is order all you want."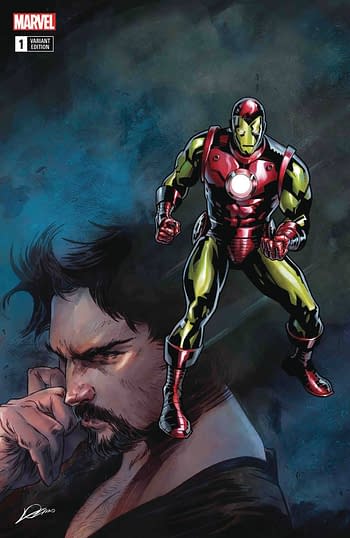 Four for Ant-Man and the Wasp #1.
Three for Multiple Man #1.
Deadpool Assassin #1, because having one first issue out in June for Deadpool isn't enough, has two covers.
Sentry #1 has three covers. NOOOOOOO!!!! WHHHHYYY? Sentry was killed and no one cared. Why bring him back?
Doctor Strange #1 has four covers. It comes out twice that month.
Dazzler: X-Song #1 has just two covers. Yes, "just".
All the Hunt for Wolverine limited series — Adamantium Agenda, Claws of a Killer, Mystery in Madripoor, and Weapon Lost — have "just" two covers. All the Hunts have two issues coming out in the same month.
Infinity Countdown #4 comes out that month along with Infinity Countdown: Black Widow #1 at three covers, Infinity Countdown: Darkhawk #1 at two covers, and Infinity Countdown: Champions #1 at two covers.
People say, "Well then, don't order or buy variants," which puzzles me. That is exactly what is happening. The comic market is going down because people are buying fewer and fewer comics.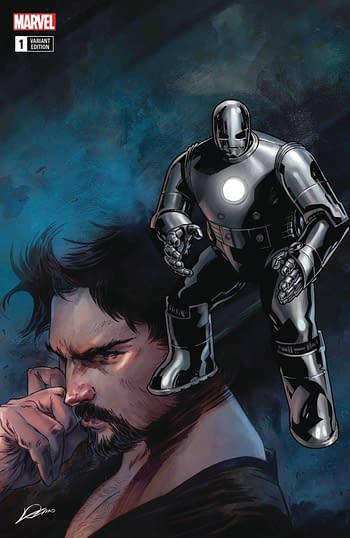 Variants are a distraction — a way to get one person to buy multiple copies of the same issues. Readership doesn't expand thanks to variants. Variants have flooded the market and crowded themselves out of getting more attention. Marvel lately seems to be having issues with getting big-name artists to do variants for them. They've even gone so far as to use years-old Todd McFarlane and Jim Lee artwork for variant covers from when they worked for Marvel. Even a past George Perez piece of artwork was used for a poster for the current Avengers: No Surrender story arc. Looks great as long as one doesn't catch on that some of the characters are in outfits they hadn't been in for years.
Not only is Marvel throwing out tons of variants, they are doing so too often without the talent to get them to stick out in the crowded variant market. Over the years, the quality of Marvel's variants have gone down.
More first issues. The comic market is in decline, so let us repeat what we have done in the past and somehow the market will reverse itself? It is hard to believe there was a time when first issues were actually frowned on in the comic market. A first issue was thought as too risky. Such as Green Lantern was cancelled with issue #89 back in 1972, though it continued the numbering years later with issue #90 in 1976 instead of going with a new first issue number. Those years are long gone.
Seriously, Sentry is coming back? I am straining my hearing trying to hear the fans that wanted him back. The "forgotten" Stan Lee-created hero. The story about Stan Lee's creating him was made up and ran as an article in the comic magazine at the time, Wizard. A hoax. Basically, a hoax is returning. Marvel, you have not only dropped the ball — you keep kicking it away like you hope to lose it.
At least Solo isn't getting his own ongoing series again.
Yet.