Dan Hart writes for Bleeding Cool:
Opening Saturday's Main Stage events, FX gave Archer fans a hell of a treat, and set the bar for the rest of the day pretty high.
Every attendee was given an Archer branded beanie as they entered the cavernous hall. Felt a bit like a hipster episode of Oprah. "You get a hat! And you get a hat! Everybody gets a hat!"
(Your intrepid, dapper reporter will be sporting this fetching chapeau upon his return to the Motherland and winter in London.)
Once the hat-induced hysteria had died down, the panel opened with a 4th wall breaking intro from Sterling Archer himself. Allegedly he's contractually obligated to attend these panels and complained that he never hooks up with any cosplay girls as they're intimidated by his Archer-ness. His solution was to wear what can only be described as a sassy Iron Man cosplay, with the arc reactor not in his chest, but somewhere a little more… Archer.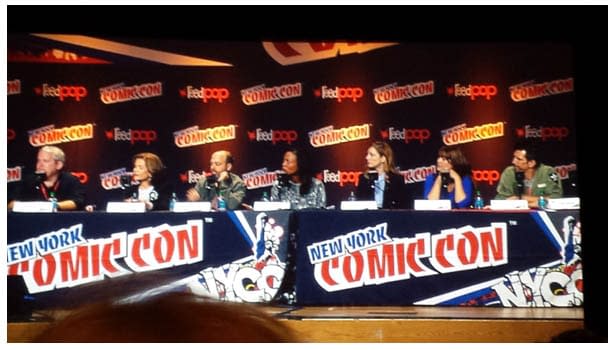 And with that out of the way, we were treated to the premiere of the first episode in season 5, due to air in January next year.
I'm not going to spoil the exact details of the episode, but I will say this: Everyone is in it, everyone gets some great lines but the very nature of the show will shift this season. Expect the unexpected. What hasn't changed is the plethora of famous guest stars. Gary Cole will play a recurring character, Ron Perlman will return and they're finalising Christian Slater too. There will be more, but until they've confirmed, Reed didn't want to name them.
The episode finished with animated storyboards taking the place of the season preview sizzle reel. Series creator Adam Reed said this was the first time anyone has seen Archer story boards in this way. FWIW, the artist on the story boards is really good, reminiscent of Darwyn Cooke.
The panel featured all the main cast, bar Chris Parnell, and included Jessica Walter making her first Comic-Con appearance. The chemistry between the cast was obvious. They sparked off each other like old friends in a bar. Very snappy, very quick one-liners and responses.
From the Q&A:
Season 4's DVD bonuses will include some anime tentacle action, as created by Krieger in the show, possibly Fisherman's Wife 2: The Re-Tentacling.
The songs used for Cheryl's Country music career will be out on CD in January. They're trying to get Kenny Loggins to do a duet.
When recording their lines, they usually hit them in 3 takes or less, although H Jon Benjamin joked that he refuses to do more than one take, contractually.
There are no current plans to do another crossover with Bob's Burgers.
Ray Gilette will walk again, but not for long. Expect this to be a recurring gag.
Amber Nash would like to see more of Pam's family, and offered to voice all of them, Eddie Murphy/Nutty Professor style. Unfortunately her "Pam's dad" voice sounded more Bill Cosby than Papa Poovey.
Finally, they wrapped with H Jon Benjamin bowing to the room asking him to say Archer's signature line: "Daaaaanger Zone!"
Oh and in the words of Columbo, just one more thing: For those of you who haven't yet seen it, here's the first teaser for Season 5…
[youtube]http://youtu.be/_7HkG6OSo3E[/youtube]
Enjoyed this article? Share it!