We mentioned some of the comic book historical moments being picked up in last week's Metal Men #4 from Dan DiDio, Shane Davis and Michelle Delecki. But there's an opening double splash page that it seems the Publisher of DC Comics would like our eyes to be drawn to first. And he made it his cover photo as well.
When DC Comics published Batman: Damned, with a rather exposed Bruce Wayne, making the late-night chat show circuit, it saw big changes mad at DC Comics over the portrayal of certain characters, with lots of comics rewritten and redrawn for fear of a more censorial regime.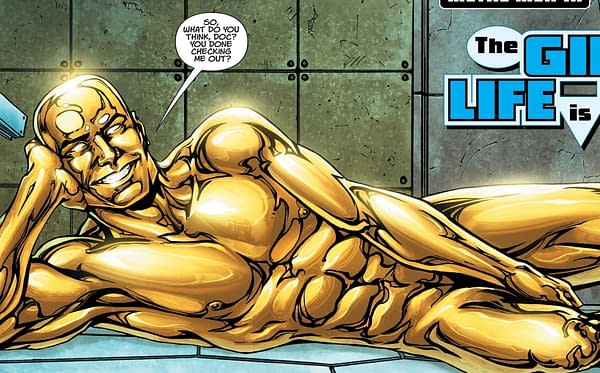 Could this suggest a little loosening of those strings? Especially as the scene plays out in the comic, with Gold doing his best impersonation of Dr Manhattan.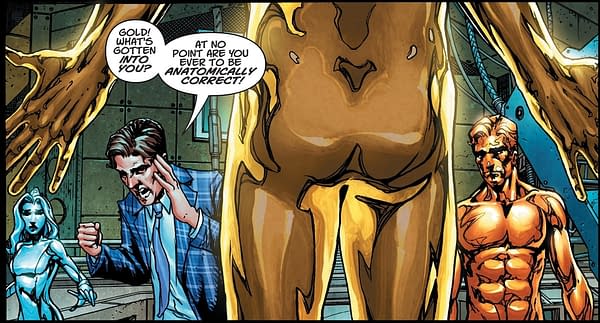 I mean, Dan DiDio is the publisher of DC Comics, so that must go a long way.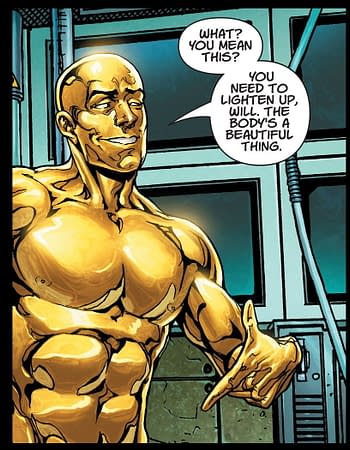 But given that he once said, that the Batman Damned situation saw DC Comics 'rethink who they are as a company', could this suggest a re-rethink?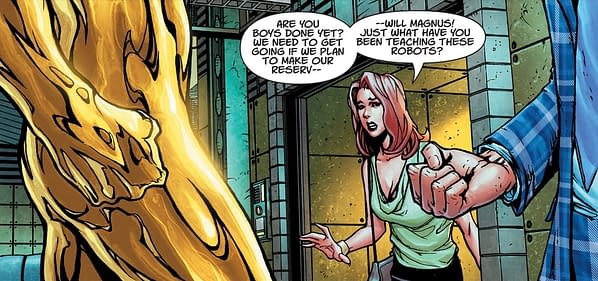 After all, it does actually play to the Metal Men characters here, with Gold showing scant regard for fellow member and female-presenting Metal Man, Platinum. In his eyes, she doesn't count as a woman.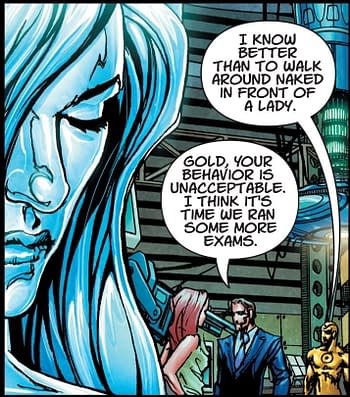 DC Publisher Dan DiDio is heading to London with a few other DC folks, like Jimmy Palmiotti and Amanda Conner, for the premiere of Birds Of Prey (And The Emancipation Of One Harley Quinn) so maybe expect his cover photo to change to something more Anglicized fairly soon… I just hope he doesn't have to explain his social media presence to Her Majesty's Customs authorities.
METAL MEN #4 (OF 12)
(W) Dan DiDio (A/CA) Shane Davis, Michelle Delecki
Whoa, what happened to Gold, and why does he look like that? It looks like Nth metal has given Gold true sentience-and it's threatening to do the same to the rest of the Metal Men against Doc Magnus's wishes! After all, Magnus already gave them sentience to begin with, right? Meanwhile, Lead and Tin are invited to Robot Con, where they meet their number one fan and other famous robots, including a special appearance by OMAC! Except he's not here for fun…In Shops: Jan 22, 2020
SRP: $3.99
Enjoyed this article? Share it!