Marvel Comics has gained quite the reputation for shipping more copies of comics books than a retailer ordered, though they've been a lot more restrained with that of late. If a publisher believes a comic has been underordered, overshipping may help retailers discover there's a greater demand than they thought, especially if the publisher plans marketing activity at the time of release.
It's rarer for DC Comics to take that step, but that is what they are doing for the launch of The American Way: Those Above And Below. The original series for Wildstorm was written by John Ridley long before he would write 12 Years a Slave or create American Crime. And he has returned to the series with art by Buffy's Georges Jeanty, under the Vertigo imprint.
And DC Comics has now told retailers that they will receive double the issues they ordered. And those who didn't order any copies, will get one copy, so they can see what the fuss is about. Or just put it on the shelf, whatever.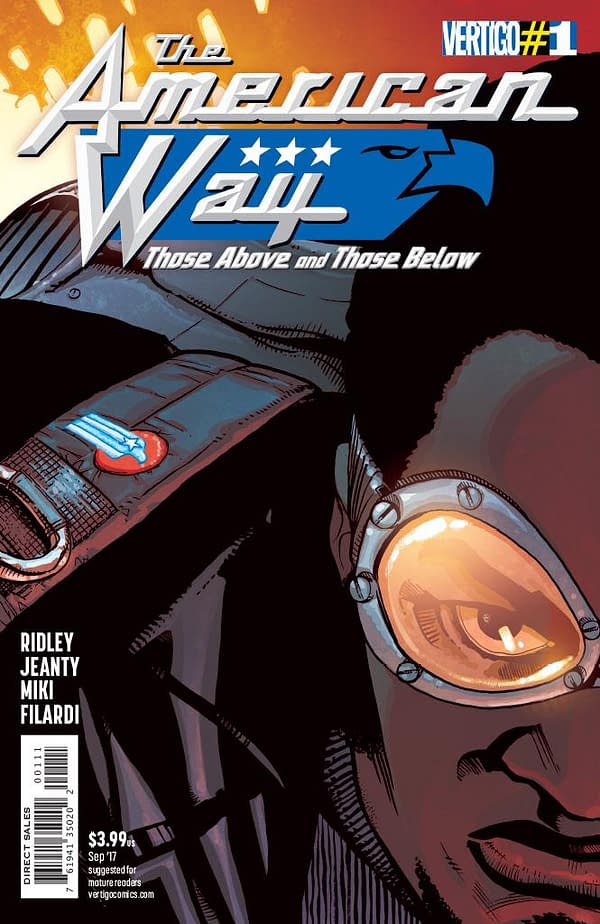 In this debut issue of the six-issue miniseries, it's been a decade since the Civil Defense Corps was exposed as a fraud created by the U.S. Government for propaganda purposes. While most of the heroes who survived the catastrophe have retired or disappeared, the New American still carries on, trying to keep communities safe amid the social turmoil of the 1970s. But with the nation split in two over civil rights and the changing political landscape, this isn't easy. Some of the American's former colleagues are on opposite sides of the law: Amber Waves joined a group of domestic terrorists, while Missy, a.k.a. Ole Miss, has thrown her hat into the political ring. As the ground shifts beneath his feet and new threats arise, which side will the American choose?
In issue #2, the conflict with political radicals that took one man's life sits heavy with Jason. Accusations that, by continuing to be the superhero the American, he's become a pawn for the government have taken on a new sharpness as the Civil Rights movement of the 1970s gains an added urgency. This call to do what's right is one that his former ally Amber Waves has already answered by taking matters into her own hands and using her powers to protest injustice-and she's already paying the deadly cost as the police and Federal agents attack her where she lives.
Enjoyed this article? Share it!