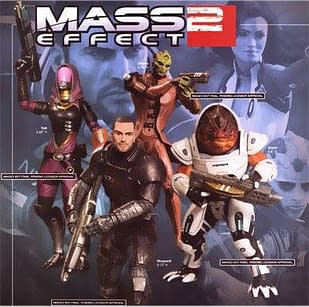 There seems to have been a bit of a ding dong between DC Direct, the toy/statue manufacturer part of DC Entertainment, and Bioware, develpers of the Mass Effect games over the Mass Effect 2 figures.
Originally scheduled for August 2010, the first series was pushed back to February 2011, and now pushed back again to April.While the second planned series of figures has disappeared off of DC Direct's site altogether.
A Bioware store spokeman posted on their message boards;
On the ME2 Action Figures it looks like the first series is again delayed. We are all, including Treehouse, BioWare, and yourselves extremely frustrated with DC Direct. Their handling of this issue has been extremely unprofessional and disrespectful to fans. Once we get the ME2 Action Figure shipped we will not be working with DC Direct again. I'll update again if we have more news, but it looks like April is correct.
DC Direct have previously released a series of Dragon Age figures based on the other Bioware property,but these were also delayed. The imprint has had its own issues of late. This probably can't have helped…
Enjoyed this article? Share it!