Essential 8 Bleeding Cool Stories – Five Years Of Lying In The Gutters
By Erik Grove
I'm continuing my special meta columns on Bleeding Cool for the site's 5th anniversary this month. This column will highlight some of what I feel are the biggest and most Bleeding Cool Bleeding Cool stories the site has run since launching. Some of these are huge rumors. Some are just stories about seismic shifts in the industry. All of these got me thinking and a lot of people talking.
So without further ado, here are Essential 8 Bleeding Cool Stories On June 1, 2009 the biggest comic book story was the launch of Bleeding Cool. Rich Johnston already had quite a reputation with readers, creators and legal departments from his previous comic book gossip work and the idea of an all Rich Johnston, all the time website hit the comic news scene a lot like I imagine the initial launch of ESPN or MTV hit mainstream media. It raised a lot of questions. Did Rich have enough content to update so frequently? What other co-conspirators might join him? Would Rich continue the ridiculous rumor of the year columns? Well, over the last five years we've learned that Rich is a blogging and gossip uncovering machine and that, yeah, the Annual Rumor Awards were here to stay. A few months after the launch of Bleeding Cool the news of a massive acquisition rocked the industry; Disney bought Marvel Comics. The resulting merging of brands led to box office busting films and established Marvel and Marvel's IP as a powerhouse media presence. This story launched hundreds of Mickey Mouse mash-ups changed the course of one of the two biggest comics publishers forever.
The Great Amazon $14.99 Sell-Off of 2010
Bleeding Cool isn't just breaking news and rumors. There are actual financial rewards for regular reading like this piece from 2010. When I read this story on a weekend I immediately put in an order. I ended up with a copies of Criminal vol 1, Avengers Forever and a $25 credit. Whether it's keeping tabs on Bleeding Cool's mascot/con artist Josh Hoopes or calling out t-shirt vendors selling repurposed art, Bleeding Cool has a proud history of uncovering scams and sticking up for creators' rights. In this post from early 2011, Bleeding Cool introduced the world to Rob Granito and his name became synonymous with a specific brand of sketchy behavior. There's been a British Rob Granito, a Swedish Rob Granito and even recently a Canadian Rob Granito. The combination of brazen swiping, biographical embellishments and very poor lies, immortalized Granito and his "editorial collaborator" Jay Diddilo.
DC Looking to Relaunch Everything in September
This was the rumor that turned out to be the story of the year and a turning point for comics; DC had plans to re-launch their entire line. The resulting launch of DC's New 52 brought in new and lapsed readers and saw a sales increase for the entire industry. All of that began here.
DC Demands Removal of Watchmen 2 Artwork It was a rumor that predated Bleeding Cool: DC was looking to do a sequel to the critically acclaimed (and best-selling DC collection of all time) Watchmen and finally, with the release of artwork and the resulting cease and desist letter from DC's legal department, it finally became real at Christmas 2011. The creative, ethical and implications of this move cannot be understated. One of the greatest works of comic book history would be added to without the direct involvement of its creators. While the resulting comics hardly set the sales records DC must have been expecting and Before Watchmen seems fated to drift away into obscurity this story cemented once more Bleeding Cool as the leading source for comic news and gossip.
Authorship is Censorship – Bleeding Cool in Conversation with Shia Lebeouf
I had been following the Shia Lebeouf plagiarism/meltdown story since it broke in all of the big Hollywood trades and was surprised to see that Bleeding Cool managed the first "real" interview with the actor. While Lebeouf's antics remained just as perplexing in his answers what this interview demonstrated was that Bleeding Cool was more than niche comic book gossip site – it was a site capable of reaching to all levels of media discourse.
Would Marvel Really Cancel Fantastic Four to Snub Fox?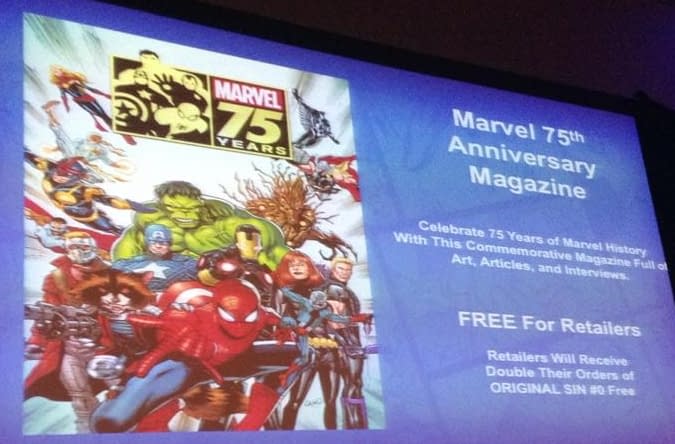 I'll end this list with this juicy rumor du jour. Armed with inferences and inside sources, Bleeding Cool suggests that Marvel could cancel the long-running (and World's Greatest Comics Magazine) Fantastic Four. This could turn out to be true or not true. This could turn out to be the original plan, changed once publicized. Whatever the case, this rumor has gained traction across the internet. This is the kind of big story Bleeding Cool is known (and in some cases reviled) for.
Special thanks this week specifically to Rich. My bookshelf is still happy to have those discounted Amazon hardcovers. Well spotted, sir.
Erik Grove is most certainly not the Rob Granito of Bleeding Cool. He's a writer of original fiction, blogs and other word things living in Portland, OR. You can follow him on Twitter @erikgrove and check out his webpage www.erikgrove.com for good reads and tomfoolery.