Fan Expo Canada – The Panels In Audio
Couldn't make it to Fan Expo Canada? Of if you did, missed out on a panel or two? Time to catch up!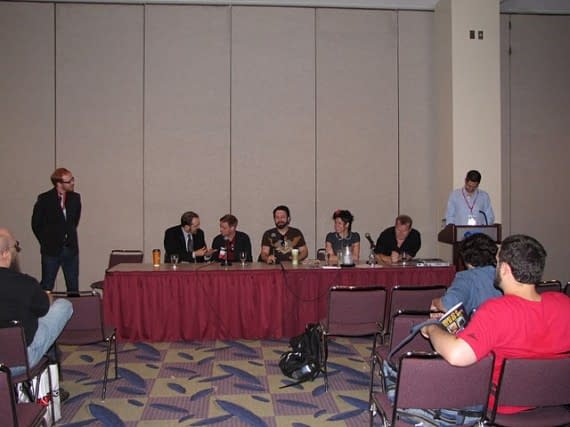 Drawing Ahead: The Future of Comics (51:36, 47.2mb)

Moderated by Kill Shakespeare co-writers Conor McCreery and Anthony Del Col, Creators Andy Belanger, Ramon Perez, Cameron Stewart, Willow Dawson and Scott Chantler talk about the Future of Comics. More specifically they talk about print comics, digital comics and piracy, the European market, the Direct Market, Digital Markets and middle men, also traditional Comics and Bookstore oriented publishers and they way they market and sell their books.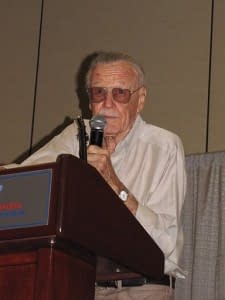 Stan Lee Q & A (37:11, 34mb)

Stan Lee answers questions from Space Network's Mark Askwith and the audience. Nuff Said!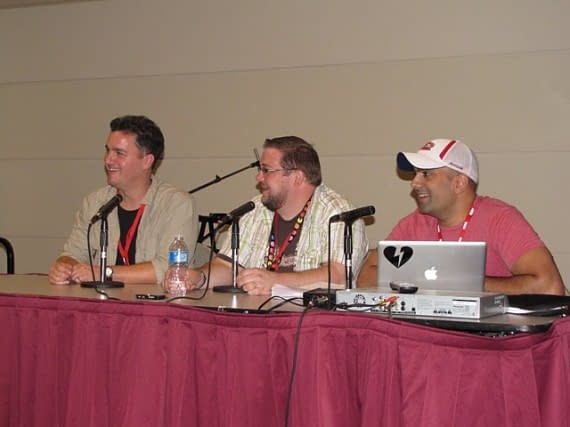 Marvel: Pint of C. B. (1:01:38, 56.4mb)

Pint of C. B. is Marvel's Senior Vice President, Creator and Content Development C. B. Cebulski filling in for Joe Quesada to answer questions for fans. With him is Spider-Man editor Steve Wacker and Manager of Sales and Communication Arune Singh to help answer questions. They make some announcements, particularly concerning Alpha Flight and other books and open up the floor for questions.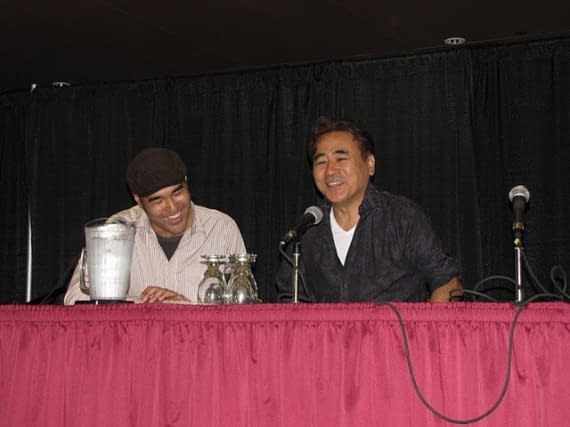 Yoshitaka Amano Spotlight (46:01, 42.1mb)

Yoshitaka Amano is an artist/designer who worked on classic anime such as Speed Racer and Gatchaman, influenced by Western Comics (Neal Adam's Batman among them) he would design characters for anime, movies and video games. He is best known for his work on the Vampire Hunter D franchise. In the US he was the artist for Neil Gaiman's Sandman: The Dream Hunters and Elektra & Wolverine: The Redeemer (written by Greg Rucka). Through a translator he answers questions about his Manga, Game Design, and working on US Comics. Fan also ask him for his opinions on beauty and how to cosplay his characters.
Hitoshi Ariga Spotlight (45:51, 41.9mb)

Udon's Managing Editor Matt Moylan interviews creator Hitoshi Ariga through Michelle Hayashi, translator and Japanese Liaison. Hitoshi Ariga works on the Mega Man franchise and is the creator of the Mega Man MegaMix manga series. They talk about all things Mega Man, characters, how he draws gutters for the manga, who would win in a fight between Mega Man and Astro Boy, favorites & least favorite characters and more.
Thanks to Jamie Colville of TheComicBooks.com for the content!