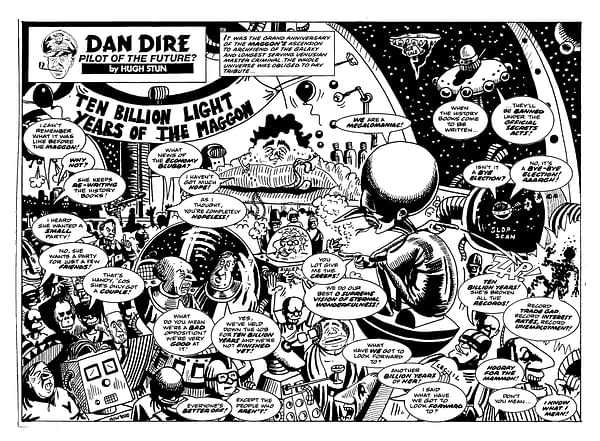 If there is one publication that has influenced how I write, what I write and the attitude I take to stories at Bleeding Cool, it is Private Eye. A political, satirical, humorous fortnightly magazine, it combines the finest muckraking through political and media circles with the kind of comedy you don't see as much since Spitting Image and Weekending went away, and some excellent cartoons…
And now contributor Adam MacQueen is publishing a Private Eye: The First Fifty Years, a confident title that reflects the current success of the magazine, staying away from digitisation offering only a sop to websites and increasing its revenue in print.
He's shared the above image with Bleeding Cool – Dan Dire ran from 1987-1989, and this is from the end of the run, as Thathcer celebrates ten years as Prime Minister, including the likes of the Nigel Lawson's Blubba The Hut and David Owen as Doctor Who He, The Waste Of Time Lord. The strip was written by Private Eye editor Ian Hislop and drawn by his frequent collaborator Nick Newman, all under the pseudonym Hugh Stun. They had previously collaborated on the British war comic strip The Battle Of Britain, as Monty Stubble.
Currently you'll find the Prime Minister David Cameron portrayed as Dandy's Lord Snooty, Ed Miliband as Mr Bean and Boris Johnson as any random Beano character…
Here's to the nexty fifty years.
Enjoyed this article? Share it!