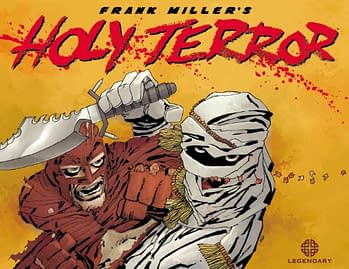 Amazon.com recently withdrew Frank Miller's Holy Terror from sale.
Was it over criticism of Miller's politics in the book? Was it over fear of reprisal from incendiary religious extremists? Was it Warner Bros believing that the similarity with Batman and Catwoman is too obvious?
Not a bit of it. Talking to publishers at MTV Geek party two nights ago, I was told that the packaging Amazon had been using for the book has had… issues. And enough complaints came in to force them to do something about it.
Looks like the book has returned now though… But for launch month, it's the kind of thing Legendary Comics could have done without.
Enjoyed this article? Share it!