Dynamite Entertainment is celebrating its 10th Anniversary this week and to spread the cheer, offering a sale on Dynamite comics at ComiXology (50% off over 1500 titles). In keeping with the retrospective and current work from Dynamite, we have writer (also Vice President of Publishing & Managing Editor at Avatar Press and Bleeding Cool Magazine editor) James Kuhoric here to talk about his long relationship with Dynamite and his own comics with the publisher, as well as his thoughts on digital comics and the future of the digital format. Also contained herein is your special offer: a free comic from Dynamite: Dead Irons #1!
Make sure to catch yesterday's discussion with Gail Simone and a free copy of Red Sonja #1 too! Here's a Q&A with our own James Kuhoric on his work:
Q: It's Dynamite's 10th Anniversary, and you've been with Dynamite since near its inception, as well as going in to the 10th Anniversary with The Six Million Dollar Man: Season Six in time for its 40th Anniversary.
James Kuhoric: I've had the pleasure of knowing Dynamite Entertainment Publisher Nick Barrucci for nearly twenty years, and from our first conversation it was evident we shared a love of comic books. I like to think that I was one of the voices that eventually convinced him to take that giant leap into publishing a line of comics. The comic book industry needs people that are passionate about the medium, and Nick is one of people who bleed in four color ink. I can safely say that Dynamite publishes the comic books I most look forward to reading as a fan each month. Having a chance to work with them just seems right.
The Six Million Dollar Man was one of my dream projects. Ever since I was a child and saw the series for the first time, I've wanted a chance to see the original Steve Austin in comics again. Being able to contribute to such a storied franchise and celebrating the 40th anniversary of the groundbreaking television series is a perfect way to ring in Dynamite's first decade in comics. I geek out over every page that Juan Ramirez has turned in and every incredible cover by Alex Ross and Ken Haeser create. The Six Million Dollar Man: Season Six is a project that is the culmination of a lifetime of fandom and I can't wait to share it with everyone in March. Q: You began with The Army of Darkness, and told the first meeting of The Army of Darkness Vs. The Reanimator's Herbert West. What was that like?
JK: I've always been a huge fan of the Evil Dead films. No horror fan can deny that those movies are among the greatest in the genre and that Bruce Campbell and Sam Rami tapped into a unique visceral experience within them. That strange quirky mix of horror and black comedy has become as much a part of my personality as any defining childhood experience. And I clearly remember early on badgering them (Dynamite) non-stop about getting the Army of Darkness rights. When they asked me to write the Army of Darkness: Shop Till You Drop Dead series, it was one of the easiest and eagerly awaited assignments I ever had. After all, I had spent pretty much every year since high school watching, laughing at, and supposing what other adventures Ash would have beyond the confines of the movies. The run I had on Army of Darkness literally defined my career in writing comic books and I had the pleasure of working with some of the best artists I'd ever partnered with. To this day, Nick Bradshaw remains one of my favorite artists and a great friend. If ever I entered the worlds of Ash or Herbert West again, I would want it to be alongside Nick Bradshaw.
Q: You've also written a Western Gothic series that's well remembered – Dead Irons. You worked with Jason Alexander and had covers by Jae Lee. How did you find that experience?
JK: Dead Irons to this day remains the highlight of my career in comics. It was my first opportunity to tell a story that had been with me since I was very young and had two incredibly talented visionary artists bring it to life. I met Jae Lee when he first broke into comics and always loved his work. He did a cover for Battlestar Galactica: Season Three #1 that I wrote many a year ago and we've been friends ever since. But having the opportunity to see my characters given life with his unique vision has been a defining moment for me. And I will forever be thankful to both Jae and Jason Alexander for helping me tell the Dead Irons story in such a memorable way.

Q: You also wrote a series entitled Legendary Tailspinners which is far and away from your horror writer or even iconic TV shows. How did this come about? What drew you to this?
JK: Legendary Talespinners came about because I had something to say about imagination that I just had to get out. The true heart of that story is about the importance of using your imagination and in believing in the fantastic. Too many kids today allow their imaginations to be led by game designers instead of letting it take them to universes only they can dream of. I wanted to remind everyone that there is power in imagination and that using it can take you to places that the latest Xbox game can't. Grant Bond was handpicked as the illustrator for that series based on his incredible animation style. His work on Legendary Talespinners is an amazing and under-appreciated masterpiece. Go back and read the series again and look for the incredible detail he put into character design and especially page layout. Several sequences have this incredible framework of flowing designs that are one part woodcut, one part classical twisted fairytale, and overall an original imaginative visionary work.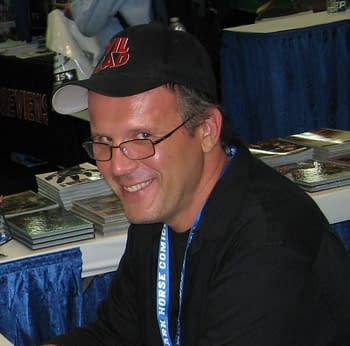 Q: What is your favorite genre to write?
JK: My favorite genre hands down has to be horror. While I enjoy specific parts of the science fiction, superheroes, action, and fantasy genres, it has always been the darker stories that have captured my imagination the most. From a childhood raised on the likes of Alien and Salem's Lot to enjoying every creeping thing in between that I could find in film, television, and print, horror is in my very DNA.
The funny thing is, you can dissect a lot of my work in other genres and still see the clear horror influence within. You can't read my work on Legendary Talespinners, Battlestar Galactica, and Stargate SG-1 without seeing it and even The Six Million Dollar Man: Season Six has a pretty clear horror influence woven through the fabric of the tale.
Q: Are you pleased with the final books? How has fan reaction been?
JK: The final comic books have been incredible from first rate interior art to incredible contributing illustrators on the covers. Seeing a comic book that you had some part in be published and fans enjoy is a real joy. I've had the pleasure of having Freddy vs. Jason vs. Ash fans stop me at shows and just share their opinions of stories I've worked on. Those opportunities to see firsthand how fans are enjoying the comics really do make all the difference. And as a fan of Dynamite myself, I look forward to seeing what new comics are out at the comic shop each week. Books like Battelstar Galactica, Doc Savage, The Shadow, The Bionic Man, The Lone Ranger, Red Sonja, and Warlord of Mars are all on my pull list and are some of the first books I read each week. I'm proud to be a contributor to some of Dynamite's comics and to have the opportunity to tell stories with some of my favorite licensed properties like The Six Million Dollar Man.
Q: What are your thoughts on digital comics as a creator and as a fan?

JK: As a creator, I think digital comics are fantastic. They open the medium to a group of readers that otherwise may never have set foot in a comic book shop and have never seen the books or collected comics. As a fan, I'm pretty old school, I prefer to have a printed comic book for reading and for collecting. But, I do read and enjoy digital comics on my iPad, especially when I'm traveling. Being able to take a portion of my collection with me in one easy format and without worrying about damaging them is very convenient.
Q: What role do you see digital comics playing in the macro of the comics industry?
JK: I think digital comics have the potential to continue to grow the diversity of the fans enjoying the medium by leaps and bounds. Every year more and more people discover the uses of tablet technology and we are seeing everyone from preschoolers to senior citizens trying out apps and other device programs. I like to think that the more folks get introduced to reading digital comics, the more they can discover all the different genres and stories there are to enjoy. And hopefully, at least a portion of those new readers will step into a comic shop and see that collecting comics is a very fulfilling hobby that everyone can participate in. I would love to see kids find comic books like we did years ago – by opening the pages of a comic and letting their imaginations take them to new places.
Enjoyed this article? Share it!