Homeland Season 7 Teaser: Carrie Wages War on The White House
After six seasons of living a Michael Corleone-style life of letting herself be pulled back in after she's worked so hard to get herself out, it doesn't look like Homeland's upcoming seventh season is going to bode much better for Claire Danes' Carrie Mathison. In the new teaser released by Showtime, Carrie has left her job at The White House but her work in Washington D.C. is far from over. With President Keane (Elizabeth Marvel) going back on her word and arresting 200 members of the intelligence community – including Saul Berenson (Mandy Patinkin) – all bets are off in a season that will continue the show's tradition of reflecting "hot button" current event issues.
Showtime released the teaser and three new Homeland posters during the cable giant's executive panel at today's Television Critics Association (TCA) press event. Along with interviews with Danes, Patinkin and Marvel, the teaser also shows that the season will pick up pretty much directly from Season 6. One theme that will definitely be addressed this season is Carrie mourning and coming to terms with the death of her friend and colleague Peter Quinn (Rupert Friend).
You can see the teaser for yourself here, and the three new posters for Homeland's upcoming Season 7 are placed throughout the post:
At the end of last season, following an assassination attempt on her life, President Keane (Marvel) broke her promise to Carrie by arresting 200 members of the intelligence community without bringing charges against them, including Saul Berenson (Patinkin). As season seven begins, Carrie has left her job in the White House and moved back to D.C. and is living with her sister Maggie to take on the Keane administration and secure the release of the 200.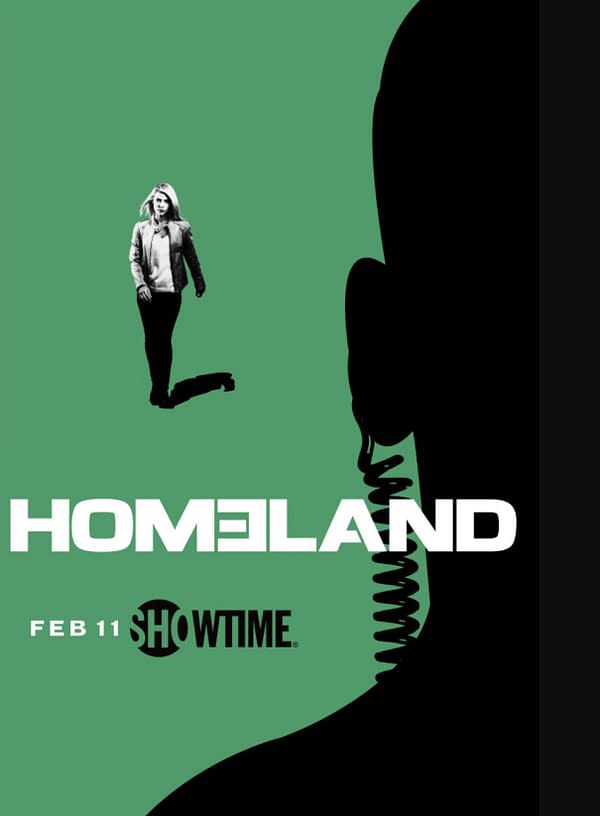 Joining Danes, Patinkin and Marvel on the set of Homeland once again are Linus Roache, Maury Sterling and Jake Weber; with Boardwalk Empire's Morgan Spector joining the cast this season. Produced by Fox 21 Television Studios for Showtime, Homeland was developed for television by Alex Gansa and Howard Gordon. Joining Gansa and Gordon as executive producers for season seven are Danes, Chip Johannessen, Lesli Linka Glatter, Patrick Harbinson, Michael Klick, Ron Nyswaner, Gideon Raff, Avi Nir and Ran Telem.
Homeland Season 7 is set to premiere on Showtime on Sunday, February 11 at 9:00 pm ET/PT.