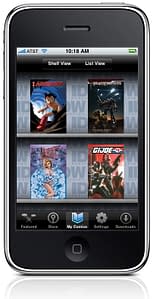 IDW have been one of the few comic book print publishers to make really bold strides online, being ahead of the pack and launching stand alone apps on the iPhone and now iPad to take advantage of strategic sales, such as the massively successful Star Trek Countdown series, which worked as a prequel to the new movie, joining up certain dots that the film left loose.
But this summer they look to step this up even further, with applications available on every major hand held device and viewing platform, from iPad to Kindle to Android to… well, probably my kids' Etch-A-Sketch. But more importantly, they will be publishing almost their entire print comics line this way, with only a one-month-from-print-publication delay.
In comparison, Marvel offer a much spottier selection with a six month delay from print to digital.
It is unlikely that the direct market will react well to this move. It is also likely that IDW will say that this will interest people in the print version of their comics, creating a new audience for the direct market.
And adding creators such as zombie star Max Brooks to work on GI Joe may well give them some evidence for that.
Enjoyed this article? Share it!