Jason Freeny is quite iconic for his series of fictional anatomical character schematics in illustrations. Since then he's had a nice popular line of sculpted in illustrated produce toys. We have seen a lot of these anatomical collectibles from big brands like Ugly Dolls, Hello Kitty and even Barbie. One of his most iconic and always sold out is the micro anatomic characters. Seemingly based on the iconic a LEGO mini-figure we get to see what's underneath all of that plastic. Distributed through Sideshow Collectibles and from Mighty Jaxx his Micro Anatomic (Junior) is getting supersized. He stands 21 inches tall and it shows a red top with blue pants. This mini-figure shows it all with an anatomic interpretation of what is under all that plastic. This is a cool yet weird collectible out there but with it constantly being sold out there is obviously a market for it. Make sure you add this supersized Micro Anatomic (Junior) statue to your collection.
The Supersized Micro Anatomic (Junior) Collectible figure by Mighty Jaxx and distributed through Sideshow Collectibles will be priced at $699. They are only limited to two a person and are set to arrive between April 2020 and June 2020. You can find your pre-order links already live in located here. Don't forget to check out all the other companion pieces to go with it.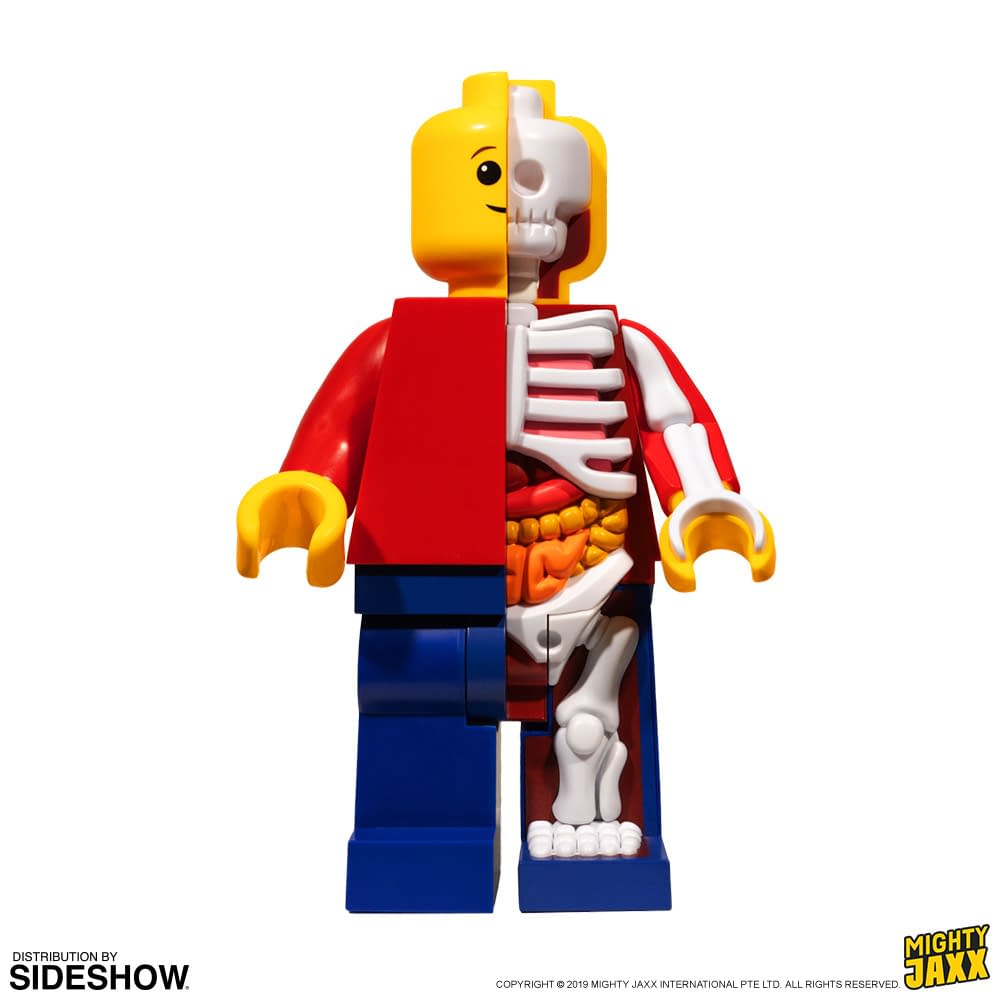 Supersized Micro Anatomic (Junior) Collectible Figure by Mighty Jaxx
Premium Vinyl Art Toy by Jason Freeny
ABOUT THIS COLLECTIBLE FIGURE
One of Jason Freeny's most iconic anatomical design— Micro Anatomic! Combining his signature dissection style with familiar childhood memories, the Supersized Micro Anatomic Junior comes dressed in a red top and blue pants.
The second figure in our brand new Supersized line of figures that blows up your favourite Mighty Jaxx toys into epic proportions, the Supersized Micro Anatomic (Junior) stands at 55cm tall from head to toe, more than double the size of the original!
Brand – Mighty Jaxx Originals

Manufacturer – Mighty Jaxx

Type – Collectible Figure

Artist –

Jason Freeny
WHAT'S IN THE BOX?
The Supersized Micro Anatomic (Junior) Collectible Figure features:
Enjoyed this article? Share it!