 Jesse James writes for Bleeding Cool;
I would like to start out by saying I waited a couple days to write this article. I wanted it to let the Comikaze experience sink in. I also wanted to talk to some of the vendors and creators I missed at the show. In the end, it all came out the same; this show was not exactly a hit with most of the people I talked to.
I started the walk through the con very confused by the layout. There was no Artist Alley for one glaring example, and no rhyme or reason to the main floor at all. There seemed to be a lot of creators who sat in other creators spots which made it even more confusing. Even at mid day Sunday there where rows of empty tables. I felt maybe I was too early entering the con. As the day progressed I had to locate landmarks to really track where I was most of the time. The number one rule of running a con is don't confuse your fans. However this rule didn't seem to exist at this con.
I really just found myself wandering throughout the day with no real directional thought in mind. I had given up on the confusion and decided just to deal with chaos the rest of the show.
For some reason they decided to do some of their programming on the stage off the main floor. Sounds cool, however if you were 3 or 4 rows away from the stage you were stuck looking up at the screen behind you. So yes, you're 10 feet away from the speakers, yet having to look up at a video screen wasn't very pleasant. They decided to ask questions in the crowded panel space, which was nightmare because things were too chaotic to figure out who's hand went up first. There is a reason for programming to be in a nice setting in a programming room away from the confusion and noise of the main con area. It makes it much more easier to organize for the fans if you're not competing with everything else going on.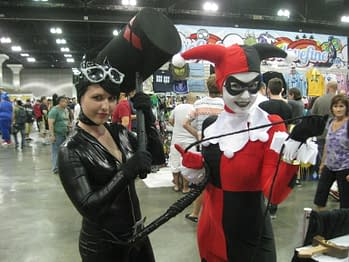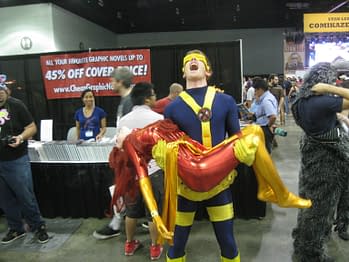 Now here is the kicker; there were no volunteers anywhere on the floor to help out the fans. What volunteers you did see, always seemed to be in one spot by the stage area, or at key signing booths. There were a lot of fans who seemed dazed and lost without direction or a clear idea of where anything major was happening. They also had an announcer who appeared to feel that he was at a car auction or something of that nature; relying on volume over clarity. On the flight home, I really thought, "Wow I'm a seasoned convention goer and I was was so confused on everything. How would a new fan manage? How was their con experience?"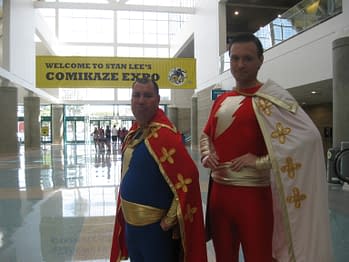 Here's the thing, when you're a writer for Bleeding Cool most people are cautious in saying anything to you that would be considered too critical of the con or themselves. But 80% of the guests I talked to almost immediately started talking about the convention and how they were not too happy. Most of the time is wasn't about sales, but more about the overall organization of thecon. Most felt they were not really connecting with the con at all and seemed to be just told where to go and where to sit. I have been doing cons a long time and managed a successful con with over 300 guest the last 3 years and never could imagine this happening at any con on the circuit. Let alone a high profile con with a good staff behind it. Now there where success stories but very far in between.
Now with that said The Cossies were the show. I have seen alot of Cosplayers at shows, but this one really had it going on. Being L.A., sometimes it was hard to tell who was a Cossie and who was just in their everyday wardrobe. It was a very exciting time seeing the Cosplayers really rock it out. Cameraflashes were going off almost everywhere. I was able to find a sweet spot and just took pictures for most of the time away from the vendor floor. I really think that without the Cossies this show would have been about a hour show for me.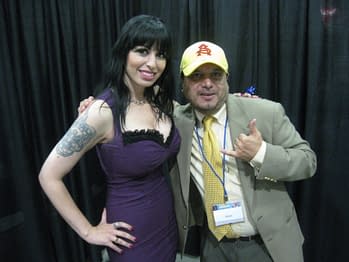 The other highlight of the show was Cassandra Peterson, otherwise known as Elvira, Mistress of the Dark. This shouldn't be a surprise, she has this allure that just follows her. I have been a fan of hers for 30 years now (since SDCC 1982) and cant see that ever ending. She had a great stage interview with her agent and writer, R. H. Stavis as they discussed her new comic book coming out soon. This book is going to be something that Cassandra always wanted to do. It wont be the same approach as her Marvel and DC books earlier in her career. Stavis seemed pretty stoked about the project as well. I look forward to getting my hands on this comic in the future. They are still in the raw early stages and haven't landed a publisher yet for the very cool comic to be. Cassandra was really just fantastic on the floor and every fan got a very memorable moment while in the presence of her Divine beauty.
I really don't enjoy writing articles like this. In fact, I'm told that I sugar coat my articles too much sometimes. It's not in my nature to even think I would be this critical to a Convention that offers a chance for the fans to interact with their favorite creators. However, it was just something I didn't expect to see this happen at Stan Lee's Comikaze. Maybe I'm naive in believing that all cons are fun and no matter what, they always turn out memorable. In 30 years its has been this way everytime.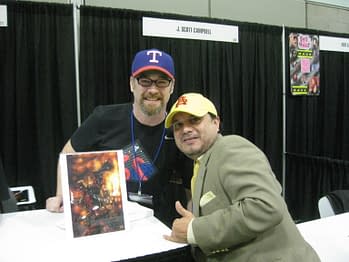 So I will say this to the staff at Comikaze 2012: thank you for the pass. I'm just a fanboy talking out loud about my personal experience. I'm sure you have had a ton of positive responses and articles about your con and great letters from you fans. So just remember 2013 is going to be a great year for you. IF you listen to your feedback from your creators and attendees–and every once in awhile a crazy fanboy who might be expecting more from the AWESOME staff you do have.
I wish you the Best of Luck in the next 12 months to come until your next show.
Enjoyed this article? Share it!