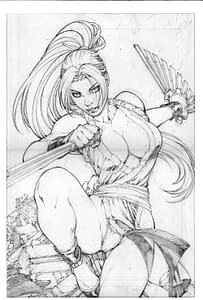 "The most important thing is I want people to see the work that I do" – Josh Hoopes.

If you are commissioning or thinking of commissioning work from one Joseph Jenkins, think again.
Bleeding Cool and Lying In the Gutters before it have run a number of articles on the notorious comics industry scam artist Josh Hoopes. His modus operandi is to create an identity, spam all sorts of comics addresses soliciting work using other people's work as his own. When he receives a commission, he then finds his own artists, promising huge payments, to provide the work for that commission. He manages to get paid and then disappears, leaving the company or writer with work they believe they have paid for, an artist without payment and a whole big mess. At one point he pretended to be comics legend Art Adams and scammed big name publishers, something he still appears to be doing.
Recently he was posing as one Ron Runstrom, this time it's Joseph Jenkins, using this portfolio of work and the e-mail address inked56@yahoo.com. The street address is he gives is 10024 Bromley Way, Sacramento, Ca, 95827. Sacremento is a big area, but a Google search finds a cache for a resume listing for one Josh Hoopes at that address.
That's right, a resume. Given Hoopes' past, there's no reason to believe any of it, but it states Hoopes is 38, is married with children and worked as both an interpreter and a salesman, but nothing since 2004.
Jenkins also seems to have targeted the deviantart forums previously saying
Need a pro penciler for 24 page plus book.
Paying position both page rate and back end pay.
need someone with Ryan ottley style or Art Adams.
Reply only if you are a serious commited artist.
Please no fakes or semi talented, need the best.
If you think you are that then include a link.
No fakes? Really Josh? And can anyone identify the portfolio work?
You know if I was a genuine comics artist looking for work – I'd find somewhere other than Sacremento to call home right now.
Now Jamie Cottle of R And R Comics was in the process of being stung by Josh Hoopes using the "Joseph Jenkins" alias, and spotted some of the tell tale signs from previous Josh Hoopes stories. He got in touch, I cracked his ID and, incensed, Jamie decided to call him back with a few pointers from me. And to tape him. And to get his permission to do so during the call.
Not sure exactly how legal it is, but you can now listen to Jamie Cottle talking to Josh Hoopes about his plans, his dreams and then… well… enjoy. The whole thing. All the way. To the end.
I will of course take this embedded link down at Josh Hoopes' request.
Enjoyed this article? Share it!