Live From The Comic Shop – Rasputin, The Phantom, Baltimore: The Wolf And The Apostle
By Christine Marie Vinciquarra It's a sunny-ish day at Conquest Comics in Bayville, NJ. Joined once again by some Teenage Mutant Ninja Turtle Collectibles, I am reporting Live from the Comic Shop! This week seems to have brought an array of spooky covers and titles just in time for Halloween. On to the comics!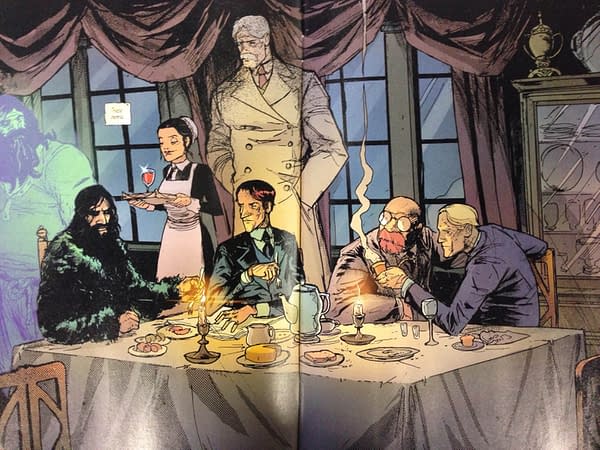 Rasputin #1 from Image Comics, written by Alex Grecian, with art by Riley Rossmo, drew me in with its spooky cover. My knowledge on the historical figure is pretty limited, so I wasn't sure what to expect from the comic. Right off the bat, I was in love with the art style. The whole book carries a gloomy feel with dark and shadowy tones. Rasputin's inner dialogue is cryptic as he predicts that he will be murdered by a group of his closest friends. When he is pictured with his friends sitting around the dinner table, I immediately thought of the game Clue. As a reader, you immediately go into investigator mode wondering which one is going to do it, or are they all going to do it together?
More than half of the issue has no dialogue at all. I enjoy when some comics rely on art to tell their story. It leaves more to your imagination. During those scenes, some of Rasputin's painful back story is revealed, which really allows you to connect with his character. I definitely feel sympathetic for him, and would like to learn more about his journey from young to adult. It's clear that this character has some tricks up his sleeve, so I'm interested in where this story is going to go. I definitely recommend picking this issue up. It's filled with a mysterious feeling that will leave you wanting more. The Phantom #1 from Hermes Press, written by Peter David, with art by Sal Velluto was my first encounter with this superhero. When the comic was suggested to me I replied, "of the Opera?" and then received a dirty look (Rightfully so, I guess). I will say that I think it's great that publishers are releasing #1 issues with these unique heroes. I like having the opportunity to learn about superheroes I've never read about before.
The tropical setting of the comic has a cool feel with a variety of blue and purple shades. The plot is okay, but didn't impress me too much. I enjoyed the Phantom's interactions with his wife, and her go-getter spirit. There is an excellent fight scene with some explosive moments that made the end of the issue pretty exciting. They are also quite colorful due to the combination of the Phantom's costume and the old school "WHAMs" spread across the pages. Unfortunately, I just don't feel like I connected with the plot that much. I didn't get the stomach sinking "I want more" feeling I usually get when I finish reading an issue. However, this may just simply be a matter of taste. If you were a fan of the Phantom in the past, or like the idea of reading a comic about a ghost like hero, then you should definitely pick this up! Looking for a cryptic comic just in time for Halloween? Well, Baltimore: The Wolf and the Apostle, from Dark Horse Comics, written by Mike Mignola and Christopher Golden, with art by Ben Stenbeck is the answer to all your spooky needs. Complete with beheadings, corpses, and lots of blood, this comic will make all of the hairs on your arms stand up. The plot revolves around a group of Inquisition agents searching for a wolf that used to be one of their own men. A dialogue between a priest and a mysterious man named "The Tainted One" start the issue off revealing how the wolf came to be.
Interestingly enough, the wolf is only shown on one page for the entire issue. Many scenes show the aftermath of the beasts past attacks, but not the wolf doing it. Curious, huh? You can literally feel the fear resonating through the bodies of these men as they make their way through the gothic castle where the wolf supposedly resides. The comic is quite graphic, but in a tasteful way. Suspenseful, dark, and fascinating, Baltimore: The Wolf and the Apostle is a memorable comic that you need to read. I will definitely be picking up the next issue.
Well, it has been a Halloween-y Wednesday here at the comic shop filled with great comics! To finish off my Live report, I'll share co-owner Pete's pick of the week! He chose Deathlok #1, from Marvel written by Nathan Edmondson, with art by Mike Perkins because of the characters recent role on Marvel Agents of S.H.I.E.L.D.
For those of you who read the first installment of my column, you may be wondering if I brought in meatloaf for the owner that never had it before. Well, I didn't exactly bring in meatloaf, but I did scare the owner by making him think I did. Really, it was just a tray full of candy (pictured below). I'll be back next week with more reviews, and maybe some tacos? Who doesn't like tacos?
Conquest Comics is located in Bayville, NJ. You can find out more about their awesome shop @ conquestcomics.com or follow them on Instagram @ConquestComics.
Christine Marie Vinciquarra is a writer and bibliomaniac with a love for all things creative. Some of her favorite things include: Batgirl, Star Wars, Harry Potter, Saga, Game of Thrones (the books and the show), Johnny Depp, and all things Disney. She spends her weekends feeding her competitive side while she plays tabletop and/or video games with her husband and friends. She is currently working on a series of young adult fantasy novels. You can find her on Twitter and Instagram @AWritersWay or on her blog writerchristinemarie.wordpress.com.