Live From The Comic Shop – Revelations, Rocket Girl, Grindhouse, Killjoys, Legenderry, Dead Boy Detectives, Baltimore, The Twilight Zone
New comics on New Years Eve? That's the craziest fucking thing I've ever heard, to quote Stephen Colbert, but is a very good kind of crazy, particularly since I'm finally in the right place at the right time to continue my column after holiday travels. But stay tuned for the strange, since I'll be in the UK for the next two weeks and seeing what I can get up to in terms of new comics while over the pond. And after the drought last week of comics, this week feels like a veritable gold rush of interesting things. I'm writing live from my local comic shop, Conquest Comics, in New Jersey, and it's quite a stack this time. First up, the cover of the new Boom! Book Revelations managed to grab my attention with its mosaic-like artwork and angular figures. It's written by Paul Jenkins, with art by Humberto Ramos, and boy is the artwork striking. It reminds me of a fusion of early Dave McKean art and the sharp-edged style of Chew but has a pencilly, painted feel all its own, and the colors are particularly strong, from Leonardo Olea and Edgar Delgado. Here we have conspiracies and strangeness that plays into the interest generated by things like The DaVinci Code (in fact there's a mention of Holy Blood, Holy Grail), but in my mind, I'm thinking of the Abrams TV series Alias, too. It's murder, mayhem, and monks in Vatican city, and the identification character Charlie Northern, British, chain-smoking, and a single detective. The guy with too much time on his hands about to embark on a saga that will, of course, "change" his life "forever". Religion in comics is not all that common, and it's refreshing that it becomes a discussion point in Revelations between two old friends, an atheist and a Cardinal respectively. Northern's inner monologues are humorous and dry (often in the pouring rain) as he investigates a murder whose circumstances seem impossible and plenty of cloak and dagger looms on the horizon in upcoming issues. It's a highly readable book, never drags, and a pleasure to look at in terms of art.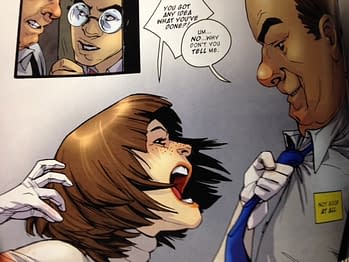 Rocket Girl is back from Image by Brandon Montclare and Amy Reeder, and we're exploring the "present" of 1986 again with our young hero from the future, from the "New York Teen Police Department" more specifically. But is she any kind of hero without her jetpack? I have to say, one of the most delightful things about Rocket Girl is watching Dayoung lose her shit around adults who don't know how to do their jobs. Her seriousness, and temper, create plenty of gravity around a central figure that really keeps the reader engaged. It turns out that yes, she has plenty of skills up her sleeve that don't require flight, and taking away her pack, like taking away Iron Man's suit in Iron Man 3 does give us a chance to be impressed by a hero's resourcefulness and attitude. Time-jumping is another aspect of the book that keeps it fresh, moving to the "past" of 2013 and a version of Dayoung and her world so we are reminded just what the contrast is she's facing in her displacement in the past. Things are getting more complicated in Issue #3, as we knew they would with these crossing time-lines, but it's a fast-paced convergence of factors that gives a sense of things closing in for Dayoung. She's always been good at last-minute evasion, but the odds are getting a little more pointed and if anything her exasperation is rendering her more human as the series progresses. As ever, the artwork on Rocket Girl is supremely confident and handles motion and emotion with aplomb. If you aren't reading Rocket Girl yet, its time for a face-palm and a new start in 2014.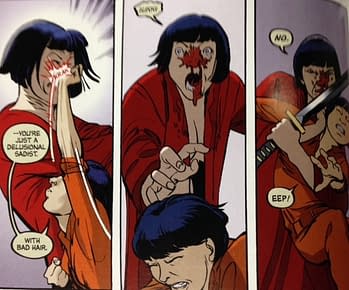 Grindhouse: Doors Open at Midnight returns with part 2 of the "Prison Ship Antares" arc, with Simon Fraser's artwork on this two-parter alongside Alex de Campi's overarching writing on the series. Colors by Gary Caldwell preserve a kind of 70's movie feel that avoids the colder hues typically associated with science fiction works. Issue #1 really built up some suspense for the prisoners of the ship under their sadistic female warden, and was emotive enough to make you very concerned for the fate of the key prisoners in question. In some ways, our concern is unnecessary, because the inner resistance the prisoners embrace is really the most important and human element of the story. But in terms of envelope-pushing the series managed to use nudity and music as distracting weapons, affirm the heavy hand of vengeance when protecting those you love, and even strike a chord for the pursuit of adventure even after harrowing experiences. The world of this mini-arc is a strange one, but it's one where it all comes out in the wash, and oppressive forces that seem unassailable can't seem to protect their feet of clay from the simple and overwhelming force of human beings being human beings in the face of unwelcome authority. The comic also manages to include side-feature close-ups on the relationships established in the first issue and has a nicely balanced feel. For a comic in a genre that's meant to be pure spectacle, there's a lot of realism, even in its excesses, and that means it's going to connect with readers on far more than a level of basic entertainment. Though there is a full page spread of a nude fighting orgy. This may be the one comic where that doesn't seem unjustified. The True Lives of the Fabulous Killjoys appears this week for Issue #6, concluding its arc. Written by Gerard Way and Shaun Simon, with art by Becky Cloonan, colors by Dan Jackson, and letters by Nate Piekos of Blambot, the book is punk through and through, but a particular brand of punk that takes us back to the inexplicable but riveting science fiction of the 80's in film. There's a lot to pack into a single issue, but it also means an explosive final segment where the threads of plot come together and it's nothing short of apocalyptic in a way that you've probably been hoping for. If a world in an apocalyptic aftermath is unbearable, what can fix it but another kind of apocalypse, after all? "The Girl" is heading toward Battery City and has stranger plans than readers may suspect in mind, but in terms of hero stories, it may be a lesser travelled road, but it's not unheard of to try to break a system down on its own terms. The cover to issue #6 may be my favorite, confirming the transformation of a central character into an empowered hero role, and we get a hint of adulthood coming out in the kid, of course, too. The intercutting between character storylines is a little more pointed in this issue but works very well—as we see events progressing in different locations, we see the Girl's gradual progress across the desert to Battery City, and it gives the sense that her choices and risks are happening at the center of time and the other events revolve around her. When we get all the elements of Killjoys together in one place, we're reminded just how unusual a concoction it is, and yet it doesn't try to hammer its disparate elements into uniformity with each other. It's convincing simply because of its own confidence. Plenty of that is down to Becky Cloonan's ability to suggest emotion under the surface of her characters without taking away from the larger backdrops and settings. The series is one of the most individualistic of 2013, and let's hope that makes a mark on other creators who have their own odd, brazenly colorful ideas but aren't sure yet whether to pursue them. Legenderry. I don't really know what I'm getting into here, though I've heard a lot about it this steampunk team-up of characters from Dynamite written by Bill Willingham. Sergio Davila drops us right into a steaming world of detail that definitely sets an energetic tone and the rich colors by Wes Hartman are well-suited to the genre. We have a radio announcer helping ease us into this strange world, and a damsel in distress being "accosted" by a gang of ruffians to break the book into action. There's a lot more extreme violence and quite the body count early on than I expected, but that establishes the premises of the book with a vengeance. A good mystery stands at the heart of things, one begging to be unraveled, and I'll go ahead and state quite definitively that Willingham's prose is priceless—it's entertaining, flamboyant, ornamental, and every bit in keeping with the mood established by Davila's artwork. This book has plenty of verve and style, and isn't just getting its feet wet in the steampunk movement. It's a book to keep your eye on in 2014, and its nothing if not an adventure story prepared to kick things into higher gear.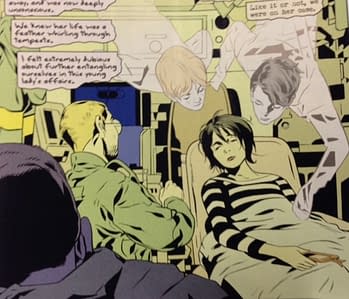 I've been watching out for Dead Boy Detectives coming from Vertigo, and am glad the first issue arrived in 2013 (though it's of course cover-dated 2014). The artwork by Mark Buckingham (pencils), Gary Erskine (inks) and Lee Loughridge (colors) is a lot more popping and contrasty than I expected given the often shadowy feel of the original Dead Boy stories, but that makes me want to give a little round of applause. Here we aren't covering old ground, but starting on a new journey revolving around some foundational good ideas. Todd Klein even sets out to surprise with letters, using a typed, computery font, a handwritten diary font, and a typewriter font, for narrative boxes coming from different characters, and that difference is nicely apparent in the narrative "voices" of the characters too, crafted by Toby Litt. Appropriately, it's New Year's Eve for our detectives, and they are out of their element dealing with a "major heist". The world of performance art, a daughter caught in the middle of wealthy parents' aspirations for fame, and a near-death encounter create a story within a story that will enable the series to progress along new guidelines. Issue #1 sets the stage for the series in a kind of reverse format, in closing, rather than opening, which is a bold move and enables the book to have a stand-alone feel rather than just functioning as an establishing story for the rest of the episodes to follow. We have at least three interesting characters here, and a return to the danger of the school that seems unavoidable, and that gives us the momentum for future stories. If the series continues to be somewhat outrageous in its art choices, maintains character interest, and stirs up enough conflict (which is the most likely element based on past Dead Boy stories), then it may encourage other Vertigo books to be more edgy in their format and a little more playful in their content.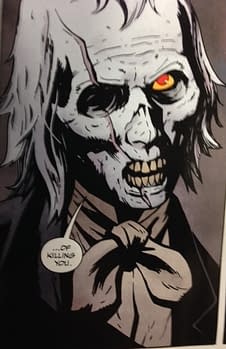 Baltimore is back from Dark Horse with "Chapel of Bones", a two-part story. The character has been gaining momentum rather than coasting along based on its strong artwork from Ben Stenbeck with colors by Dave Stewart. The cover strikes me as being a little unusual, less stylized and storybook than in the past, and that's intriguing. Plagues are still raging in Europe in 1919, here in England specifically, and we have plenty of rich scene-setting from Stenbeck. Mike Mignola and Christopher Golden are always right at home with period settings, and their mannerly dialogue is part of the flavor of the book without getting too heavy for its narrative purpose. We have an odd gathering, not by chance, of the men who have had a hand in Baltimore's post-war life, from ferrying him home, to amputating his leg and it's refreshing to hear other people comment on Baltimore's psychology as an internally "dead" man who they essentially "fear". This books really re-asserts the fact that Baltimore is a horror character in a horror story. There may have been little doubt of that, but what I mean is the heavy sense of "doom" it establishes, a sense of fate hanging heavy over Baltimore's world. As readers, we tend to be intensely interested in colorful and dark underworldy characters who pop up to do battle with Baltimore but we may forget that the entire world he moves in is an inescapable morass of oppressive forces for him and others. It turns out that the cover for the book does indeed betoken really quite surprising events in a single issue as the mutual vendetta between Baltimore and Haigus, and the horror elements are particularly pronounced as we get closer to Haigus as readers than we ever have done before. Ben Stenbeck outdoes himself here in blood-curdling close-ups and it's going to be a good comic day for fans of Baltimore—this issue is a treat though it may leave you with a shudder or two. The Twilight Zone as a comic. Hmmm. Dynamite releases the series this week from writer J. Michael Straczynski, and illustrator Guiu Vilanove, with colors by Vinicius Andrade and letters by Rob Steen. The cover by Francesco Francavilla is a definite selling point with its film-poster feel and blocks of deep colors as "doorways" on possible stories contained in The Twilight Zone. The elevated, lightly conceited prose of the narrator voice (Serling-like) that opens the comic is definitely entertaining and appropriate to the book's mission, and this first undoubtedly moral tale of a Wallstreet mover and shaker attempting to escape a massive takedown by changing his life, literally, at the cost of others is compelling because of its basic premise and also because of the realistic but mood-heavy artwork of Vilanove. Like the original TV show, when we see a character engaged in selfish activities who thinks he's managed to conquer the world, seeing the rug begin to slide out from under him is appealing, and wondering both how he will act and react to the unexpected things that are bound to happen in The Twilight Zone. I don't know if future stories will be as attractive as this one, but as for picking up the second issue of this arc, I've been convinced and want to see what happens. The show usually told a tale in one unit, but if you can imagine a classic episode stopping half way through, you can also imagine how much you'd be willing to follow the second half. The comic preserves some of that appeal, and in that way, it's a success for suspense.
That's all from me Live from the Comic Shop this week (back at last), and I hope to return soon though I'll have to see what retailers will put up with my camping out in their shop for a few hours in Blighty. From Bleeding Cool, Happy New Year! If I put my ear to the ground I can almost hear all of 2014's comics charging our way.
Special thanks to Conquest Comics in New Jersey. You can find their Facebook page here. They are currently dominating POP vinyl collectibles with their White Phoenix exclusive and now have their Metallic Harley Quinn exclusive in stock.
Hannah Means-Shannon is EIC at Bleeding Cool and @hannahmenzies on Twitter