In Wednesday's Man Of Steel #5, Brian Bendis and Jason Fabok brought us this scene.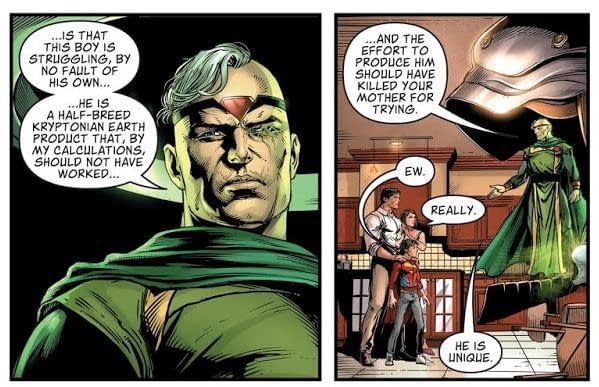 Man, why are grandfathers always so racist and inappropriate?
It is however also a clear reference to the famous essay by Larry Niven, entitled Man Of Steel, Woman of Kleenex, which postulated that Superman could never successfully mate with a human. Originally published in porn mag Knight, it has been reprinted a number of times since, including in Penthouse magazine illustrated with softcore illustrations by Curt Swan.
Including lines such as
Superman would literally crush LL's body in his arms, while simultaneously ripping her open from crotch to sternum, gutting her like a trout. Lastly, he'd blow off the top of her head.
And…
Can the infant use his X-ray vision before birth? After all, with such a power he can probably see through his own closed eyelids. That would leave LL sterile. If the kid starts using heat vision, things get even worse.

But when he starts to kick, it's all over. He will kick his way out into open air, killing himself and his mother.
In the comics, however, this issue was solved by Superman's powers – and everyone's powers – being taken away in the Convergence world in which they lived.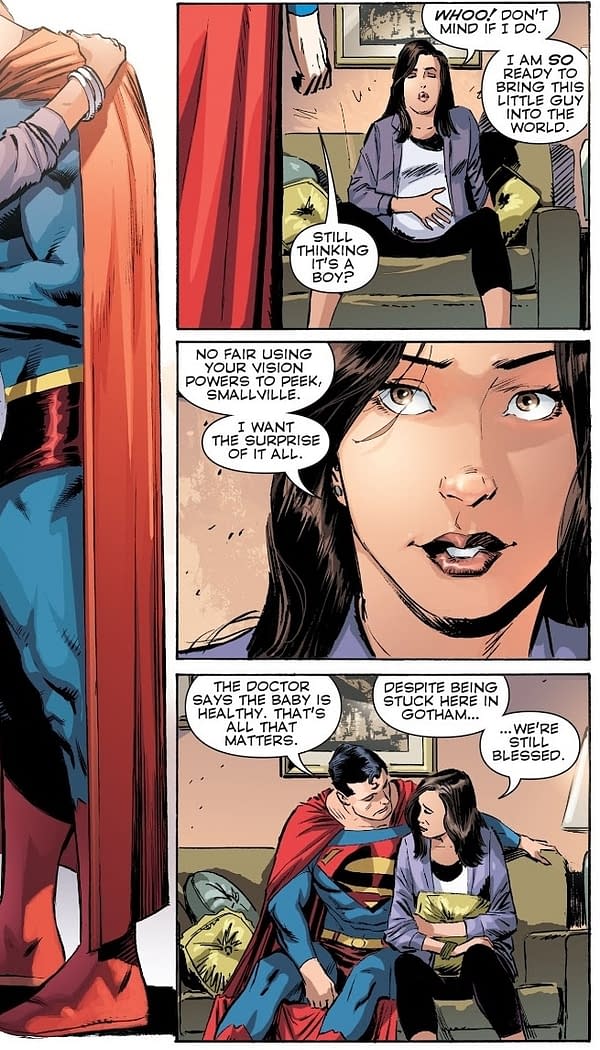 And then being born in the Flashpoint world, with Thomas Wayne as midwife…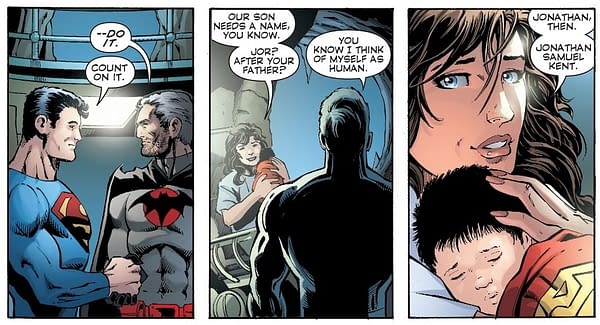 Mmm, you know, considering Dr Manhattan's involvement with the Flashpoint world in The Button, and his manipulation of Superman's life including rescuing Jor-El – and Dr Manhattan having the first name as Jonathan Kent – I guess that story is a long way from being told.
But at least Bendis has done his best to make Larry Niven's tale canon…
MAN OF STEEL #5
(W) Brian Michael Bendis (A) Adam Hughes (CA) Ivan Reis, Joe Prado
Beaten by Rogol Zaar, his city burning at the hands of an unknown arsonist and the secret of what happened to Lois and Jon drawing closer to revelation – even Superman feels powerless against all that stands before him. In Shops: Jun 27, 2018
SRP: $3.99
Enjoyed this article? Share it!